A high-school set up in anime has become so common that if a series does not have it, it is not even considered worthy of being an anime. When you look at the title of 'My Teen Romantic Comedy SNAFU', you can't help but assume that it is again another one of those typical slice-of-life anime, trying to get in some sales from staunch anime fans. However, 'My Teen Romantic Comedy SNAFU' actually proves that it's bold enough to portray something more than most other high-school anime series. An assumption made solely from the name of the anime is like judging a book by its cover because there is a lot more to it than what meets the eye.
One great thing about the anime is that it has a well-defined end goal, towards which every minor detail in the plot is being directed to. It runs many different smaller arcs, all at once, that together add up to form the bigger overarching story. This allows the whole character development to occur rather swiftly without the viewer having even the slightest clue about it until later. It also dives deep into the psyches of the three main characters and portrays their individual struggles.
Going by the name, if you start watching it with the intention of getting your daily dose of romantic anime, then you will be disappointed because the romance is pretty much non-existent. It exists only in the most realistic ways that are very different from what you might be expecting from an anime that claims to be a "teen rom-com". The entire series actually makes you feel and connect with the characters in a way that makes you think about your own past and retrospect.
Overall, 'My Teen Romantic Comedy SNAFU' takes a more dull and realistic approach towards the high-school drama theme, which may not suit everyone's taste. It tries to balance out the dullness with a few characters who add more life to it through comedy. But honestly, the comedy part of it isn't too great and the only thing about the anime that outshines everything is its subtle character development. If you watch it solely based on that merit, then you'll love it for what it tries to offer. But if you keep other expectations, as the misguiding title suggests, you will probably give up on it much before the first season is over.
Also, the second season is surprisingly much better than the first one. I'm not saying that you should directly jump to it and skip the whole first season, but if you manage to patiently get through the few downfalls of season one, the next one comes more as a reward for all the patience you have shown.
Oregairu Season 3 Release Date: When Will it Premiere?
'My Teen Romantic Comedy SNAFU' season 1 premiered on April 5, 2013 and with a total of 13 episodes, it ended on June 28, 2013. This was followed by a season 2 that released on April 3, 2015 — again, with 13 episodes — ended its run on June 26, 2015. After showing massive improvement compared to season one, 'My Teen Romantic Comedy SNAFU' proves that it holds a lot of potential and had the fans craving for a season 3. The good news for all of these fans is that a new season has been confirmed and even its trailer was dropped by TBS on Youtube. 'My Teen Romantic Comedy SNAFU' Season 3 release date was initially set up for April 10, 2020, but was later delayed postponed because of the COVID-19 outbreak. It has also been officially announced that 'My Teen Romantic Comedy SNAFU' Season 3 will now release on July 9, 2020.
https://twitter.com/SatSatNaing1/status/1268845299344093185
Oregairu English Dub:
The subbed and dubbed versions of 'Oregairu' are available on Amazon Prime, HiDive, Crunchyroll, AnimeLab and VRV.
Oregairu Plot:
'My Teen Romantic Comedy SNAFU' revolves around Hachiman Hikigaya, an extremely anti-social high-school kid who believes that conforming to social norms is a waste of time and everyone who preaches about enjoying their youth are just being dishonest to who they actually are. He spends most of his time wallowing in his own narcissistic world and despises pretty much everyone else around him.
After being assigned a homework essay on modern social relationships, he pours out all of his negative thoughts on a piece of paper, which grabs the attention of his professor. The professor gets infuriated by his lack of empathy towards his fellow students and forces him to join the Volunteer Service Group in the hope that he might learn something there. He is then forced to be a part of the club where, along with only one other member named Yukino Yukinoshita, he has to solve the problems of other students who are struggling to reach their goals. So the big question is — whether Hachiman's pessimistic view of the world proves to be an asset to them or just a big disadvantage?
The second season of the anime picks up right from where the first one ends and continues the adventures of the two main characters in the Volunteer Service group. Hachiman continues to have his disinterested attitude while Yukino tries her best to change the lives of those who approach them. In this season, Hachiman starts to notice that he is able to get to the core of other people's problems very easily, and through this, he eventually learns that giving these people the best solution may not really prove to be what's best for them.
Season 3 will probably continue the same setup and give us more adventures of the Volunteer Service group and also a glimpse of how their relationships will go through further complications. I personally have a feeling that sooner or later, the show's emphasis on romance will project upwards but I could be wrong because I had assumed the same for the second season as well.
Oregairu Characters:
Hachiman Hikigaya
Hachiman, also called "Hiki" by Yui, is your average school going teenager who has attractive features but the expression that he holds all the time with his dead fish eyes is a turn-off for most. He is stoic towards everything in life and keeps himself away from everyone else in school, claiming that they're all fake and are just fooling themselves with what they call "fun". While others call him disturbed and twisted for his pessimistic personality, he blames them and the society for being how he is. Even his sense of humor is self-deprecating and sarcastic most of the times, which makes many people around him very uncomfortable. He is so dedicated towards achieving something in life that he often completely loses himself to his work. Even while working at the Volunteer Service Group, a lot of the times he ends up harming himself, just to make sure that he is able to help others.
Yui Yuigahama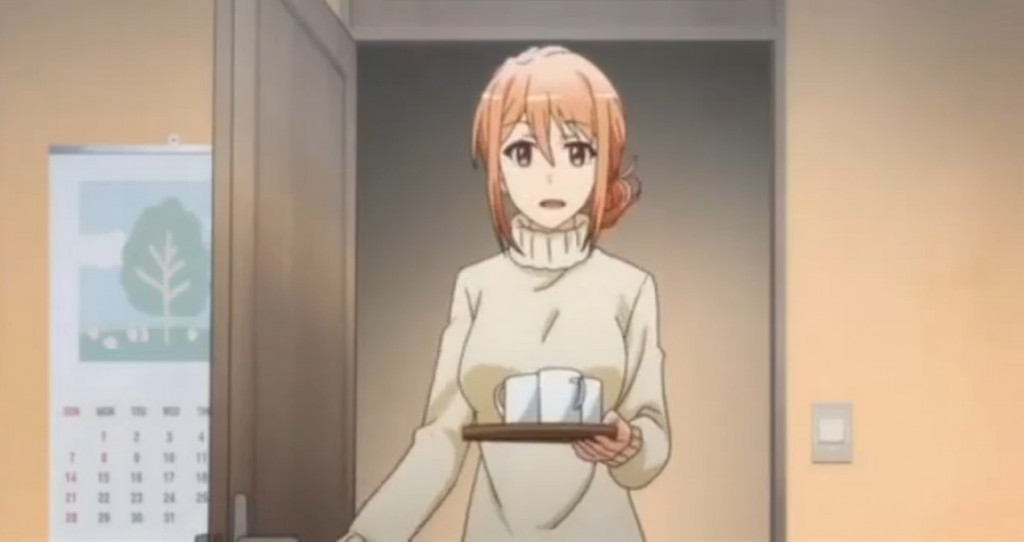 Yui is one of the most cheerful anime characters you'll ever come across. Unlike Hachiman, she is outgoing and loves to socialize with new people. She turns out to be the first customer of the Volunteer Service Club and asks them to help her with baking cookies for someone she really admires. Her biggest dilemma is her escape mentality and her inability to be able to solve her problems on her own. Yukino helps her out with this problem and even solves it to a certain extent. Yui gets so carried away by her initial experiences at the Volunteer Service Club that she even starts to hang out with Yukino and Hachiman after school. Yukino, at first, objects to her presence all the time but later, just gives in and allows her to stay.
Yukino Yukinoshita
Yukino is the founder and leader of the Volunteer Service Club and before Hachiman was forced to join her, she was the sole member of the club. The fact that she runs a group only to help others out might make her look all kind, but don't be fooled by her actions because she actually has a very strange sense of responsibility towards the ones around her. She believes that she is exceptionally superior to those around her and it's her responsibility to guide the "lost lambs" towards the light. She is often hated for her sense of "noblesse oblige", at times, even by Yui who usually looks up to her.
Oregairu Season 3 Trailer
You can watch the trailer for 'Oregairu Season 3' below:
Read More in Anime Preview: Diabolik Lovers Season 3 | Elfen Lied Season 2