There is a whole anime genre now that goes by the title CGDCT. For those of you who are wondering what that stands for, it's nothing but "Cute Girls Doing Cute Things" and if you don't believe me, look it up. In recent years, this genre has really caught up with fans and for anime producers, it's more like an easy recipe for success. Most of the anime shows of this genre are never disappointing and 'New Game' is just another one of those great anime shows that falls under the genre. But apart from being a great CGDCT anime, 'New Game' is also amazing when it comes to incorporating elements of "slice of life" and comedy.
Despite its obvious similarities with other shows in the genre, 'New Game' sets itself apart through its completely different setup. Most of the CGDCT anime are set in high schools but this show takes the risk of portraying the life of a character in the adult world. What's even more interesting is how it manages to portray the problems of an adult and still somehow makes it relatable for the shoujo crowd as well. The overall story of the anime is quite simplistic and lacks deep plot twists of any sort. But it is still very enjoyable and almost everything about it has been executed just perfectly.
Surprisingly, the anime has a whole lot of fan-service that almost qualifies for ecchi. But even then, almost none of it is out of context and is quite enjoyable for the most part. I wouldn't really call it a masterpiece because it's way too simple to fall into that category. But 'New Game' is definitely one of the most interesting and entertaining "slice-of-life" anime out there that can be enjoyed by anyone who is not looking for something too serious.
New Game Season 3 Release Date: When will it premiere?
'New Game' Season 1 premiered on July 4, 2016 and went on till September 19, 2016. This was then followed by a one-episode OVA that was released on May 3, 2017. A season 2 of the anime was then aired on July 11, 2017 and came to an end on September 26, 2017, with a total of 12 episodes. While there have been no official confirmations regarding the release of a season 3, some valid speculation can be made regarding when it may release.
The anime has gained enough popularity after the release of its first two seasons to qualify for season 3. But the anime has almost completely covered everything that the manga has to offer as of now. The manga producer Shotaro Tokuno has been publishing two chapters of the manga consistently per month. If he keeps going at this pace, then we can surely expect 'New Game' Season 3 release date announcement sometime in 2021. Till then, all you can do is wait for a new game to load. You can also start playing the game adaptations of the series.
New Game English Dub:
The English Dub of 'New Game' Season 1 and 2 are available on Funimation. You can also stream it on Crunchyroll with its original Japanese audio and English subtitles.
New Game Plot:
Aoba Suzukaze has been obsessed with the "Fairies Story" fantasy video game since childhood and while most kids go out and play, she would spend her time indoors playing the game. So naturally, after she graduates school, the first job prospect that she thinks about is working at Eagle Jump, which is the company that is responsible for designing all the games that she grew up playing. She manages to land the job and for obvious reasons, she gets really excited about her first day of work. Her joy knows no bounds when she realizes that she will be working with the lead character designer of the company, Kou Yagami, on the next installment of the Fairies Story.
Soon, she starts interacting with other members of her department and realizes that pretty much everyone in the office shares the same passion as her for the game. From the monster designer of the game to the chief art director of the company, everyone in the office is determined to give their audience an ultimate gaming experience. 'New Game' follows the adventures of Aoba and all the others in her office, as they attempt to make the perfect game by designing their characters in the best possible way and finding their way around errors and bugs. All of them have their own ups and downs while they work towards a common goal, but they still keep working hard and embrace the process.
New Game Characters:
Aoba Suzukaze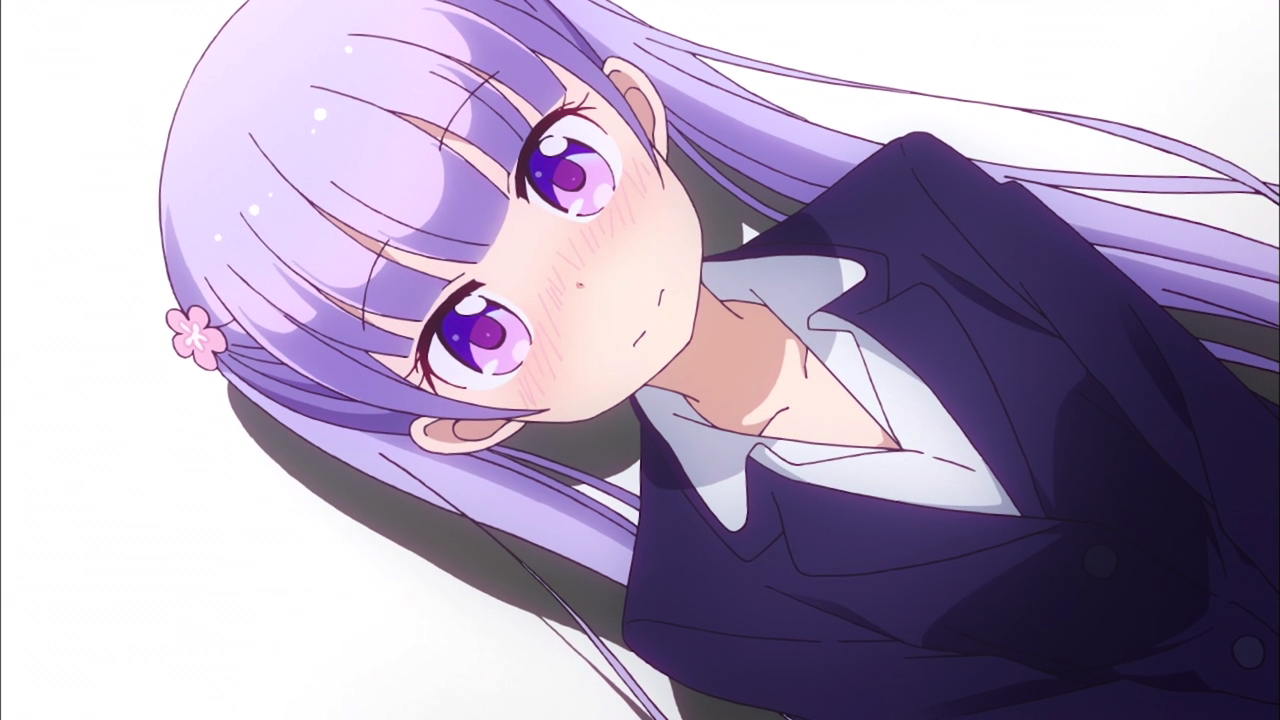 Aoba Suzukaze is the main protagonist of the show, who is also the rookie character designer at a gaming company called the Eagle Jump. Though she has just graduated from school, her petite stature makes her look like a middle school student. This is one thing that is often pointed out by pretty much everyone she meets. Her eyes and hair are both purple in color and she wears a bluish colored suit that she had bought earlier during her high school. The suit was actually supposed to make her look more mature but because of its strong resemblance to a school uniform, it makes her look even younger.
She is a very cute and cheerful girl who is polite to everyone in her office. Despite spending much of her childhood playing games, she is still quite sociable. At the office, she is really hardworking and is determined to prove her worth to all of her seniors. She is also a very loyal friend who, at times, goes out of her way to help others. But deep inside, she also has a sadistic side that only a few have seen. When she initially starts working at the office, due to her lack of experience in the field, she spends most of her time practicing 3-D modeling with the help of a book. But being the smart-learner that she is, she quickly learns all the basics and becomes eligible for some real work.
Kou Yagami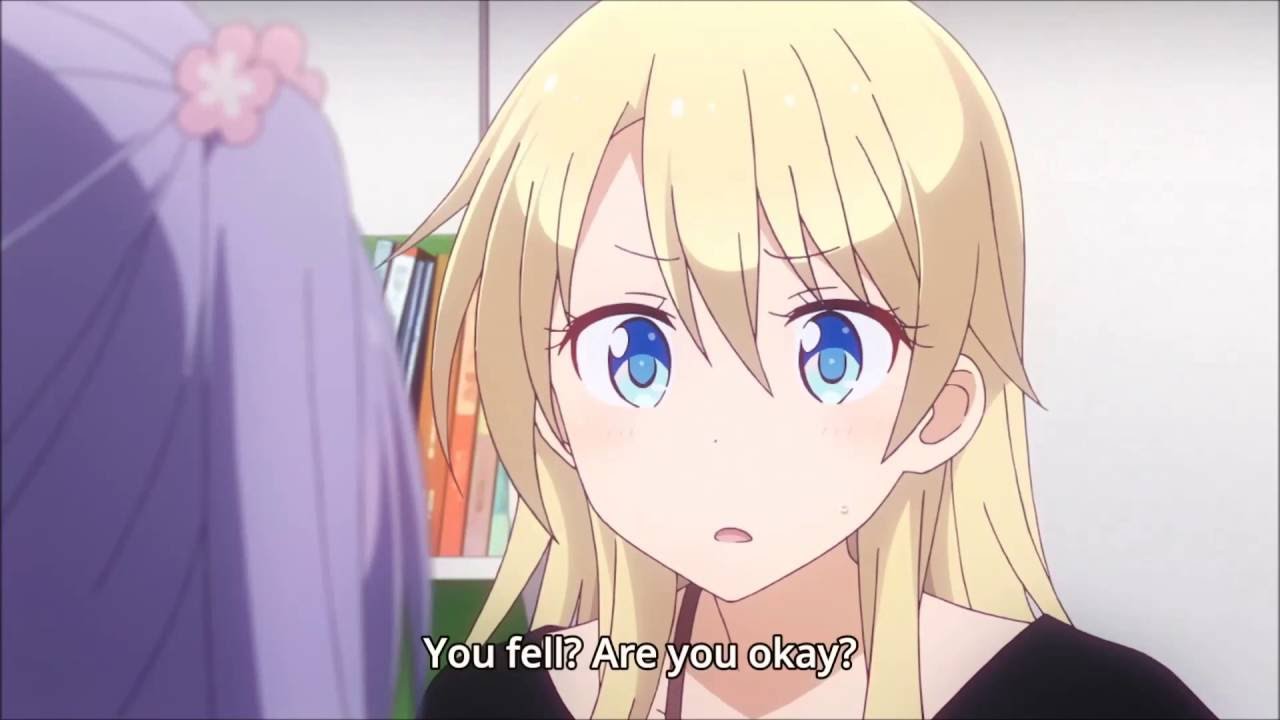 Kou Yagami, also written as Ko Yagami, is the lead character designer at the Eagle Jump Company. She designed the characters of the "Fairies Story" game, which later inspires Aoba to become a character designer herself. Kou sports long blond hair and has light blue eyes. She keeps her outfits minimalistic and is usually seen wearing jeans and a black t-shirt over it. She is quite laid back and is often seen goofing around doing nothing at all. But when it comes to designing characters, she is an absolute genius and once she gets to it, she does not stop till she's done designing her perfect characters.
She almost never leaves the office and spends the whole night there working on her projects. She even sleeps in the office so that she wastes no time after getting up. She gets drunk quite easily and loves eating sweet foods. When Aoba was in the office for the first time, she had seen Kou sleeping under her desk with barely any clothes on. This left a lasting impression about her in Aoba's head. Ko has really high standards and Aoba gets a taste of this when her designs get rejected more than once during her initial days at the office.
Read More in Anime Preview: Zetsuen no Tempest Season 2 | Danshi Koukousei no Nichijou Season 2