When the 'My Big Fat Greek Wedding' released in 2002, it made sure nobody will forget it. Rarely can you find such success stories. 'My Big Fat Greek Wedding' exemplifies the sleeper hit tag more than anything. Made on a budget of just 5 million dollars, it went on to collect more than 365 million dollars at the worldwide box office. In that year, 'My Big Fat Greek Wedding' was the talk of the town. The romantic comedy had captivated the imagination of the audience throughout the world in such a manner that has rarely been repeated so far.
Following the highly successful movie, a TV series was aired in 2003 titled 'My Big Fat Greek Life' and a sequel to the movie also came out in 2016. Ever since its release, a lot of talks are going on behind the curtains about the possibility of a third one in the franchise. The probability is still slim but the buzz is quite strong. So let's talk about 'My Greek Fat Wedding 3'. But first, we need to discuss the plots of the first two films which in turn will help us in anticipating the plot of the third movie, if indeed it sees the light of the day.
My Big Fat Greek Wedding Through the Years:
The first movie in the series carries the bulk of recognition for the franchise. And why not? It's a well made romantic comedy where the characters with roots in Greece achieve universality. It is written by Nia Vardalos who also stars in the movie as Fotoula "Toula" Portokalos. Toula is a young Greek-American woman living in America with proud Greek parents. The movie deals with a lot of Greek cultures and its normalization into American society. Toula's family is a conventional Greek family. They want Toula to marry a Greek man soon. She is 30 years old, living with her parents and working in their family restaurant. She longs for independence but her plight is further increased by her sister Athena's following of perfectly Greek traditions. One day Toula meets a charming high school teacher Ian Miller but due to her social anxiety, the first interaction doesn't go too well.
Days pass as in order to be more upfront and independent, Toula changes a few things in her life. She gets rid of bland outward appearances, starts learning computer courses and works at Voula's Travel Agency. She suddenly meets Ian again and much to her surprise, Ian couldn't remember her from their earlier interaction. The two get together and Toula's transformation makes Ian all the more in love with her. The movie mainly follows an independent woman's struggle with the orthodox society. Both Ian and Toula face a lot of hardships because of Ian not being Greek. As the movie trudges along we see Toula's family embracing Ian into their fold. The movie follows with an elaborate and perfect Greek wedding and the movie ends on a heart-touching note.
Following the grand success of the movie, a tv series 'My Greek Fat Life' came out in 2003. The names of the leads have been changed to Mia and Thomas. The series follows the events after the movie. The White Anglo-Saxon Protestant identity of Thomas clashes with Mia's Greek family traditions. The show depicts the married life of the two as they struggle with their contrasting families.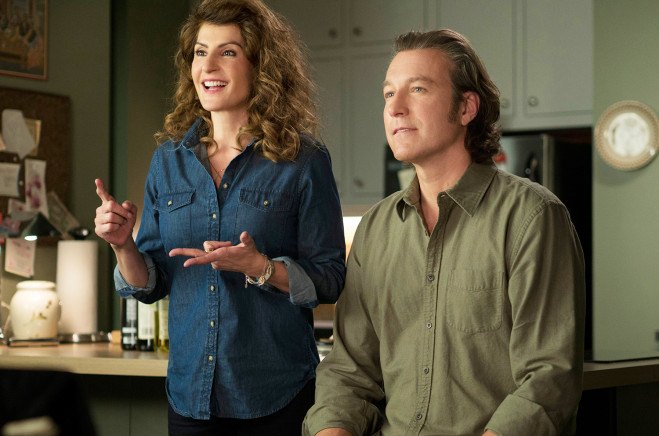 A proper sequel movie came out only in 2016. Named as 'My Big Fat Greek Wedding 2', the movie couldn't replicate the success of the original one. It collected around 88 million dollars at the worldwide box office against a budget of 18 million. Even though it was commercially a hit, it couldn't reach the success of the first one, both critically and commercially. For 'My Big Fat Greek Wedding 2', the makers gathered all the original cast members. It revolves around the married life of Ian and Toula, which is going through a rough patch. The recession has affected them badly and Toula's obsessive motherly instincts suffocate their teenage daughter Paris. They have the same crazy Greek family with crazy characters and crazier rituals.
On the other hand, Toula's parents Gus and Maria find that their marriage certificate was never signed, which nullifies their marriage. They intend to get married again but misunderstandings and ego fights follow. Gus and Maria fights but nonetheless decide to get married again. Through another big Greek wedding preparation, Ian and Toula rekindle their marriage as well. The marriage proceeds after much drama and it ends with the family dropping Paris to her University. The movie followed all too familiar rom-com tropes that didn't bring anything new to the table. After a wait of 14 years, the end product wasn't satisfactory, to say the least. It definitely had a lot of recall value and a good enough dose of 'feel-good' factor, but the sequel untimely failed to conjure up people's attention like the first one.
My Big Fat Greek Wedding 3 Plot: What Can it be About?
Both movies have weddings and the occasion of marriage as their central theme. So we expect the third one to follow the route. We expect the movie to progress on the set course and should focus on Paris now. One possibility is that Paris is in love with someone and wants to get married. A lot of cultural clashes may again happen even though Toula and Ian are not as rigid as the Greek family. It can be a kind of coming of age story for Paris and things like unexpected pregnancy can make it complicated.
We may see Paris moving back to her over intrusive family following her personal issues or can go to Europe or precisely Greece. Nonetheless, we will see how future generations cope with such extreme cultural traditions and quirky family members and how the old guards such as Ian and Toula continue to solidify their marriage. Nia Vardalos before the premiere of 'My Big Fat Greek Wedding 2' had said that she had already an idea but she hadn't started writing yet.
My Big Fat Greek Wedding 3 Cast: Who Can be In It?
'My Big Fat Greek Wedding' movies are all about families and traditions. Both the movies feature the same actors for the same characters. Nia Vardalos' family members also appear in the movies. So the cast for the third one should also be more or less the same. We will definitely see Nia Vardalos as Toula and John Corbett as Ian. Elena Kampouris should return to play Paris again. Michael Constantine and Lainie Kazan should also return to play Gus and Maria respectively. Louis Mandylor should again play Toula's brother Nick. Apart from these, the usual set of cousins and aunts will also be there. Based on the direction it takes, we expect a few new names as well.
My Big Fat Greek Wedding 3 Release Date: When Can it Premiere?
Fans were hopeful that the third movie will come out very soon after the release of the previous one in 2016. But that movie didn't do very well, so the future of the third one is hanging on a thread. Vardalos was very optimistic about the third one but over the years, we haven't heard anything official from anyone involved in the project. Nonetheless, we hope that they get out of this dilemma and soon come up with 'My Big Fat Greek Wedding' 3.
Read More in Previews: Downton Abbey 2 | Ready Player One Sequel