When 'National Treasure' first came out in 2004, little did we know that this historical adventure-mystery will turn into a much loved franchise over the years. Of course, the film made it very clear that it was no 'Indiana Jones', but it did introduce us to Cage's Benjamin Gates. And in its own way, offered some action-packed history lessons, that turned the film into a family favourite.
Despite receiving lukewarm reviews from the critics, the film was a box office success earning up to $347 million worldwide. Soon, in 2007, a sequel to 'National Treasure' was followed, taking Gates into yet another adventure. Almost immediately after its release, there were talks of a third part to the series.
It has been over 12 years since the last sequel to 'National Treasure'. Despite there being talks and speculations about National Treasure 3, nothing quite materialized. It seems that the third installment has been stuck in a development limbo. However, things are finally looking up this year. We have good reason to believe that we will soon be revisiting Benjamin Gates on another one of his historical adventures. Disney and Jerry Bruckheimer just announced that are moving ahead with a third 'National Treasure' movie. A crew is finally in place as the studio has finalized the screenwriter for the film. Here's everything we know about it.
National Treasure 3 Plot: What Can It Be About?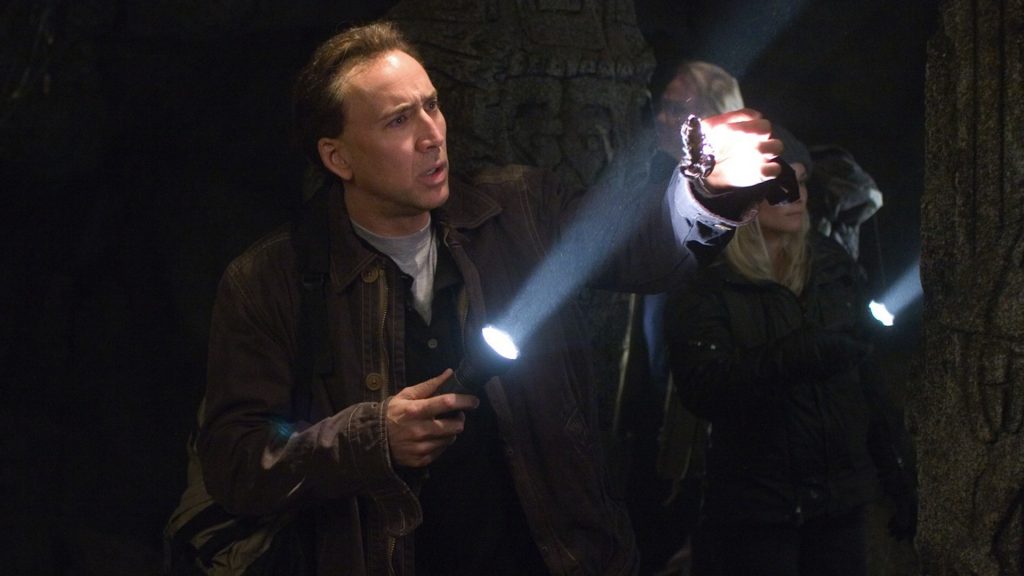 The plot of 'National Treasure 3' has not been disclosed yet. The probable reason for this is that the script of the third installment is still not ready, despite the film being under development for the past few years. But we can definitely expect Benjamin Gates going on yet another adventures. And maybe this time, it will go beyond America.
The original that introduces us to Gates takes us on an adventure to find the treasure trove hidden in America by our Founding Fathers, while at same time, save the Declaration of Independence from being stolen. The sequel, 'National Treasure: Book of Secrets' centers around the assassination of President Abraham Lincoln. The book of secrets is diary of diary of John Wilkes Booth, and one of the 18 missing pages suggest that Gates' ancestor was a conspirator in the assassination. Gates then sets out on an adventure to find the hidden truth.
Though nothing has been revealed about the plot of the film, it could potentially introduce an adventure that takes us out of America. In an interview in 2012, Cage stated, "…it would be interesting to take National Treasure into South America". Of course, nothing is confirmed as of now, and this interview was taken years ago. The script of the film has been under works for a long while, and even got finished twice. But Disney was not completely sold on the idea and did not green-light production. This year, however, a new script is being penned.
National Treasure 3 Crew: Who Can Be Behind It?
There is no doubt that Disney is obviously going to be behind the much awaited third installment. Jerry Bruckheimer, who produced the last two films, is all set to produce 'National Treasure 3'. While Jon Turtletaub will return to the director chair once again for the film, after already directing the first two parts. Finally, after years of being stuck in a development limbo, it was this announced this January that Chris Bremner, the writer of 'Bad Boys for Life' will write the new script for 'National Treasure 3'. Bremner is also all set to write the script for the fourth installment of 'Bad Boys'.
National Treasure 3 Cast: Who Can Be In It?
'National Treasure' introduces us to Benjamin Gates, the American cryptologist and historian, played by Nicolas Cage. The film also stars Justin Bartha as Riley Poole, Gates' best friend and loyal sidekick, as well as, Diane Kruger as Dr. Abigail Chase, who is both Gates' colleague and girlfriend. We also introduced to Gates' family and his divorced parents. Jon Voight plays Patrick Henry Gates, Ben's father, and Helen Mirren plays Dr. Emily Appleton-Gates, Ben's mother. We also meet other ancestors from his family who have had played an active role in American History.
The cast for 'National Treasure 3' has not been confirmed yet. However, keeping in mind the last two parts and the role the Gates play in them, the third installment will be a continuation of that narrative. Thus, 'National Treasure 3', should in all probability star Cage as Ben Gates. This would make sense given his interest in the franchise. The third installment should ideally also mark the return of Justin Bartha as Riley Poole, and Diane Kruger as Dr. Abigail Chase. Since Jon Voight was a part of both the initial parts, we could hope to see him reprise his role as Patrick Henry Gates too.
When is National Treasure 3 Release Date?
Though Disney has said they are moving ahead with the project, there is still a long way to go until the premiere of 'National Treasure 3'. Chris Bremner will definitely be writing the script, but until that's complete, the project wouldn't go into filming. However, if everything goes as per schedule, we could definitely hope to see 'National Treasure 3' release around 2022.
Read More: Movies Like National Treasure