Each consecutive year, Hollywood gives us our fill of thrills, mysteries, superheroes, action blockbusters and animation films, that are nowadays more about the blitz and comedy than the message. Enter 'Paddington', and this is a sort of generalised statement, but in the age of blockbusters dominated by the MCU and Disney films, Paddington's all overcoming goodness, simple minded humor and love for marmalade sandwich has managed to be a hit with critics as well as the audiences.
I think that after Bond and the Harry Potter films, if the British would be proud to call a film franchise truly belonging to their own, then 'Paddington' has to be it, precisely for embodying everything we love about the cinema of the British and their famed way of life. In fact, while the first one stands at 98%, 'Paddington 2' has the rare distinction of being one of the very few movies in the world to conjure up a 100% on Rotten Tomatoes.
An even more unsurmountable task would be besting a finely made first film, but Paddington manages that too, with charm and chuckles galore along the way. With both the movies loved universally, bringing in a respectable number at the ticket windows both times, and leaving the critics wanting more, there is absolutely no reason on earth that a third one should be getting made. Luckily for us, the makers too share our stance on this, and a confirmed third part is in the early stages of development, along with another surprise that younger fans of the franchise may be able to appreciate. Read on to find out everything that we currently know of 'Paddington 3'.
Paddington 3 Plot: What Is It About?
Just in order of recapitulation, the first Paddington film saw the adorable Peruvian bear escaping from the jungles of Peru after an earthquake claims the life of his uncle, arriving at Paddington station where he is adopted by the Brown family, even if the patriarch of the family, Henry Brown is a little weary of his presence.
As Paddington sets out to find a new home with the geographer's family whose life his uncle saved all those years ago, he is kidnapped by the evil taxidermist Millicent Clyde, a deliciously twisted Nicole Kidman who turns out to be the geographer's daughter and wants to capture Paddington for her collection and making money out of it. Eventually, the Brown family come to Paddington's rescue, and the family is able to rid themselves of the danger, uniting in the end, while Paddington finds a permanent home with the Browns.
The second film sees Paddington happily living with the Brown family, and a readily recognised icon across the neighborhood, as he offers people emotional support in various ways. For his aunt Lucy's 100th birthday, he wishes to purchase a unique pop-up book that he does by saving up through performing menial jobs, but is quickly stolen by Phoenix Buchanan, a faded star now looking for ways to stay relevant.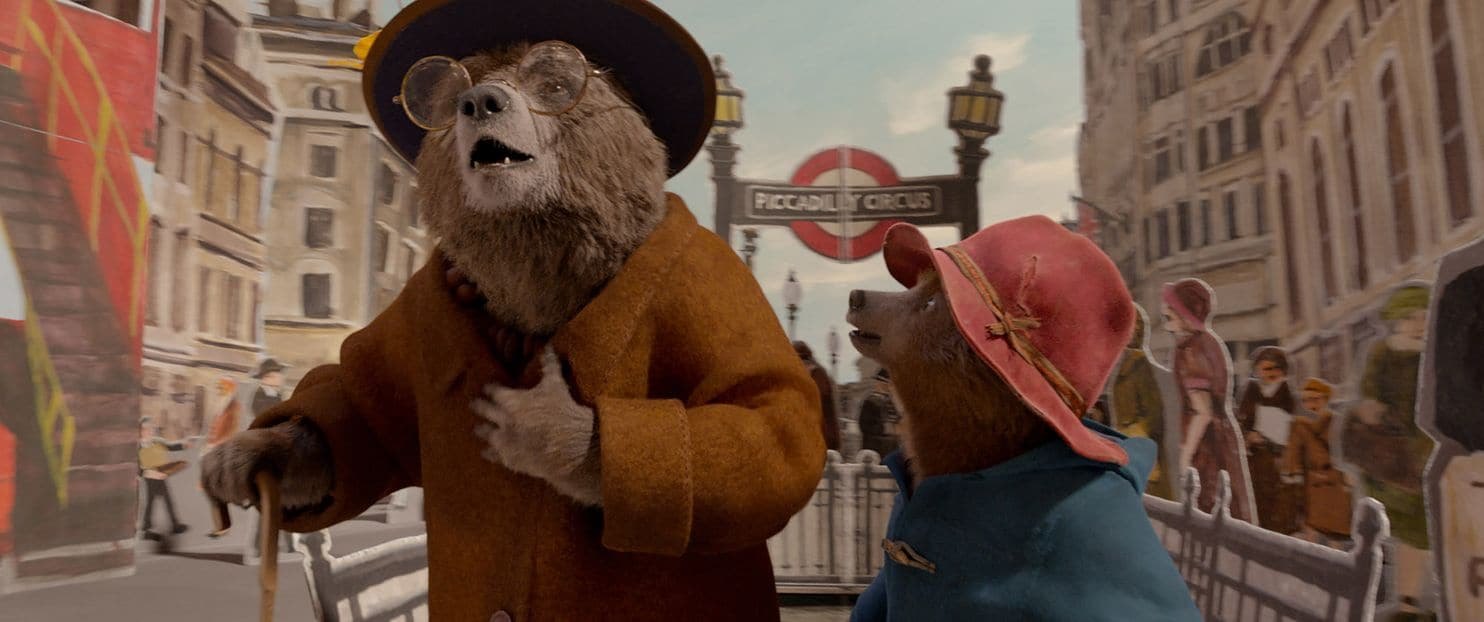 Paddington is framed for the crime and is arrested. He suffers with self-doubt as the Browns fail to prove his innocence and keep their visits regular, but he mounts a prison break nonetheless with the other inmates and escapes, contacts the Brown family and goes up against Buchanan, who is after the treasure which is the fortune belonging to the book's author.
After the Brown family are able to fend Buchanan off, Paddington goes into a coma following the events, misses sending Aunt Lucy her present, and is reasonably upset when he wakes up and realises this. However, to his delight, the Browns invite him over to see London for himself, and just as with the first, the second film too ends on an overwhelmingly positive note, with Buchanan now behind bars and Paddington proven innocent.
You don't even need to look closely that there are certain themes and narrative subplots that are common to both movies, and have invariably proven to work in the favour of the franchise: family, Paddington's goodness shaping and influencing the lives of people around him, and so on. Also, if there is one thing that I have learned from these films, it's that the villain never really goes away. Lucky for us, both Paddington movies had lovely villains in Kidman's Millicent Clyde and Hugh Grant's Phoenix Buchanan, that we would love to see again, absolutely. Better still, having them team up against Paddington for retribution as the Peruvian bear and the Brown family face them? That could be gold.
Coming to the sequel itself and moving away from speculation, we know that the producers of 'Paddington' have assured that there would be a third film, reinforcing their commitment to make one. David Heyman, the producer, has stated that though the script for a third film had not been developed, discussions about locations, ideas and scenes had already begun. In addition to the third film, the studios along with StudioCanal are committed to making a 'Paddington' animated series to be released for Nickelodeon channel in 2020.
Paddington 3 Cast: Who Is In It?
Ben Whishaw has been confirmed to be returning to voice the adorable Peruvian bear for the animated series, so it would just be prudent to assume that he would be back for the third outing. Besides, I don't really think there would be a third 'Paddington' film if he weren't voicing the titular character. Along with him, Hugh Bonneville as Henry Brown; Sally Hawkins as Mary Brown; Madeleine Harris as Judy Brown; Samuel Joslin as Jonathan Brown; Julie Walters as Mrs. Bird; Jim Broadbent as Samuel Grube; Brendan Gleeson as Knuckles McGinty; and Imelda Staunton as Aunt Lucy are all expected to reprise their roles from the two films.
Paddington 3 Crew: Who Is Behind It?
Unfortunately, Paul King, who has been at the helm of both films, both in writing and directing capacities, won't be able to return for the third film even as David Heyman ensures that he would be involved in a prominent creative capacity. Heyday films and StudioCanal would be producing the film to be distributed worldwide by Warner Bros.
Paddington 3 Release Date: When Will It Premiere?
The animated Paddington TV series would be airing on Nickelodeon early next year, and assuming that the film would only be able to start production full swing once the series is out, a release date for the early festive season of 2021 sounds perfect, in-keeping with the nearly three year gap in between the previous two movies as well.
Read More in Preview: Will There be a In the Shadow of the Moon Sequel?