According to critics, 'Shaft' continues with the disappointing string of sequels, prequels and spinoffs this summer, and it would like the fifth film in the 'Shaft' franchise would fall prey to an overkill of sorts within the industry. As far as I can see into the summer, all I see are sequels and rehashing of older successful properties. Whether they are needed or not is a completely different story altogether, but the point is that it would seem as though Hollywood doesn't require every film there ever existed to have a sequel. Ironically enough, we are here to discuss whether the latest 'Shaft' film, a sequel to the 2000 film of the same name, the fourth one in the series, leaves room for a sequel.
Franchise History
We are talking about a franchise that's close to fifty years old now, with the first film practically kicking off the Blaxploitation genre of films. It was in every way, iconic, starring Richard Roundtree as the first John Shaft, and was followed up with two direct sequels with Roundtree, 'Shaft's Big Score' and 'Shaft in Africa', both of which were said to lack the soul of the first film, even when they managed to be marginally entertaining. This was followed by a television series of the same name that wasn't able to live long enough due to dwindling ratings and falling numbers, before the franchise was revived again in 2000, with the fourth 'Shaft' film, titled the same, starring Samuel L Jackson in the lead role as John Shaft's nephew, John Shaft II. The film also saw a shift in genres, partly, from the earlier action based approach of the first three more towards the tone of a thriller. This one also served as part remake of the first one, and a soft reboot with a different protagonist.
Fast forward another 19 years, and the fifth film in the franchise titled (you guessed it) 'Shaft' just hit theatres and sees yet another tonal shift, with the franchise now moving towards the action comedy genre, with a lightness in touch and many funny moments as you would have made out from the trailer. The film features the third Shaft generation, John Shaft II's son, John 'JJ' Shaft III, joining his father in action and features the coming together of all three generations towards the end. Indeed a glorious moment for fans.
What can the sequel be about?
Provided that it does happen and doesn't take another twenty odd years to materialise, Tim Story, the director of the fifth 'Shaft' film feels that the sequel should have a pitch for a "full family affair". This is what he had to say: "I'd bring everybody back. I think, what was great at the end of this movie was you saw family come together. And when you see that, I don't see how you could do anything different than bring everybody back, and let everybody have a gun, and, you know, let the Shafts happen".
Well, like Story, I too have sufficient faith in the Shafts to pull off their own film by way of sheer improvisation, just if they are left together in a room, ofcourse with guns. While the fifth film turned out to be just about okay for me, the highlight of the film was most definitely the coming together of the three generations of Shafts in one sweeping badass, even wearing the same outfit, walking down the street. I definitely wouldn't mind more of it in the sequel, if at all it happens, especially given that it happens right from the start. Ofcourse, you also have the self-deprecating kind of humour to go with it, which I thought was a nice change of pace and tone for the franchise. If there is going to be a sequel, there should definitely be more of that.
Additionally, the ladies in this film got some sequences going for them, getting their chance to shine with a handful of one liners and kickass action sequences. Both Alexandra Shipp and Regina Hall have expressed significant interest in returning for their roles and doing more of the same, and hey, we aren't complaining either. Just a little bit of a more serviceable plot, and enough of the Shaft family, and you have the instant recipe for a sequel. Now all that remains to be seen is how the film fares over the box office this weekend and on 28th of this month when it is release by Netflix.
The Django Connection
Hear, hear! Hollywood works in especially mysterious ways, and this one is sure to blow your minds. Quentin Tarantino (you heard that right) went on record stating that he intended the primary black characters in 'Django Unchained', namely Django Freeman and Broomhilda Von Schaft, to be the ancestors of the first John Shaft, cinematically. Nothing has been officially claimed yet on the 'Shaft' side, but Tarantino has stated it to be his intention multiple times. I cannot for one second imagine what the world where a 'Shaft' film and Quentin Tarantino work together would look like, but that doesn't mean that I am not excited just hearing a conceptual possibility.
Who will be in it?
Since it has taken fifty years to already get to this ensemble, the logical thing would be to keep it. Public cry for bringing back Richard Roundtree, Samuel L. Jackson and Jessie Usher as the three generations of John Shafts, with Regina Hill as JJ's mother and Shaft II's ex-wife and Alexandra Shipp. The Shaft family ensemble and their chemistry with each of the others is what breathed life into a barely serviceable plot, also making for most of the comedic moments in the film that proved to be absolute crowd pleasers. Method Man as Freddie P and Titus Welliver as Agent Vietti may return as well.
When Will it Release?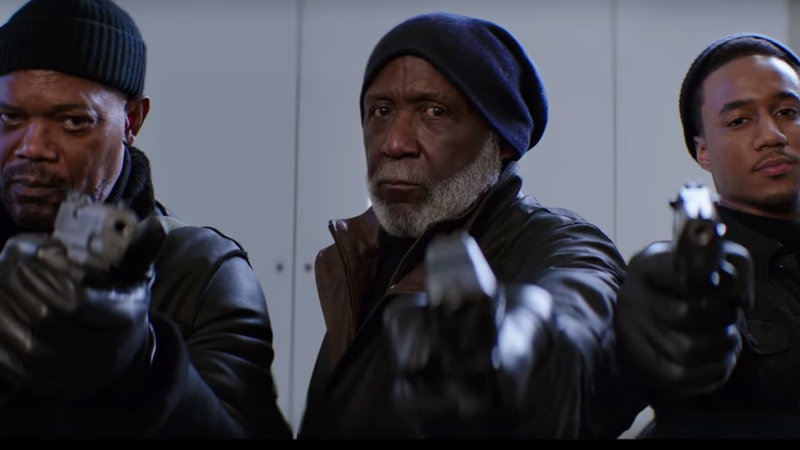 We are far from an official confirmation on when the sequel would be even happening, if at all. A release date is currently not in discussion. We will update this section as soon as we have any updates, but let's hope that we don't have to wait another twenty years for the next 'Shaft' film.
Read More: Movies Like Shaft