There's something in the intimacy of a nude sex scene that allows for an unspoken sense of character development and story arc formation. Maybe it's because the characters involved can feel both pure and otherwise at the same time. Nudity can be used to show boldness, innocence, mystery, sensuality, pleasure, etc. and it's not always the easiest thing to film. The effect of a scene that showcases characters at their barest can sometimes be guided down a wrong path if not handled properly. It can look amateurish and feel like a cheap attempt at getting people to buy tickets.
As far as I'm concerned, the best nude sex scenes are the ones that aid the plot all the while being noteworthy themselves. The following are some of the greatest nude sex scenes that have ever graced the silver screen, and they've all pushed the boundaries of cinema quite like nothing else that came before or since. This is the list of top sexy movie scenes. Most of these are naked scenes.
12. Monster's Ball (2001) – Leticia's Cathartic Lovemaking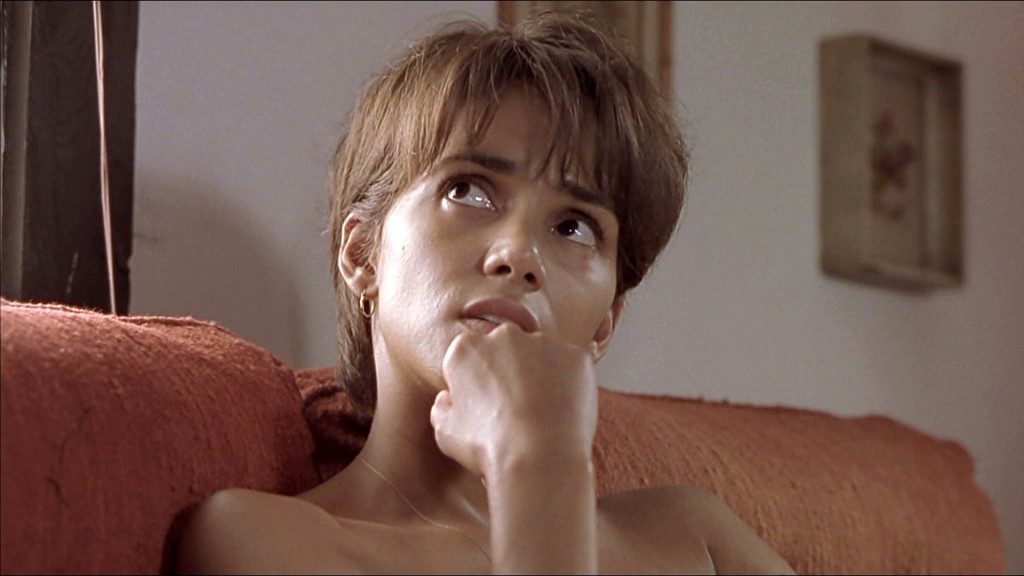 In this incredibly powerful scene, sex works almost like a painkiller as the two main characters soak themselves in each other's pain, misery and loneliness. Halle Berry is clearly the star performer here as she delivers a performance of astounding strength and honesty, deservedly winning the Oscar that year. But she also had to film this really intimate scene where she goes completely nude for the lovemaking act. She's beautiful in the scene and seemingly comfortable with her body being exposed and sets the tone for one of the most beautiful lovemaking scenes ever filmed.
Read More: Richest Actors of the World
11. Antichrist (2009) – Sex Under the Tree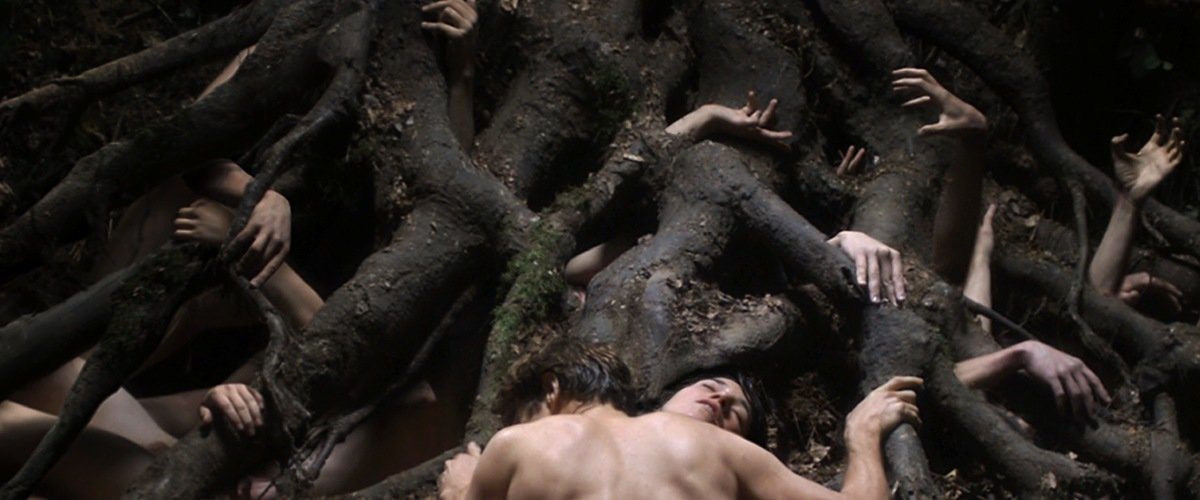 Lars Von Trier's experimental horror drama has a bunch of nude scenes involving Willem Dafoe and Charlotte Gainsbourg. In fact, the film's famous opening scene where the couple have sex in the bathroom could well have made the list too but this is one takes the spot for being a bit more visually explicit and brutal. The woman has lost her mind after her son's tragic death and out of guilt, she begins to punish her and asks her husband to hit her whilst making love under a tree. The two actors are completely nude and the scene has such raw devastating power that you won't dare to look at it. That's the power of Lars Von Trier, my friends!
Read More: Best Torture Porn Movies
10. A Clockwork Orange (1971) – The Sped-Up Sex Scene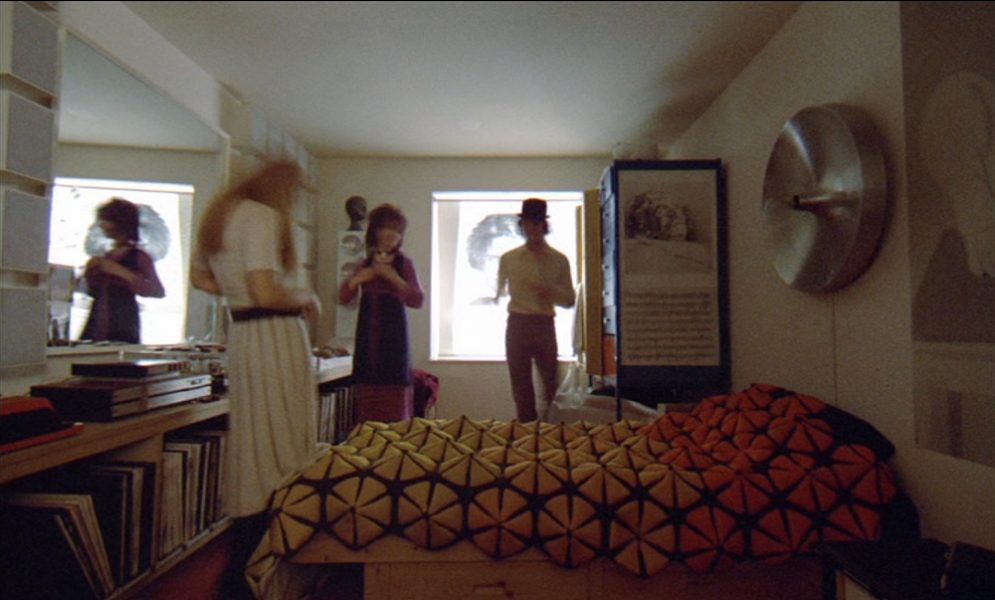 The famous sped-up sex scene from 'A Clockwork Orange' has the William Tell Overture taking up decibels in the background. On screen, we see a threeway take place where the three players involved move around, make love, dress, and undress over and over again. This moment alone gives the viewer an idea of what the film as a whole is going to be like. There's this raw feeling throughout the entire scene, and it makes the whole act sort of humorous. This allows the movie to look at the act of sexual intercourse from an angle that doesn't see it as a passionate act, filled with pleasure and intimacy, instead making the whole thing comical, unamusing, and, well, quick. Kubrick was a master craftsman, and it is interesting to see what he was able to achieve artistically from a scene like this.
Read More: Lesbian Sex Scenes in Movies
9. In the Realm of the Senses (1976) – Love At Its Most Brutal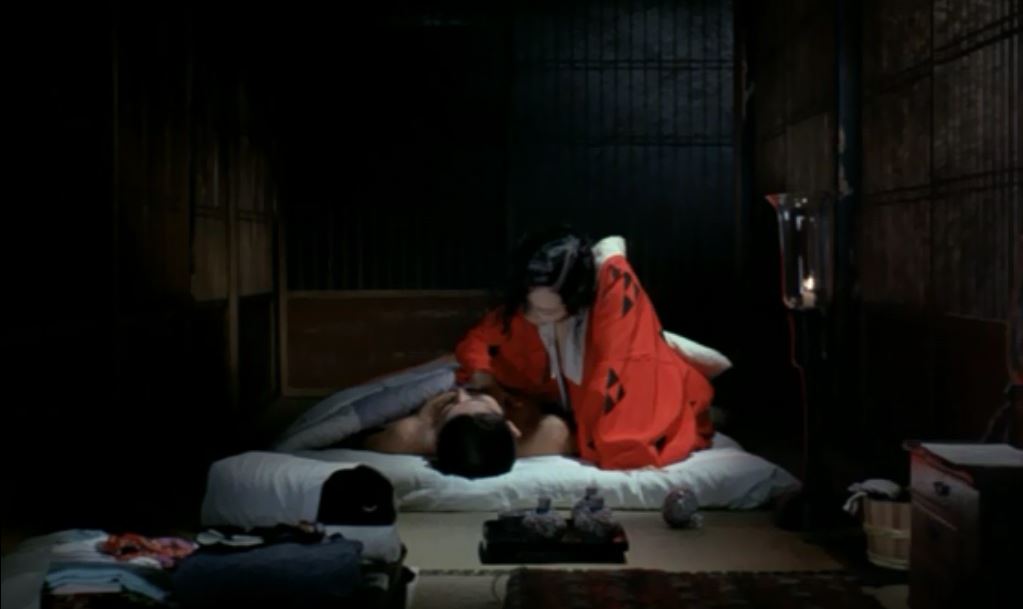 Though 'In the Realm of the Senses' is a film that I find has a lot of problems, I'm able to enjoy just how shocking it is. Nothing gets to me more than the concluding sex scene between Kichizo and Sada, an unlikely couple that had a master-maid relationship prior to the growth of sexual tension. Their attraction towards each other is intimate, and while having sex the many times they do in the picture, the two make sure to push the boundaries even harder than the previous time. Thus, by the end, we begin to question the base upon which the supposed love they have for each other is built. Explaining in detail the contents of the iconic sex scene that occurs before the credits would mean spoiling the film, so I'll just leave it to you to check out. Be warned though, that it is explicit and disturbing.
Read More: Most Disturbing Sex Scenes in Movies
8. Bolero (1984) – The Concluding Sex Scene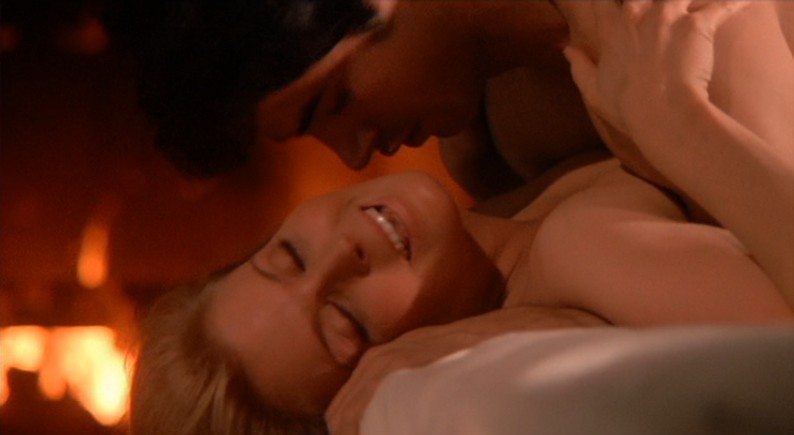 It's funny to me to think that a film as terrible as 'Bolero' has a couple good scenes in it, because otherwise this picture is trashier than most cinematic endeavors get. To be fair, not all the sex scenes in this picture are fantastic – in fact, I find the majority of them to be slightly comical in their execution. The film ends on a lovemaking scene that is a lot more graphic, and I love the way it has been lit and shot. Completely disregarding the lack of a plot and character development elsewhere in this feature, the final moments of 'Bolero' are very erotic, well acted, and beautifully presented. I would compare this scene to the similar moment in the astronomically better film '10' (of which this picture may be called a reiteration of sorts), but due to the dark lighting and emphasis on dialogue, I would have to give 'Bolero' the upper hand.
Read More: Disturbing Movies About Sex Trafficking
7. Basic Instinct (1992) – Catherine and Nick's Vigorous Sex Scene
Paul Vehoeven's murder mystery thriller is perhaps most remembered for its sensational erotic scenes, most notably Sharon Stone's famous cross leg scene. Nick, played by Michael Douglas, investigates the murder of a rock star named Johnny Boz but things get complicated when he falls in love with Johnny's cunning, enigmatic girlfriend. The scene in reference has Catherine and Nick making out at Catherine's apartment in one of the most realistic and convincing portrayals of sexual acts ever performed in cinema. The mysterious and complicated relationship between the characters adds a more intriguing layer of depth, energy and vigour on to the scene.
Read More: Movies With Most Nudity
6. The Double Life of Veronique (1991) – Vernique Makes Love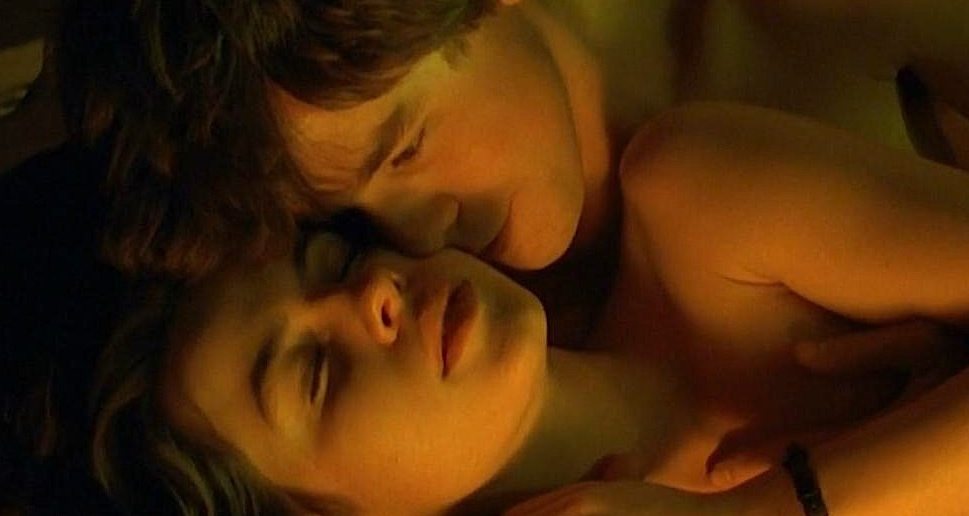 When has feminine beauty ever been depicted in cinema with such artistic elegance and profound tenderness? Krzyzstof Kieslowski masterfully paints the gorgeous enigma, sensuality of the female psyche using the otherworldly beauty of Irene Jacob. In this incredibly delicate, passionate lovemaking scene, Irene Jacob goes completely naked for the act. The atmosphere Kieslowski builds for the moment is truly astounding. It's so soaked in raw sensuality and a melancholic tenderness that just melts you with intimacy.
Read More: Romantic Movies About Sex
5. Carol (2015) – Carol and Therese Finally Make Love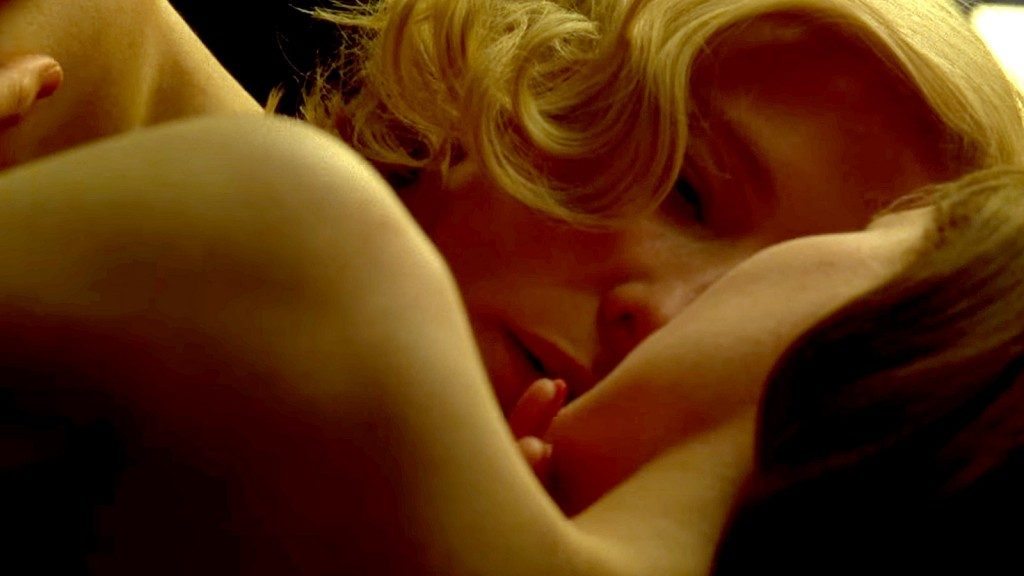 Todd Haynes' modern classic is a subtle, graceful tale of romance between two women in Manhattan in 1950s; a married mother going through a divorce and a young photographer. The main characters make out in a hotel room during a vacation in a stunningly captured moment of sexual liberation and emotional freedom. It's a gorgeously shot scene, enriched with a sense of warmth and tenderness that you wraps you up in its humanity. Cate Blanchett's magnetic feminine charisma further brings a rare maturity to the scene.
Read More: Sexiest Actresses of 2017
4. Blue is the Warmest Colour (2013) – Adele and Emma's Passionate Lovemaking
Perhaps the greatest romantic film of this decade, Abdellatif Kechiche's 'Blue is the Warmest Colour' tells the story of Adele who meets an attractive, blue-haired painter in a lesbian bar and forms a deeply intimate bond with her. In one of the most famous sex scenes ever filmed, Kechiche captures every breath of passion his characters exude in a long 6 minute take with no cuts and intense focus on the nuances and details that bring an incredible amount of realism on to the scene. Some criticised the scene for its length but it floats like a wave with unbridled desires and emotions, overwhelming you with its raw intimacy.
Read More: Sexiest Movies on Amazon Prime
3. The Meetings of Anna (1978) – Lovemaking and Confusion

Famed Belgian art-house director Chantal Akerman tells through 'The Meetings of Anna' the story of a woman and the acquaintances she makes by pure luck, chance, or out of past relations. This involves a man whom she brings into her rented hotel room to have sex. Anna is a confused woman, unsure of what love is, who it is to love, and how love evolves. Therefore, smack in the middle of their passionate lovemaking, she turns away and sits upright on the bed, not knowing what to make of the episode just passed. Akerman explores time in a very strange way in this film (akin to what she executed in arguably her greatest effort, 'Jeanne Dielman, 23 Commerce Quay, 1080 Brussels') and the scene mentioned is no exception. There's a beautiful pause in between dialogues when both characters are unsure of what to say, concluding with Anna uttering somewhat harshly, "leave".
Read More: Shocking Movies About Sexual Assault
2. Don't Look Now (1973) – Sex As A Means To Forget
The objectives and purposes of having sex are questioned in the extremely passionate and powerful lovemaking scene in 'Don't Look Now' that occurs within a hotel room. For the characters involved, it is a way of forgetting the past – to deal with grief, and to start life anew, forgetting all the painful incidents in behind them that have troubled them so. Nicholas Roeg, the director, films the scene in a way that makes it feel like everything that is happening is in fact, what is. The scene in itself feels so very real, and it helps the lovers to grow so much more with their characters. In terms of filmmaking, the editing and cinematography here stays unchallenged by any other film, with the way it presents everything raw, yet gives it an emotional tint o make the entire moment completely unforgettable.
Read More: Best Movie Sex Scenes of 2017
1. Mulholland Drive (2001) – Betty and Rita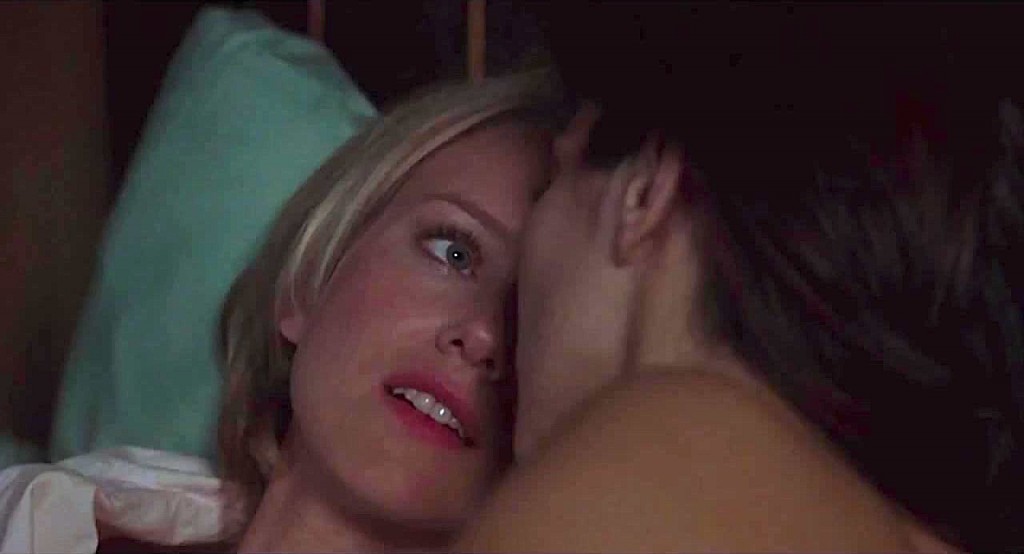 For readers of our site, this would hardly come off as a surprise. But the biggest issue with a film like 'Mulholland Drive' is that it somehow manages to creep on to every list for its open to countless interpretations and meanings. However, the one thing that I believe fascinates most people here is the irresistibly powerful lovemaking scene between Betty and Rita midway through the film. Emotions are locked, desires unfeigned and souls intertwined. The sheer amount of grace, passion and intimacy thrown on to the scene here elevates the film to new heights as we get a peek into the characters, their frailties and what makes them so vulnerable.
Read More: Movies With Real Sex Scenes