'Ore no Kanojo to Osananajimi ga Shuraba Sugiru', also known as 'Oreshura' in short, is a Japanese anime series that has been adapted from light novels written by Yuji Yuji. The exact English translation of the title is "My Girlfriend and Childhood Friend Fight Too Much". Now if you have seen the anime, you'll know that it pretty much does play out as the theme it portrays in the title. The thing about 'Oreshura' is that it is exactly how you would expect a harem romcom to be. There is nothing special about it and for the most part, it does not stand out at all. Yet, it is this simplicity that makes it very likable and you just can't look for too many reasons to hate it. Even when it comes to the story of the anime, there isn't much depth, but it's this lightheartedness it has that makes it stand out.
Being the generic harem that it is, you wouldn't really expect much out of the characters of the show. But surprisingly, the characters are very likable, especially the main protagonist. Though most of them are based on your typical harem archetypes, it's good to see how funny and nice they are to each other. The one thing that the show thrives on is the relationships it creates between the characters. They are simple, sweet, hilarious and subtly grow stronger as the show progresses
The art and animation of the anime are not all that bad, despite its portrayal of the characters in the most cliched way. But considering the previous works of A-1 Studios, it looks like they did drop the ball here with this one. There is an underlying light-colored theme to the art that takes some time getting used to. If you're somehow able to adapt to that, then you might enjoy the visuals as well, but for most fans, this was more of a disappointment. Even the sound fails to play the part that it is supposed to in a romance setup and that's probably the reason why the ending of the show isn't all that impactful. The opening and ending themes are pretty good and play a major role in setting up a cheerful mood for the show.
Overall, 'Oreshura' may not be one of the best anime shows out there but it somehow manages to keep its head above water by not falling flat even once. The main credit for this goes to the characters who pretty much save the entire show from slacking like many others in the genre and make it really enjoyable from the beginning to the end. Do not watch this show if you're looking for some serious stuff to get into; but if you're looking for something really cheerful that does not make sense sometimes, then you should definitely go for it.
Oreshura Season 2 Release Date: When will it premiere?
'Oreshura' season 1 premiered on January 6, 2013 and came to an end on March 31, 2013. The anime did gain quite a bit of popularity soon after its release and most of the fans who watched it enjoyed it quite a lot. The light novel which is its source material has not ended yet, so in the coming years, there will be a lot of material that the anime can use for continuation.
However, considering the hype around the show, after all these years, it seems very less likely that it will return with a whole new season. At this point 'Oreshura' season 2 release date of 2021 or 2022 seems like a distant dream. The fan following of the show seems to have shrunken down quite a bit and now, all we can expect from it is an OVA that concludes the entire series for us. Stay tuned with this section to get more news updates regarding the same. Till then, maybe you should just start reading the light novels.
Oreshura English Dub:
You can stream 'Oreshura' on Crunchyroll with its original Japanese audio and English subtitles.
Oreshura Plot:
Eita Kidou is quite an accomplished high-school teenager who manages to be at the top of his class but unlike most kids his age, he completely despises the idea of love. His life seems all normal and he spends most of his time with his childhood friend, Chiwa Harusaki. But one day, his life turns upside down when the school's most attractive girl, Masuzu Natsukawa, confesses her love for him. This really confuses him and he wonders why, out of all the guys in school, she would choose him.
This is when it is revealed that Masuzu just wants to put up an act of dating and her true intention is just to fool the others around them into believing that they're dating. Knowing that Eita may not accept her proposal, she tries to blackmail him by threatening him that she will reveal one of his secrets to the whole school. Eita gives in and decides to play along with this whole act. But soon, his ex-girlfriend, Himeka, finds out about this and decides to budge in. Just when things couldn't have been worse, Eita's fiance finds out all about this and joins the fray. Now Eita must not only deal with the complications of one fake relationship but he must learn to solve all the problems that will come from his relationships with three different girls.
Oreshura Characters:
Eita Kidou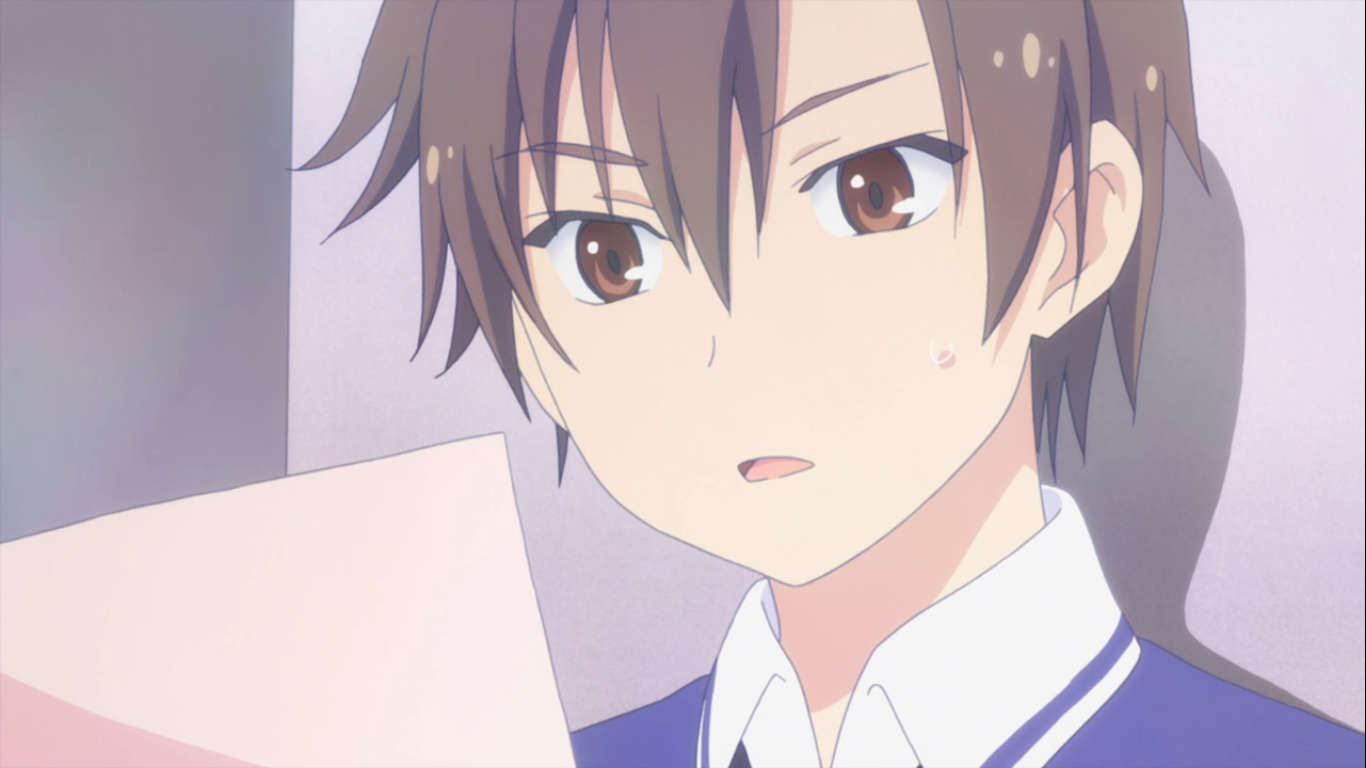 Eita Kidou is the main protagonist of the show, who is a first-year high school student. He has brown hair with bangs swept to the right and brown eyes. He works really hard when it comes to studies and aspires to join a medical school after he graduates. The dream of becoming a doctor comes from his goal of being able to cure his childhood friend's injury after an accident. But when it comes to love, he has a strong sense of disdain for it and this comes from his parents who got divorced and left him all by himself.
Chiwa Harusaki
Chiwaki Harusaki is another high school student who is Eita's childhood best friend. She has had a crush on him since ages now but never goes ahead to confess it because she fears that it might ruin their friendship. When Eita gets into a fake relationship with Masuzu, she starts to feel a little jealous. She has red-violet eyes and orange hair that are usually kept down with two small sections of them tied up with a ribbon. She later becomes very possessive about Eita and even claims that she knows him a lot more than Masuzu. All of this leads to a lot of arguments and complexities in their love triangle.
Ai Fuyumi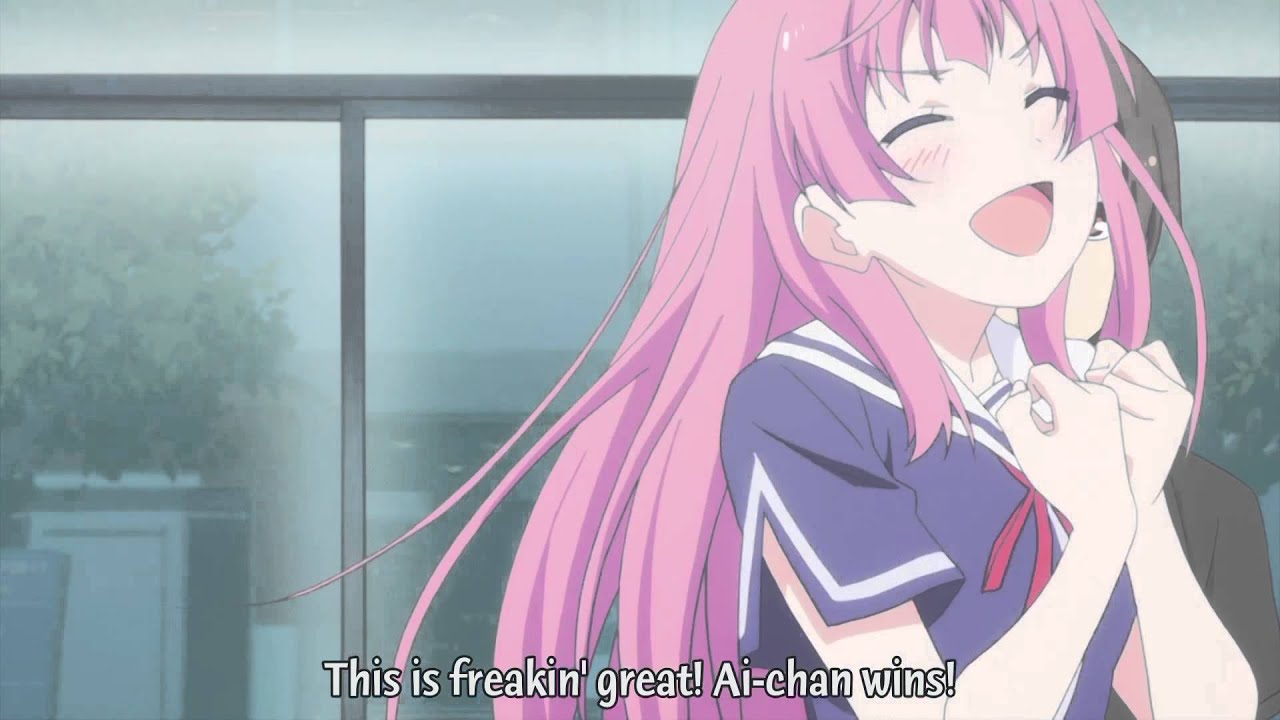 Ai is a beautiful 15-year-old girl who has known Eita since childhood. She has light pink hair and some of the strands of her hair are tied up with a red ribbon. She often lies that she has a boyfriend named Michel who studies in college. She had been Eita's lover for a long time and she even made him sign a marriage contract but later, due to some family issues, the two of them had to go separate ways. But even after being separated for more than a decade, she still harbors feelings for him.
Himeka Akishino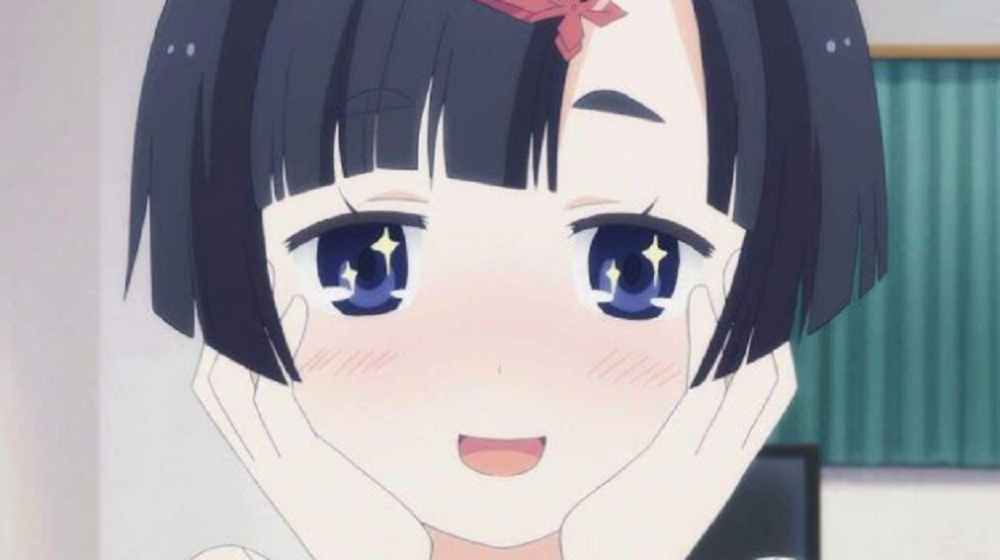 Himeka is apparently Eita's girlfriend from the past life and still is delusional about dating him. But her love for him is all one-sided as Eita is not into her at all. She is really quiet, timid and only shows excitement when she's around Eita. She is very childish and spends most of her time daydreaming about being in a relationship with Eita. She even claims that even if Eita starts hating her someday, she will still love him, to which Eita claims that he can never hate her.
Read More in Anime Preview: Kiss x Sis Season 2 | Youjo Senki Season 2