For those of you who have watched movies such as 'The Lord of the Rings' trilogy, 'Troy', and the 'Pirates of the Caribbean' series, Orlando Bloom will be a familiar name. While the English actor has been one of the more inconsistent stars that Hollywood has had to offer, he has played some remarkable roles in films with strong ensemble casts. Bloom has been a part of the 15 highest-grossing movies of all time, so it is no doubt that his filmography includes impressive names.
However, Orlando Bloom didn't want to be a part of the film industry from the beginning. Born in Canterbury in England, he was named after the 17th century English composer Orlando Gibbons. He was dyslexic in childhood, but with his mother's encouragement, he began taking art and drama classes. That was the beginning of his relationship with the theatre. He has trained in some acclaimed arts and drama schools, notably at the Fine Arts College in Hampstead (where he took an A level course in Drama, Photography, and Sculpture), the British American Drama Academy (where he got a scholarship to train in theatre studies), and the Guildhall School of Music and Drama (where he learned acting).
Bloom's film debut was in the movie 'Wilde', where he starred opposite actor and comedian Stephen Fry. However, he got his first major role as Legolas in Peter Jackson's 'The Lord of the Rings' trilogy, which was an adaptation of J.R.R Tolkien's magnum opus of the same name. The trilogy won many accolades and Bloom received the Best Debut award at the Empire Awards as well as the Best Performance Award at the MTV Movie Awards. He also received tremendous critical appreciation for his role, and that catapulted him to global fame. His next commercial blockbuster was alongside Johnny Depp and Keira Knightley in 'Pirates of the Caribbean: The Curse of the Black Pearl'. After that, Bloom's portrayal of the Trojan prince Paris in 'Troy' opposite Brad Pitt's Achilles earned him considerable recognition too.
Orlando Bloom has been associated with several social causes. He is known to have joined a Buddhist sect. He is also an environment crusader and has been a UNICEF goodwill ambassador since 2009. At this point, the question that might be circling your mind is what is the next Orlando Bloom movie and TV show? Well, the good news is that we have a clear answer to that question. Here's the list of upcoming Orlando Bloom films and TV shows scheduled to release in the near future. We can only hope that the new Orlando Bloom performances would be as good as some of his recent ones.
3. Carnival Row (2019-)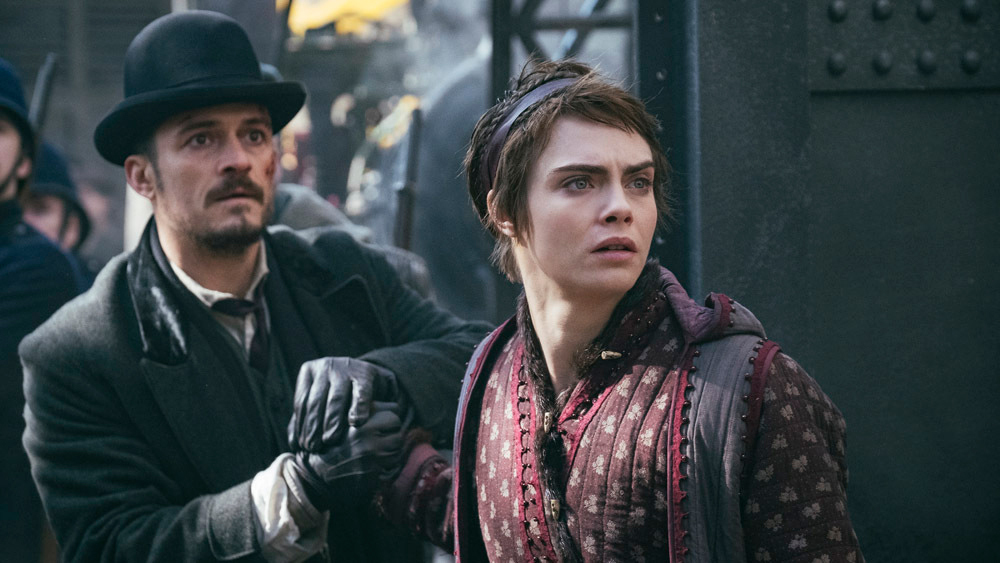 When one tries to associate Orlando Bloom with a particular genre, fantasy is most likely to be the one in everyone's minds. Bloom has excelled at essaying significant roles in high fantasy storytelling. 'Carnival Row' is, therefore, right up his alley. Created by René Echevarria and Travis Beacham, the neo-noir fantasy series takes place in a fictional neo-Victorian setting. Bloom co-leads the series with Cara Delevingne, with David Gyasi, Karla Crome, Indira Varma, and Tamzin Merchant also starring.
The series is about mythical beings who have escaped their war-torn homes and gathered together. There is a running theme of tensions between the citizens and the immigrants, mirroring global reality in a unique way. However, the crux of the show is a series of unsolved murders that are jeopardizing the already fragile peace that exists. With such an engrossing premise and a stellar cast, we cannot wait to see Bloom in action once again in this high fantasy setting. That has been something of a specialty for him, and the fact that he leads the series certainly bodes well for the project. The series airs on Amazon Prime Video and is slated to return for Season 2.
Read More: Upcoming Ansel Elgort Movies
2. The Outpost (TBA)
Big-budget films dealing with overarching issues such as war have been Bloom's forte. One of his projects looming over the horizon is 'Outpost'. Directed by Rod Lurie (of 'Outsider' fame), Bloom will star alongside Scott Eastwood and Caleb Landry Jones, so we expect some serious action sequences balanced by some dry humor. Renowned journalist Jake Tapper wrote the book on which the film is based, and it is a true story of 53 US soldiers who battled around 400 enemy forces in northeastern Afghanistan during Operation Enduring Freedom.
The narrative is centered around Combat Outpost Keating – that gives the film its name – which was originally built as a community activity center but was subject to constant Taliban attacks. Located at the bottom of three high mountains just 14 miles off the Pakistani border, the location was unsavory to face an attack. When the army decided to close off the base for obvious reasons, the insurgents weren't too happy and intended to make their displeasure known. What followed was one of the most harrowing sieges in recent history. Expect Bloom to deliver in this tale of bravery while stacked against overwhelming odds.
1. Needle in a Timestack (TBA)
Acclaimed writer and director John Ridley is back with a new drama centered around time-time-travel called 'Needle in a Timestack.' Ridley is renowned for his writing prowess, most notably for the Oscar-winning '12 Years a Slave' but he has also directed a few projects of note, such as 'Cold Around the Heart'. Ridley has also made a significant mark on television, writing for acclaimed animated series such as 'Justice League' and 'Static Shock' while creating the anthology series 'American Crime.'
Bloom will star alongside Frieda Pinto, Cynthia Erivo, and Leslie Odom Jr., under the production house of the newly formed Bron Studios. The story, based on a short tale by Robert Silverberg, follows a couple who struggle to get a grip on their marriage in a world where time travel is possible, and the past, present, and future are all in a state of constant flux. Needless to say, the premise of time-travel coupled with Ridley's expertise makes for quite an interesting fare.
Read More: Upcoming Josh Brolin Movies