Critics have started handing out their year-end awards (which you can find here, here and here). The last time I did the predictions, which was only last week, I had mentioned to keep an eye on 'Mad Max: Fury Road'. Even much before that, in my first Oscar predictions three months back, I had written about it making a comeback. Now that several critics group have spoken, we know that 'Mad Max: Fury Road' is here to stay; and not just stay, but be at the fore-front of the race. 'Spotlight' is holding its ground; it still is the "one" to beat. Whether it retains its front-runner status, we will know once Guilds start handing out their awards. Till then, it will remain at the top of our Best Picture predictions.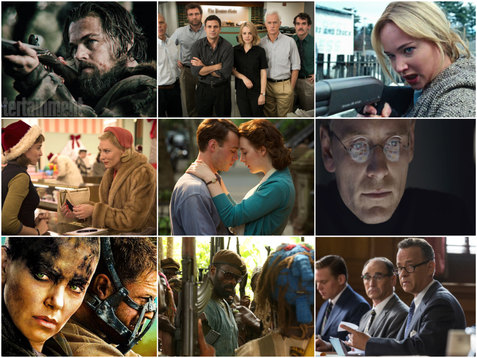 Best Picture
1. Spotlight
2. Mad Max: Fury Road
3. The Revenant
4. Brooklyn
5. Carol
6. The Martian
7. Bridge of Spies
8. Room
9. The Hateful Eight
10. Creed
11. Steve Jobs
12. Star Wars: The Force Awakens
13. Joy
14. Youth
15. Son of Saul
Insight: With 'Mad Max: Fury Road' stock rising, 'The Martian' will soon lose its shine (even though it did make a lot of noise among few Oscar pundits). Whether 'Mad Max' can really give competition to 'Spotlight' is tough to say at this point of time. But rest be assured, it won't go unnoticed on Oscars night, and will possibly finish the night with most number of wins.
Alejandro González Iñárritu's 'The Revenant' has been seen by few critics and the general feedback has been that even though it is very well made, it could be a little too gruesome for the Academy to universally love. David O Russell's 'Joy' has been seen too, and the feedback hasn't been very enthusiastic, and therefore, it has suffered a massive fall in our predictions.
Best Director
1. George Miller, 'Mad Max: Fury Road'
2. Thomas McCarthy, 'Spotlight'
3. Alejandro G. Iñárritu, 'The Revenant'
4. Ridley Scott, 'The Martian'
5. Todd Haynes, 'Carol'
6. John Crowley, 'Brooklyn'
7. Steven Spielberg, 'Bridge of Spies'
8. David O Russell, 'Joy'
9. Quentin Tarantino, 'The Hateful Eight'
10. Lenny Abrahamson, 'Room'
Insight: George Miller has been making movies since last 40 years. At the age of 70, he makes an action-art film, which ends up being one of the best reviewed of the year. Talk about directorial achievement. His rise also means, Scott losses a lot of ground in the race. McCarthy should occupy one of the spots considering 'Spotlight' is still the frontrunner. The last spot is a toss up between Haynes and Crowley. Haynes, on account of being a more well-known name, is given the preference over Crowley.
Best Actor
1. Leonardo Di Caprio, 'The Revenant'
2. Johny Depp, 'Black Mass'
3. Matt Damon, 'The Martian'
4. Eddie Redmayne, 'The Danish Girl'
5. Ian McKellen, 'Mr. Homes'
6. Michael Fassbender, 'Steve Jobs'
7. Will Smith, 'Concussion'
8. Michael Caine, 'Youth'
9. Tom Hanks, 'Bridge of Spies'
10. Michael B. Jordan, 'Creed'
Insight: The feedback from those who have seen 'The Revenant' has been great on Leonardo Di Caprio's performance. After years and years of doing phenomenal work — and being ignored by the Academy — it is finally looking like that he will win the deserved Oscar. Depp is starring in a film that won't find much traction and therefore, his chances aren't as great as it might seem on paper. The only semi-serious threat to Leo's chances could be Ian McKellen because of his veteran factor. Though, McKellen has to get nominated first with Fassbender breathing down his neck.
Best Actress
1. Brie Larson, 'Room'
2. Saoirse Ronan, 'Brooklyn'
3. Jennifer Lawrence, 'Joy'
4. Cate Blanchett, 'Carol'
5. Charlotte Rampling, '45 Years'
6. Charlize Theron, 'Mad Max: Fury Road'
7. Carey Mulligan, 'Suffragate'
8. Lily Tomlin, 'Grandma'
9. Maggie Smith, 'The Lady in the Van'
10. Cate Blanchett, 'Truth'
Insight: 2015 without a shred of doubt has been one of the best years for women in films. And this is clearly reflecting in the above list of contenders. When was the last time Best Actress line-up of potential nominees looked stronger than Best Actor. Never, ever. Having said that, it is becoming more and more clear that this award is now for Brie Larson to lose. How things have changed since two years back when everyone thought she would get nominated for 'Short Term 12' but she got snubbed by the Academy. This year, she is strongly placed to win it. Her only real threat is Ronan, but only if Brooklyn gains some serious traction among Academy members — which is quite possible. Lawrence could have won again had 'Joy' been the frontrunner to win Best Picture; but since it is not, she will have to be content with just a nomination.
Best Supporting Actor
1. Michael Keaton, 'Spotlight'
2. Mark Ruffalo, 'Spotlight'
3. Mark Rylance, 'Bridge of Spies'
4. Tom Hardy, 'The Revenant'
5. Sylvester Stallone, 'Creed'
6. Paul Dano,'Love and Mercy'
7. Idris Elba, 'Beasts of No Nation'
8. Samuel L. Jackson, 'The Hateful Eight'
9. Christian Bale, 'The Big Short'
10. Jacob Tremblay, 'Room'

Insight: It seems like Michael Keaton may not have to wait for long after he lost the Oscar last year to Eddie Redmayne. In my personal opinion, though, it is Mark Ruffalo who does the best work in 'Spotlight'. His performance shouldn't and won't go unnoticed. Tom Hardy will surely get some spillover love for the continuous good work he has been doing. Due to some consistent drum-beating, Paul Dano is looking to break into top 5, but at this point of time, Sylvester Stallone is looking more firm with the popularity of 'Creed' growing with every passing day.
Best Supporting Actress
1. Rooney Mara, 'Carol'
2. Alicia Vikander, The Danish Girl'
3. Kate Winslet, 'Steve Jobs'
4. Jennifer Jason Leigh, 'The Hateful Eight'
5. Kristen Stewart, 'Clouds of Sils Maria'
6. Rachel McAdams, 'Spotlight'
7. Jane Fonda, 'Youth'
8. Elizabeth Banks, 'Love and Mercy'
9. Joan Allen, 'Room'
10. Julie Walters, 'Brooklyn'
Insight: Mara and Vikander find themselves in an unique position. Both are more of a co-lead than supporting in their respective films. So, even though both are the strongest contenders to win, their first goal must be to get nominated. Several times, due to the confusion, the actor/actress ends up missing the nomination completely.
'The Hateful Eight' first reactions are indicating that Leigh will have a strong presence in the film, so she occupies the fourth spot.
The final spot was open till last week. But with a surprisingly strong showing of Kristen Stewart in the critics awards, she suddenly is looking like a strong contender to finish among the top five.
Best Original Screenplay
1. Josh Singer & Tom McCarthy, 'Spotlight'
2. Quentein Tarantino, 'The Hateful Eight'
3. David O Russell, 'Joy'
4. Pete Docter, Josh Cooley & Meg LeFauve, 'Inside Out'
5. Matt Charman, Ethan Coen & Joel Coen, 'Bridge of Spies'
Insight: Surprisingly a thin category this year. With 'Spotlight's' stock rising, one can expect it to win this too. David O Russell has been looming over the Academy like a shadow since last four years without actually winning anything. Could this be his year ? Tarantino should also easily make into top 5 unless 'The Hateful Eight' turns out to be a disappointment. But then, Tarantino has yet to make a truly disappointing film.
Best Adapted Screenplay
1. Nick Hornby, 'Brooklyn'
2. Emma Donoghue, 'Room'
3. Phyllis Nagy, 'Carol'
4. Aaron Sorkin, 'Steve Jobs'
5. Alejandro G. Iñárritu & Mark L. Smith, 'The Revenant'
Insight: I strongly feel 'Brooklyn' will earn a lot of love from Academy members and that love will manifest somewhere; most likely, in this category. 'Brooklyn' could be this year's 'Whiplash' — a Sundance hit that exceeded the expectations at the Oscars.