'Pixels', directed by Chris Columbus, with screenplay written by Tim Herlihy and Timothy Dowling, is a 2015 sci-fi action comedy about aliens attacking earth in the form of arcade video game characters from the 80s. The film stars Adam Sandler, Kevin James, Josh Gad, Peter Dinklage, Michelle Monaghan, and Brian Cox. It is an adaptation of a short film by the same name, directed by French director, Patrick Jean.
The film is considered one of Sandler's most critically derided films, and was also one of the biggest flops of the year. Despite the film's fun concept, it is considered to be misogynist, cringe-worthy and not really that funny at all, and actually received widespread criticism from the critics. In fact, it got nominated as the 'Worst Film' in the Golden Rasberry Awards. Though it did manage to receive some mixed reviews from the audience. But it is not the kind that ages well with time.
It is really less likely that 'Pixels' gets a sequel because of the film's failure, but in case it does, it could hopefully try to explore the concept better. I personally think that with the 80s nostalgia wave hitting us these past few years, with 'Stranger Things', 'It', 'Sing Street','Blinded by the Light' and even 'Wreck it Ralph' with our beloved video games, if explored carefully and well, a concept like 'Pixels' could actually do well and be quirky. But then the fact of the matter is that it's not. Not yet, at least. There have been no talks of a sequel from the past few years except some speculations from fans. So we mostly will not get one. But we can still imagine a potential sequel to 'Pixels' and discuss what we would like to see in it.
Pixels 2 Plot: What Can It Be About?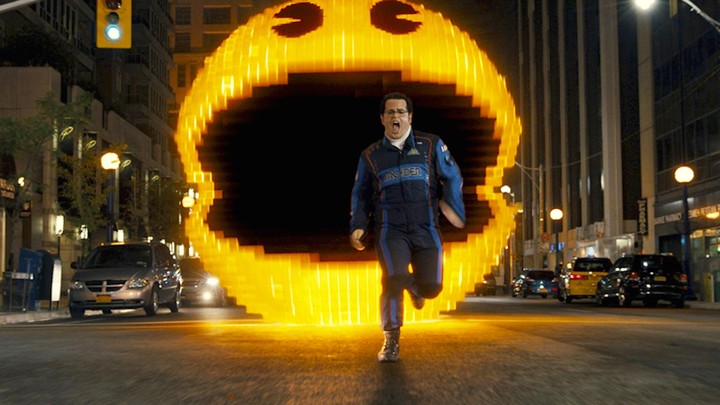 Since there are no talks about a sequel, we really do not have any solid information regarding the plot or what direction the sequel could take. But we can definitely speculate, and maybe hope for something better than the original. The first part centres around a team of adults who were once childhood champions of arcade video games like Pacman, Donkey Kong, Centipede, Space Invaders etc. Somehow the footage of them playing the game reaches aliens, and they misinterpret it, thinking earth is declaring war against them. This leads to the aliens taking form of the video game characters and destroying earth.
Before movie reboots like 'Jumanji: Welcome to the Jungle', I wouldn't have appreciated the concept of 'Pixels' as much. But the truth is that the concept of the film is actually interesting to work on/around and to watch and can be made into something that is genuinely fun. For a sequel, it could take the route of 'Jumanji' or 'Wreck It Ralph', by moving beyond the 80s and exploring the more recent video games from our time which will also be all the more dangerous. There could VR games, and 3D games, or a literal Internet boom with things exploding from the net. The possibilities are endless. But what's more important for the sequel to have is a sense of self-awareness that could make it humour all the more fun, and it could also try to subvert video-game norms of the time.
Pixels 2 Cast: Who Can Be In It?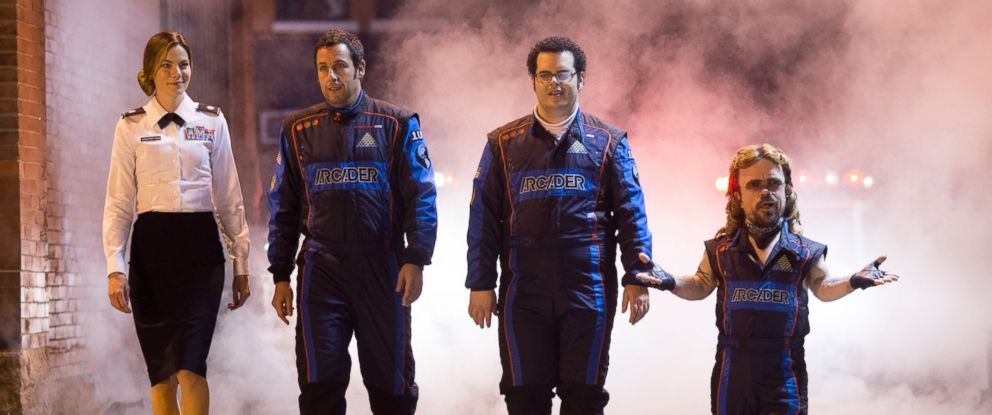 'Pixels' centres around Sam Brenner, played by Sandler, and Will Cooper, played Kevin James as they form an army to fight aliens in the form of 8 bit video game characters. The film also stars Michelle Monaghan, Peter Dinklage, and Josh Gad.
If there is ever a sequel to 'Pixels' it would only make sense to bring Sandler and James back, as despite how the movie faired, the two are actually great actors. Sandler recently proved his brilliance with his performance in 'Uncut Gems'. I also believe that they would be much more aware of what the audience of today are looking for in a movie, while also be able to produce brash, bold but self-aware comedy at the same time. The others, Monaghan, Dinklage and Gad should ideally also reunite with the rest of the team for the sequel. But I am sure that if there is a sequel, there will definitely be new characters introduced, so new cast members will also be added to the team.
Pixels 2 Crew: Who Can Be Behind It?
Chris Columbus was the man behind 'Pixels' as he directed and co-produced it. He is also the brilliant mind behind hit comedy classics like 'Home Alone', 'Mrs. Doubtfire', 'Goonies' and 'Gremlins'. Perhaps, with 'Pixels' he made some obvious mistakes with the kind of choices he made which made the comedy mostly inappropriate, cringey and lazy. But it's still something that could have been converted into a potential cult classic. I still have faith that if Columbus works with the team on the sequel something genuinely fun could be made out of it.
Perhaps the problem with Pixels was also to do with its writing. The screenplay was written by Tim Herlihy and Timothy Dowling. Herlihy has had a long history of working with Sandler on comedies. He has given to films like 'Billy Madison', 'The Waterboy', 'Grown Ups 2' among many others. Though some of these films were widely enjoyed by the audience of the time, they never sat too well with the critics, and have also perhaps not aged too well with the audience too. Perhaps, the reason why 'Pixels' bombed is that the audience too has become more critical of such comedies over the years, which means we need fresher, more aware writing. Otherwise, I think Sandler too would co-produce the film along with Columbus, Mark Radcliffe, and Allen Covert.
Pixels 2 Premiere: When Can It Release?
Keeping in mind how 'Pixels' bombed when it was released, we probably will not get a sequel to the film, which may not be such a bad thing after all. Columbus is currently working on 'Scoob!', while Sandler will be seen working in 'Hotel Transylvania 4' and 'Hubie Halloween' next. So, if at all we do get a 'Pixels 2' it would make sense to expect it to release sometime around 2023 or later.
Read More: Upcoming Adam Sandler Movies