Portia De Rossi is the professional name of the Australian-American model who was born Amanda Lee Rogers and is now Portia Lee James DeGeneres. She is currently married to popular comedian and television host Ellen DeGeneres. Born on January 31, 1973, this 46-year-old actress has had a long career in films and television shows. Notably, she gave herself the name Portia based on the admirable heroine in William Shakespeare's famous play, 'The Merchant of Venice', in an attempt to reinvent herself.
De Rossi was a student of law but found herself drawn to acting as she auditioned and got the part in a low-budget comedy titled 'Sirens', starring Hugh Grant. However, she really came into the limelight in 1997 with the stunning portrayal as Murphy in Wes Craven's cult horror sequel 'Scream 2'. Her best role yet, however, was playing Nelle Porter or the 'Ice Queen' in the drama series 'Ally McBeal'. The show ran from 1998 to 2002 and won her a Screen Actors Guild Award. De Rossi's other notable appearances have both been in television shows, the first being as Lindsay Bluth Funke on 'Arrested Development' the American sitcom.
The second notable performance was when De Rossi played the role of Elizabeth North in the political thriller 'Scandal'. In May 2018, De Rossi appeared on 'The Ellen DeGeneres Show' and announced to the world that she had decided to retire from acting. However, she later clarified that she would make an exception for the future seasons of 'Arrested Development'. At this point, the question that might be circling your mind is what is the next Portia De Rossi movie/tv show? Well, the good news is that we have a clear answer to that question. Here's the list of upcoming films/shows of Portia De Rossi scheduled to release in 2019 and 2020. We can only hope that the latest Portia De Rossi movies/shows would be as good as some of her recent ones.
1. Arrested Development (2003-)
'Arrested Development' is a popular American sitcom that started in 2003 and over the course of five seasons has had quite the rocky history in terms of airing. Created by Mitchell Hurwitz, the show first aired on Fox for three seasons, from 2003 to 2006. It went on to be hailed as one of the best shows of all time and amassed a cult following along with critical accolades like six Primetime Emmy Awards and a Golden Globe. Despite all this, Fox canceled the show after Season 3. However, in 2011, Netflix picked up the show and agreed to stream it on their platform. As things stand currently, 'Arrested Development' is on the fifth season, with the first half of the season having aired on May 29, 2018, and the second part is scheduled to air on March 15, 2019.
As far as the overall story of the show is concerned, it revolves around the Bluth family. Jason Bateman plays the lead role as Michael Bluth, the sane level-headed man trying to hold together a family that is racked apart by shallow materialism, manipulative natures, and selfishness. The Bluth family is described as being wealthy, but their circumstances change in a 'riches to rags' story after the family's patriarch, a corrupt real estate developer, is arrested in the first episode. However, this dysfunctional family has gotten used to the extravagant lifestyle and now it is up to Michael to handle all things. Portia De Rossi appears in the show as Michael's twin sister Lindsay Bluth. She plays a spoiled as well as materialistic character. Lindsay continually feels the need to validate herself and her vanity which leads her to leap onto various social causes. This is how she attempts to always remain at the center of attention. In the show, Lindsay is married to Tobias Funke, a character played by comedian David Cross.
Season 5 finds De Rossi getting up to her usual antics as Lindsay, who is now running for Congress. However, nothing is as simple as it seems and when things do not go according to plan, Lindsay walks out not to be seen again for the remainder of the episodes. While the other characters look for Lindsay, whose presence is a must, if she wants to fulfill her goals of becoming a congresswoman, we cannot help but hope that the second half of Season 5 of 'Arrested Development' shows us a bit more of De Rossi. Understandably, she has decided to retire from acting and perhaps this is why she only appears five episodes from the current season. However, De Rossi has always been a powerhouse of talent and we would love to see her in a few more episodes if nothing else.
Read More: Upcoming Jason Bateman Movies
2. Santa Clarita Diet (2017-)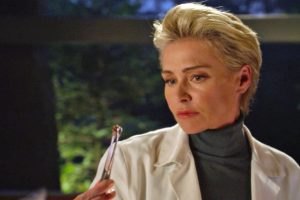 'Santa Clarita Dit' is a Netflix horror comedy show. It has an impressive cast with Drew Barrymore and Timothy Olyphant as the protagonists. The show premiered on February 3, 2017, and Season 2 came out on March 23, 2018. Season 3 is scheduled to arrive on March 29, 2019. Basically, the plot follows Barrymore's Sheila Hammond and Olyphant's Joel Hammond. The couple are real estate agents in Santa Clarita in California. While they are well-adjusted in society, things start going sideways when Sheila becomes a zombie after undergoing a physical transformation. Obviously, this makes her crave for human flesh and her friends and family rally around her trying to help her through this tough time while keeping up appearances and helping her hold on to her job.
While the show itself is more of a slow burner with the screwball comedy taking some time to grow on audiences, Portia De Rossi has delivered a phenomenal performance as Dr. Cora Wolf. Wolf is a doctor who deals with the undead and may or may not have the cure for Sheila. De Rossi uses deadpan humor to show her discomfort around the living, and although she had a limited appearance in Season 1 without having appeared in Season 2, we can always hope that Season 3 will bring back Dr. Wolf and the wonder that is Portia De Rossi.
Read More: Upcoming Taraji P Henson Movies