'Portlandia' is a sketch comedy series created by Fred Armisen, Carrie Brownstein and Jonathan Krisel. Armisen and Brownstein star in the show while Krisel directs it. The concept for the series developed back in 2003 when Brownstein and Armisen decided to make a series of sketches for the Internet. Portland hadn't been particularly in their mind when they started writing it. However, it soon became a common element in a number of sketches. Finally, it was decided that it would be a great place to set their stories in.
The series harmlessly triggers fun at the perfectly calm Pacific Northwest city and the many extraordinarily outlandish people belonging to the place. The series is executive produced by Lorne Michaels, Krisel, Armisen, Brownstein and Andrew Singer. Broadway Video and IFC Original Productions serve as the production companies. It originally aired on IFC. For its intelligent comedy, 'Portlandia' received a Peabody Award in 2011. It was a constant presence at the Emmys since 2011, till the end of its term, and won for Outstanding Costumes. Krisel received nominations for directing, and along with Armisen, Brownstein and Karey Dornetto, he has also been nominated for Outstanding Writing for a Variety Series. It has also received nomination nods by Writers Guild of America.
Portlandia Season Cast: Who is in it?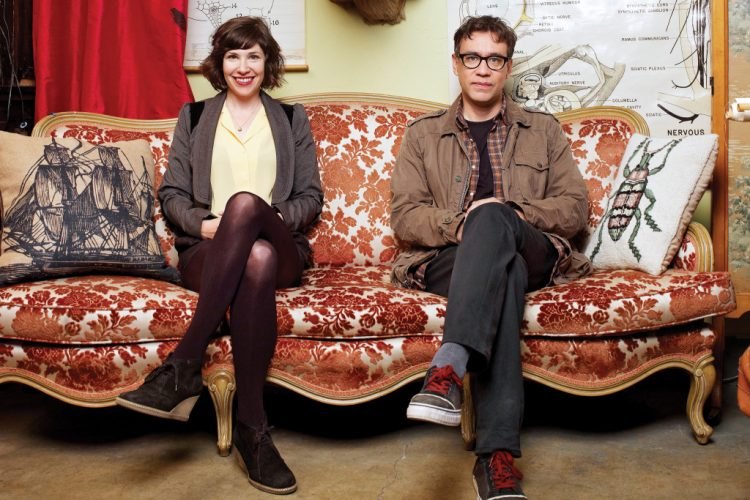 The stars of 'Portlandia' are Fred Armisen and Carrie Brownstein. Armisen was a part of the regular cast of 'Saturday Night Live' from 2002 to 2013. He received a Peabody Award in 2008 for his work on the show. He was also a member of the American rock band, Trenchmouth, which disbanded in 1996. He assembled the 8G band which serves as the house band for 'Late Night with Seth Meyers'. He is also known for his work in 'Documentary Now!', 'Unbreakable Kimmy Schmidt', 'Anchorman' and 'Cop Out'. Brownstein is a writer and a musician, apart from her work as an actress. She is best known for playing the role of Syd in 'Transparent'. She has also been a guest star on 'Saturday Night Live' and 'Curb Your Enthusiasm'.
The series also stars Kyle MacLachlan ('Twin Peaks') in the recurring role of the Mayor of Portland. The real mayor of the city, Sam Adams, who served in the office from 2009 to 2012, plays the role of his assistant. Steve Buscemi ('Boardwalk Empire') is another actor who has been a regular part of the series. He plays the role of Fred and Carrie's landlord. Buscemi has also directed various episodes of the show.
Kristine Levine and Ebbe Roe Smith appear as a swinger couple, while Angel Bouchet appears as herself. Jeff Goldblum, in his own quirky manner, plays the role of a man who owns various shops. Mickey Ronningen appears on the show as Carrie's mom. Over the years, 'Portlandia' has welcomed actors like Ed Begley Jr., Natasha Lyonne, Kumail Nanjiani, Kirsten Dunst, Selma Blair, Olivia Wilde, Aubrey Plaza, Jason Sudeikis and Gus Van Sant, among others. The eighth season welcomed guests like Rachel Bloom, Tessa Thompson, Rashida Jones, John Mulaney, David Wain and Shannon Woodward, among others.
Portlandia Season Plot: What it is about?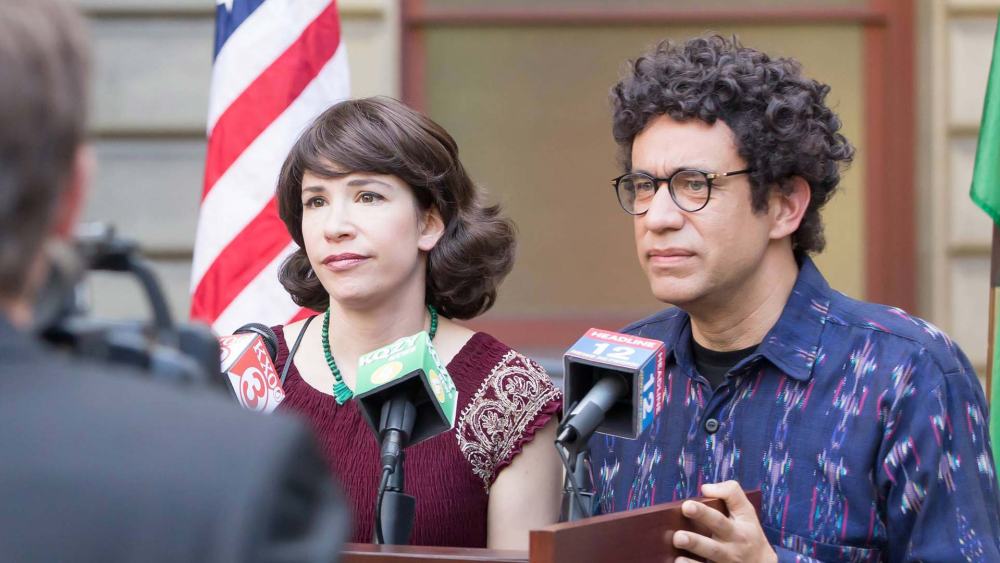 Being a sketch comedy, there is no fixed plot of the series. Armisen and Brownstein appear in various roles, most of which are recurring, to tell a new story with every act. A running gag or another detail often brings these stories together. In one of the pairings, they play Fred and Carrie, two friends living together in Portland. The actors experiment with various acts, tweaking the age of the characters, from young to old, according to the material. Further, they haven't shied away from gender-swapping when the content calls for it.
Portlandia Season 9 Release Date: Will it Happen?
'Portlandia' season 8 premiered on January 18, 2018. The show has received praise for its clever content, particularly directed at Brownstein and Armisen for their effortless portrayals of a myriad of characters. However, as often happens with satire, not only everyone finds it so good. There have been criticisms of 'Portlandia' where it has been accused of being more offensive than funny. Whatever the response of critics be towards the series, the audience has always loved it.
In the middle of the seventh season, it was announced that the eighth season of the show would be its last. The decision was not affected by any loss of viewership. In fact, it had been going strong in that department. It was made keeping in mind how much new content they could explore without being repetitive or irrelevant. In an interview with THR, Armisen expressed his thoughts about the way the team wanted to end the series. "We were careful not to make it seem too much like the last season. We wanted the episodes to be able to be watched in any order because I think that's how people watch things anyway, even sketches. But I remember when we were in the beginning of writing, we were like, 'Let's make sure we're writing sketches that can still last a while, that have some shelf life, that are still funny in some way, hopefully".
'Portlandia' went out on its own terms, so there's a chance for the return if Brownstein and Armisen are ready to introduce us to some new characters. Often, popular shows take a hiatus when the writers feel that the content might be turning stale. A couple of years allow them to rediscover their voice and find new stories to tell. With 'Portlandia', we expect something similar in the future. If and when we hear anything about Portlandia season 9 release date, we will update this section.
Portlandia Trailer:
A successful run of eight seasons, without any blemish, without forced endings is all that a good TV show can ask for. 'Portlandia' has that. If you miss it, then you can revisit all eight seasons. They are available on Netflix and IFC. Here is the trailer of the eighth season to give you a sneak peek into the final adventures of the eccentric duo.
Read More: Funniest Shows on Netflix