Created by Adam Reed, 'Archer' is an American adult animated sitcom that premiered on September 17, 2009. The FX series follows the adventures of a crime-solving group of dysfunctional agents, working for a secret intelligence agency called ISIS. Over eleven seasons, the show has garnered multiple Emmy awards during its run, including a win for Outstanding Animated Program in 2016. With its increasing popularity since its inception, the upcoming season is expected to give the fans another round of its well-timed deadpans and insightful observational humor. Here's everything we know about 'Archer' season 12!
Archer Season 12 Release Date
'Archer' season 11 released on September 16, 2020, on FFX and came to an end on October 28, 2020, after airing eight episodes. Initially scheduled to premiere in May 2020, it suffered a massive delay due to the pandemic. The cable network confirmed that there was a spike in the ratings by 32% from the previous season, reporting 2.43 million total viewers per episode.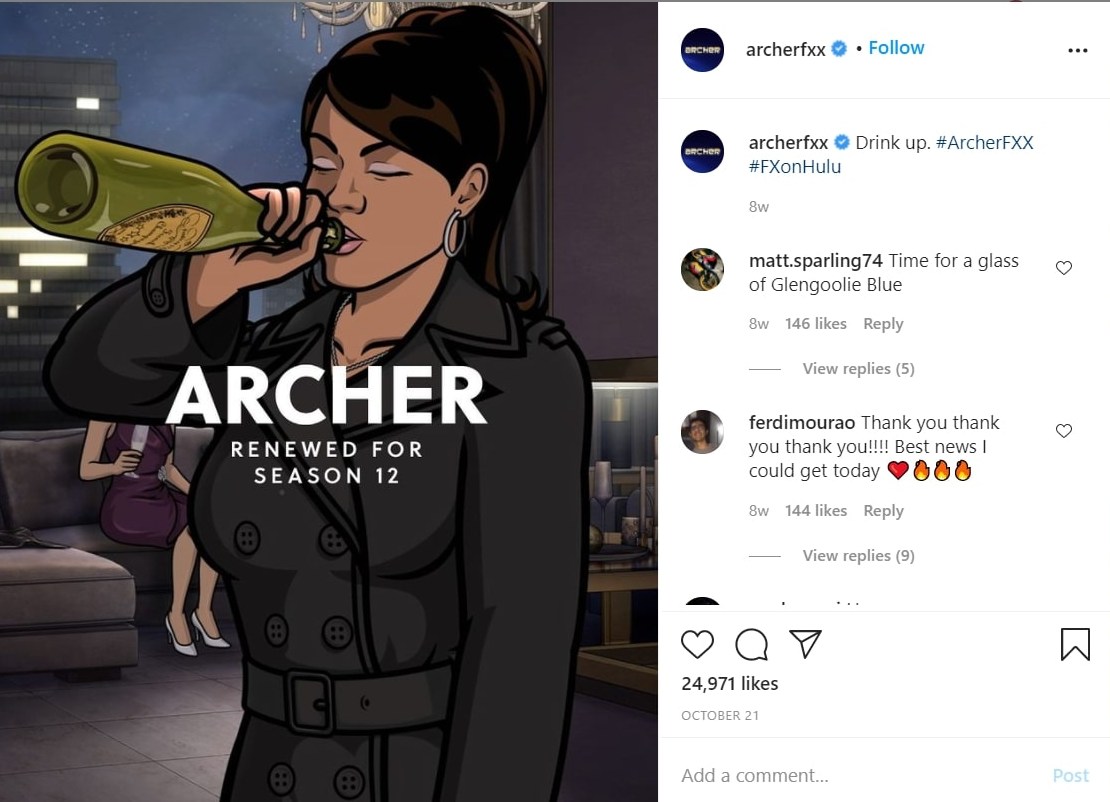 Considering the increase in ratings, the show was bound to get recommissioned. So naturally, on October 21, 2020, the network renewed the show for a twelfth season, along with revealing the details of its release. As season 11 premiere was pushed back, the coronavirus could impact the air date of the new season. Episodes of Archer season 11 premiered on FFX on Wednesdays and Hulu on Thursdays, a pattern that might continue even for season 12. Considering all these factors, we expect 'Archer' season 12 to premiere sometime in 2021.
Archer Season 12 Cast: Who can be in it?
The terrific voiceover cast of the show has been wowing audiences ever since the start of the show. H. Jon Benjamin voices the titular role of Archer, Judy Greer as emotionally fragile but competent assistant Cheryl, Amber Nash as the loveable Pam, Chris Parnell as Cyril, Aisha Tyler as super-smart Lana, Jessica Walter as Archer's dominating mother Malory, And Lucky Yates as Dr. Krieger. Adam Reed, the creator of the series, voices Ray Gillette.
The good news is that they will all be returning for season 12. Nick Grad, President of Original Programming for FX Entertainment, put everybody's minds at ease by disclosing that the cast will be retained in the new season. He said "Our thanks to Adam Reed, Matt Thompson, Casey Willis, and the entire team at Floyd County Productions for keeping 'Archer' as fun as ever and true to form. Together with its unbelievable voice cast, Archer is set to give fans another great season."
Archer Season 12 Plot: What can it be About?
As Archer slowly heals from his coma in season 11 of the series, his post-revival form seems to emotionally wreck the people around him. On his return to the land of the living, his co-workers spiral into a streak of dysfunctional behavior, and his spy agency plunges into chaos. His experience transforms him as a person, but his humility is quite predictably short-lived. Later, Archer goes on a double date where he attempts to make Lana jealous. He also tries to reconnect with his daughter AJ. The last two episodes end with Archer, for once, pensively introspecting about bringing in positive changes in his life.
The season-ending wraps up in a classic spy mission where Archer is the expected hero. But even as Sterling is ready to shake off past events, triumphantly defeating his hallucinations and recovering from a near-death experience, it leaves us with a few unanswered questions, enough to pick at our brains. Season 12 is expected to explore the mystery relating to Archer's fatherhood and his dynamic with Lana. The central focus might shift towards the personal life of the characters, which might give the viewers some closure. Robert, Lana's rich husband, might also controversially pave the way for more drama and comedy.
Read More: Best Archer Episodes, Ranked