One of the most highly anticipated Korean dramas of 2020 is Netflix's 'Record of Youth', created by screenwriter Ha Myung Hee and directed by Ahn Gil Ho. Park So Dam (of 'Parasite' fame) returns to the drama screen fresh off her Oscar win and Park Bo Gum is saying a temporary goodbye to fans with this drama before he heads off to serve in the military. 'Record of Youth' follows the career struggles and friendships of three individuals working in the fashion and entertainment industry. The male protagonist – Hye Jun – wants to become an actor but has been unable to find his footing in the acting industry so far, despite being a popular model. He is honest, kind, and very handsome. The female protagonist is a skilled makeup artist – Jung Ha – who lives life on her own terms, hates unnecessary expenditure and has a huge crush on Hye Jun. The second lead is Hae Ho, Hye Jun's childhood friend who comes from a rich family and therefore, has an easier time of getting acting roles.
Record of Youth Episode 4 Release Date
'Record of Youth' episode 4 will be premiering on Netflix on September 15, 2020. Two episodes are released every week, on Mondays and Tuesdays, and there are slated to be a total of 16 episodes. The series is broadcast in South Korea on the cable channel tvN at 9:00 pm (Korea Standard Time) every Monday and Tuesday. Each episode of 'Record of Youth' has an approximate runtime of 60-70 minutes.
Where To Stream Record of Youth Online?
'Record of Youth' is available for worldwide streaming on Netflix, so you can watch either on the website or on the app. Local South Korean residents can also watch the drama on cable tv network tvN on the date mentioned above. The section below is a recap of Episode 3 and speculation of what viewers can expect in Episode 4, so there would be SPOILERS AHEAD. Please head over to Netflix right now if you haven't caught up on the first three episodes.
Record of Youth Episode 4 Spoilers
At its heart, 'Record of Youth' is a romance between Hye Jun and Jung Ha and so far their love story has progressed steadily, with the two becoming close friends. The coming episodes will most likely see the two flirting a bit, especially since Hye Jun got Jung Ha to admit to being his admirer in the last episode. Hye Ho's grandpa will also get significant screen time as viewers may see him audition for senior modeling gigs. Jung Ha will face some career challenges because of her mean, jealous boss Jin Ju, and there might be a fight coming there. Lastly, since episode 3 hinted at a possible one-sided romance for Hae Ho, we might see him develop unrequited feelings for Jung Ha in episode 4.
Record of Youth Episode 3 Recap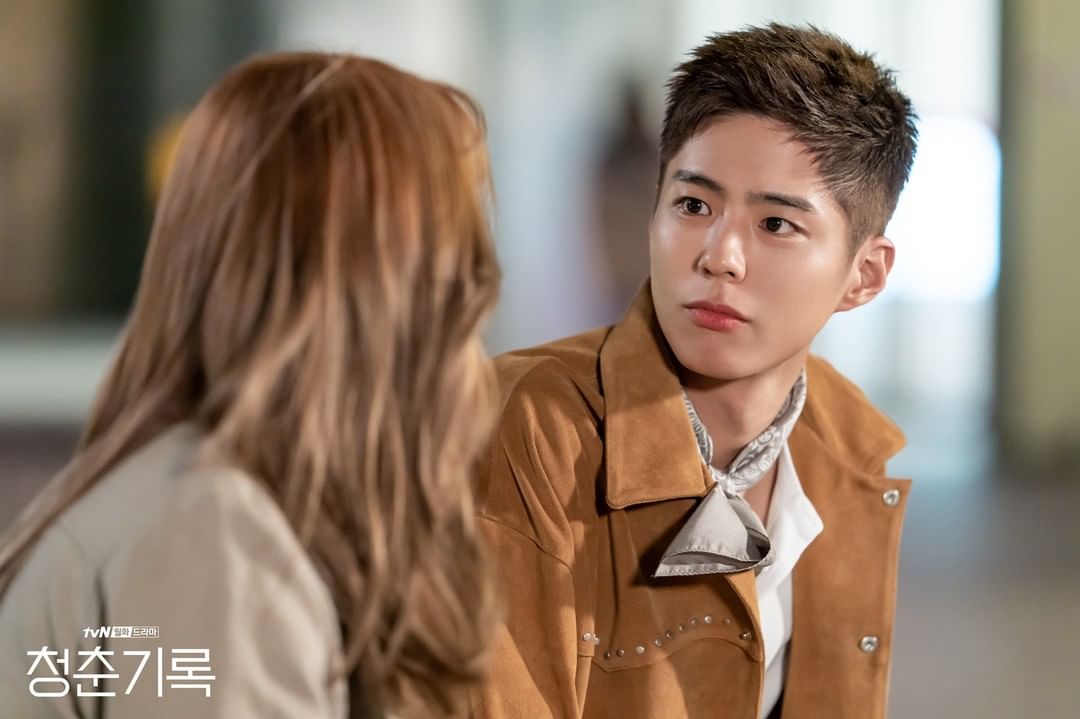 Episode 3 delved more into the feelings of jealousy and inadequacy that Hye Ho is feeling because he found out that his best friend Hae Ho got the movie lead role due to having more social media presence than himself. Hye Ho, being the straightforward guy that he is, tells his friend that he doesn't want to hang out until he gets over losing out to him, and also assures Hae Ho that it's not his fault but Hye Jun's own issue. Hye Jun also says a firm no to his manager and tells her that he has decided to enlist for his military service.
Hye Jun's mom (who works as a housekeeper for Hae Ho's family) experiences stabs of jealousy as well when she hears that Hae Ho got the movie role that Hye Jun had also auditioned for. Viewers get a glimpse into her backstory and how she came to work at Hae Ho's mother's house and what their employer-employee relationship is like.
For the majority of the episode, Hye Jun spends time with Jung Ha and she suggests the idea of having Hye Jun's grandpa audition for senior modeling. Hye Jun's grandpa is down with the idea since he wants to earn money. Hye Jun also gets Jung Ha to admit that she has a crush on him and not his friend Hae Ho. Finally, the episode ends with Hye Jun getting offered a minor role in the same film as Hae Ho. He decides to delay his army enlistment and goes home to tell his parents.
Read More: Best K-Dramas on Netflix