Dwayne Johnson is a brand himself. As a matter of fact, when The Rock is in a movie, his presence takes precedence over the actual movie and the rest of the star cast. People can really ignore what is going on the screen as long as Dwayne Johnson is swinging, smashing, shooting, firing, fighting and flying his way to save the world, single-handedly. His presence on-screen is so domineering that it attracts all the attention.
For example, you can never tell that he has appeared in the same film, thrice. You may think that 'San Andreas' (2015), 'Skyscraper' (2018) and 'Rampage' (2018) belong to some sort of extended universe. Surely each one has a distinct identity, like a giant albino gorilla or planet crushing Earthquake or physics-defying leap into a building. Yet, lately, Johnson's movies are appearing so similar in tones that his recent 'Fast and Furious' outings also give a sense of déjà vu.
That doesn't mean big Rock is just following a convenient formula. Films like 'Central Intelligence' (2016), 'Moana' (2016) and 'Jumanji: Welcome to the Jungle' (2017) are nothing but grand balls of happiness and entertainment. His recent 'Hobbs & Shaw', upcoming Jumanji sequel and 'Jungle Cruise', all are logically sound choices from him. Dwayne Johnson takes the happiness quotient in his films very seriously. For him, life is already full of sadness. So his movies should attempt to provide happiness and entertain the viewers. He has such confidence in brand Dwayne Johnson and believes in this philosophy so much that his adamant stance led to the changes in the ending of 'Rampage'.
'Rampage' was one of the two hits for the actor. From the first promo materials itself, the movie screamed everything, Dwayne Johnson. 'Rampage' was based on the famous video game series in the 90s by the same name. The movie follows the spirit of the game but instead of a human, a gorilla is transformed into a huge one. The monster movie minted some nice numbers too. Completely ignoring the critics, 'Rampage' went on to collect 428 million dollars in the worldwide box office. Domestically it collected 101 million dollars while the rest came from the foreign markets. 'Rampage' was a big success in China.
In the Middle Kingdom, 'Rampage' collected $156 million. So it's evident that 'Rampage' was watched by many. The movie's success meant that the production houses can think about signaling a sequel as well. Especially the director Brad Peyton has already hinted his willingness to continue to explore this world and we have found a major Easter egg in the first movie that directly tie-up with the sequel. Peyton has made three films with Johnson so far ('Journey 2: The Mysterious Island', 'San Andreas' and 'Rampage') and all of them were hits. So it only makes sense that they will move forward with a Rampaging sequel particularly because there is such a grand and elaborate source material to pick up from.
So without further ado let's talk about everything we know so far about 'Rampage 2'. But for that, we will need a quick recap of the events that transpired in the first movie. As the story follows in a linear way, this will help us in gaining more understanding of the plot of 'Rampage 2'.
Rampage Recap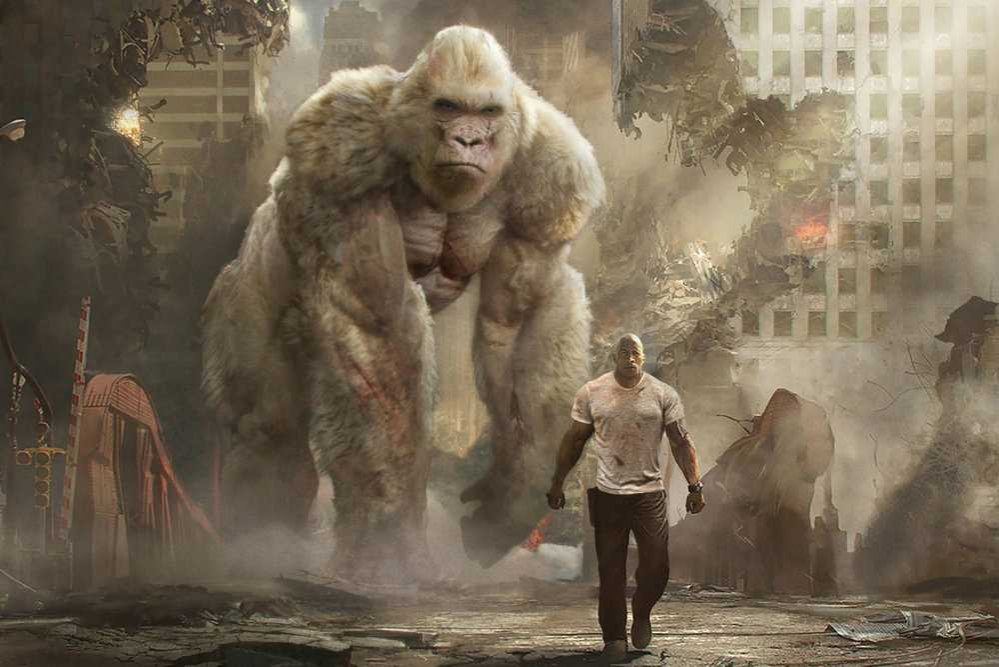 We have typical parties. A larger than life good guy with star-studded credentials, few important side characters, innocent projects to experiment on and an evil organization. The movie starts with a lab rat destroying the space station named Athena-1 which was run by Energyne, a company with shady business tactics and expertise in gene manipulation. Remember the rat. We will come back to it later. Now, the only survivor of the disaster is Dr. Kerry Atkins who tries to escape in a pod with the remaining pathogens. However, she is unable to return to Earth safely as the canisters land in different places. One canister is consumed by Lizzie the American crocodile, another by a wolf, named Ralph and the third one comes in contact with George.
George is a rare albino gorilla who was saved from poachers by our guy Davis (Johnson) a former US army soldier and a member of anti-poaching group. Over time, the two has gotten quite close. But the chemicals start affecting the animals. They grow bigger and becomes extremely violent. We now have Dr. Kate Caldwell (Naomi Harris) who sheds light into the issue. Energyne originally intended to use the pathogens on animals and turn them into biological weapons.
Caldwell was fired and put behind bars for refusing to play along. Energyne CEO, Claire Wyden accompanied by her brother Brett tries to stop the secrets from spreading by using the angry giant animals. There initial plans to kill Ralph fails. Claire uses a high frequency transmitter over Willis Tower made to rattle and lure the animals towards it. Davis and Kate with the help of Russell intend to reach the headquarters to get the anti-serum for the animals.
As it turns out, there is nothing that can reverse the changes completely. The serum can only make the animal calm and help them regaining their own consciousness. Ralph, Lizzie and George terrorise the city in a typically gorgeous CGI scenes. Kate pushes Claire with serums towards George who instantly eats her along with the serum and soon regains consciousness. Davis tricks Ralph with the help of George who is killed by Lizzie. Giant animals keep on fighting as buildings collapse, vehicles destroyed. Finally Davis, George, Russell and Kate manage to nullify Lizzie's threat and the movie ends with they helping the city in the restoration process.
Rampage 2 Plot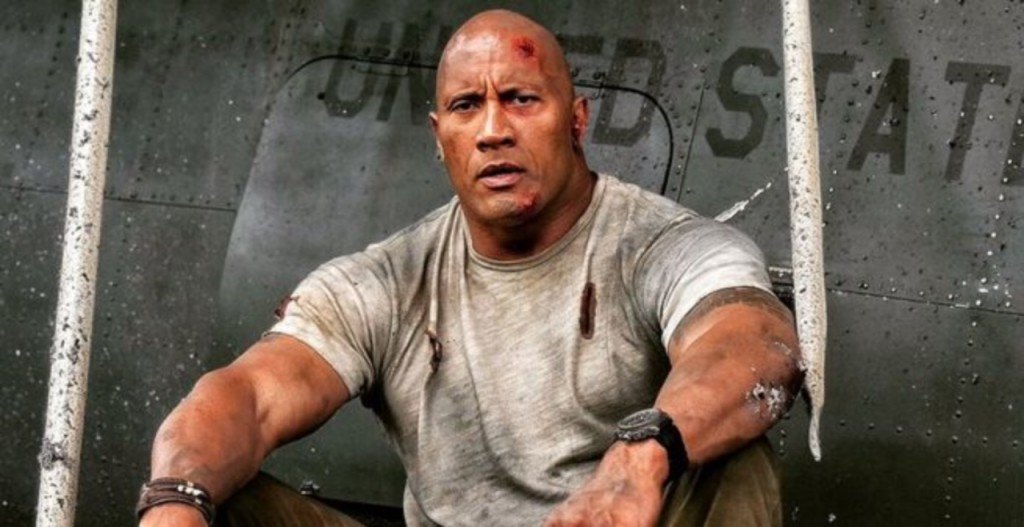 'Rampage' has already built the absurd universe and fans have liked it quite enough. The logical course of action for the sequel will be to take things further from thereon. The video game has had a long run with multiple iterations. It has numerous complex higher 'levels' that can serve as storylines for the 'Rampage 2'. The game made waves for letting users play from the point-of-view of the giant animals smashing things. So the sequel can easily look into it.
George regaining his consciousness can have few implications. It will be naive to believe that corporate greed is over and the animals are free from the dangers of genetic mutations. So 'Rampage 2' can feature a few strands of narratives from their point of view. We can have a low-key version of 'Planet of the Apes' in this video game adaptation where George can play a big role in influencing the animals like Caesar the ape. But we doubt the makers will go that way. 'Rampage' is never subtle and it's all about raw fun.
Now, remember the rat we talked about at the beginning of the article? Well, it might just be the sequel. 'Rampage' opening sequence has a mutated rat destroying the space station. In the famous Atari Lynx port, Larry was a large rat that was famous for large scale destruction. Apart from Larry, the game versions later also had two monster rats, Rhett and Curtis. Peyton has said in an interview that if he gets to make the sequel he will use the video game reference and name that rat, Larry.
Rampage 2 Cast
If 'Rampage 2' happens, the Dwayne Johnson will inevitably be there to save the day. Naomi Harris should also come back to play Dr. Kate Caldwell. Jeffery Dean Morgan as Harvey Russel is also a possibility. Monster films have a lot of monsters and not as many important human characters. So I think there will be few human antagonists added to the cast and the rest are all going to be animals. Giant, mutated animals, rampaging through cities.
Rampage 2 Release Date
The movie's main star is Dwayne Johnson. The possibility of 'Rampage 2' solely depends on his availability. But so far Johnson has quite a busy year coming up and a few projects already in the pipeline. So if indeed 'Rampage 2' goes onto the floor, it will be at least 2021 before we can watch it on screen.
Read More: All Upcoming Dwayne Johnson Movies