It's true that a simple mention of the name 'Regina Hall' evokes thoughts of Brenda from 'Scary Movie.' But Regina Hall has been around for more than enough tenure to call her a veteran. She is best known for her comedic portrayal of loud and obnoxious women in television and film. The versatile actress always makes it difficult to identify her from the skin of her characters. Regina Hall has a number of diverse characters in her career and is yet associated with Brenda from 'Scary Movie.' Hall got her first big break in the 1999 movie 'The Best Man.' In the next year, she debuted as Brenda Meeks in the popular horror-comedy-spoof 'Scary Movie.' Her portrayal of Brenda revived her career and she played the same role four times in 'Scary Movie 2,' '3' and '4'.
Movies like 'Think Like a Man' (2012), 'About Last Night' (2014), 'Barbershop: The Next Cut' (2016), and 'Girls Trip' (2017) earned her reputation as a dependable comedian and character actor. Hall has a successful career on the small screen too. She played the role of Coretta Lipp in the drama 'Ally McBeal.' From 2010 to 2011, Hall had also played as Deputy District Attorney Evelyn Price in 'Law & Order: L.A.' Her other major works for the small screen include, 'With This Ring' (2015), ABC's 'Black-ish' (2016-2017) and HBO's 'Insecure' (2017). At this point, the question that might be circling your mind is what is the next Regina Hall movie and TV show? Well, the good news is that we have a clear answer to that question. Here's the list of upcoming Regina Hall films/TV shows scheduled to release in 2019 and 2020. We can only hope that the latest Regina Hall movies would be as good as some of her recent ones.
5. Black Monday (2019 – Present)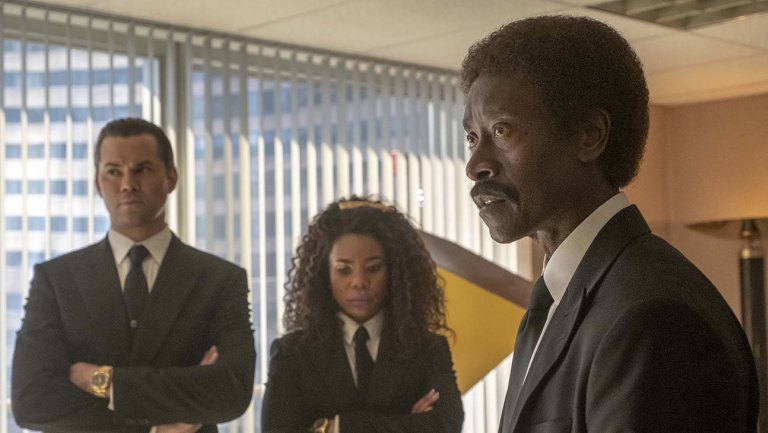 Showtime's Wall Street comedy 'Black Monday' is based on the real-life event of the worst single-day stock market crash in the history of the U.S. The series centres on the power triangle consisting of the ruthless power trader Mo, played by Don Cheadle, his colleague and love interest Dawn, played by Regina Hall, and his protégé Blair, played by Andrew Rannells. Paul Scheer also plays a key role in the series. 'Black Monday' offers a comedic take on the notorious stock market crash on October 19, 1987, and the events that followed after the stock market bubble's blast. The series recreates the shock and deception of the black day through unexpected twists and turns that will keep the viewers on the edge of their seats. 'Black Monday' just wrapped up its first season while fans are eagerly waiting for Showtime to announce the second season.
4. Crushed (2016)
'Crushed' is a long-gestating single-camera comedy pilot for Hulu. Regina Hall plays the female lead in the TV movie which is written and directed by Tina Gordon Chism. The project was first commissioned by HBO two years ago and then taken over later by Hulu. 'Crushed' centers on the in-house drama within an African-American family. They find themselves on the mouth of a grave existential crisis when their successful wine business in Napa falters. Apart from Hall, who plays Celia, 'Crushed' also features Bashir Salahuddin as her brother Will, the winemaker.
3. Little (2019)
'Little' is a comedy based on interpersonal relationships in the corporate world. When Jordan Sanders, who is known as a workaholic and irritating boss, gets a magic spell to go back to her childhood, her life turns upside down. The movie features Regina Hall and Marsai Martin as the adult and child Sanders respectively. Issa Rae plays Jordan's desperate personal secretary, April. 'Little' is directed and executive produced by Tina Gordon. The movie also has Justin Hartley, Tone Bell, JD McCrary, and Rachel Dratch in key roles. According to reports, the 14-year-old Martin conceived the idea and pitched it successfully to Universal. The 'Black-ish' actor becomes the youngest executive producer in the history of Hollywood with 'Little.'
2. Shaft (2019)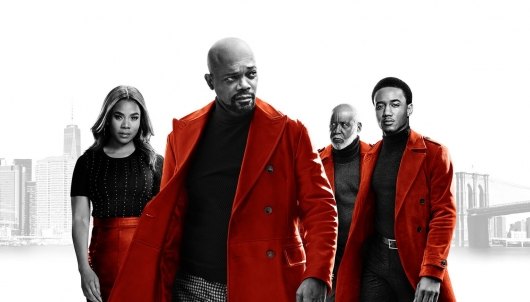 'Shaft,' which is one of the most anticipated movies of 2019, is the latest instalment of the renowned 'Shaft' franchise. The action thriller follows three African-American police detectives John Shaft, his nephew John Shaft II, and Shaft II's son John Shaft III. It revolves around John Shaft III, aka JJ, who is a cyber-security expert working for the FBI. When his best friend dies under mysterious conditions, JJ embarks on a dangerous investigation that turns out to be professional and personal at the same time. JJ realizes he needs help from someone more experienced.
Things gather momentum when his father, the legendary John Shaft, lends a helping hand to his son. The father helps his son to unveil the mystery behind the death of his best friend. But JJ has to decide between his FBI analyst's badge and his father's trademark leather coat. 'Shaft' features Samuel L. Jackson as John Shaft II, Jessie Usher as John 'JJ' Shaft, Richard Roundtree as John Shaft, Alexandra Shipp as Sasha, Regina Hall as Mrs. Shaft, Method Man as Freddie P, Avan Jogia, Matt Lauria as Cutty, Robbie Jones, and Callan Mulvey. Directed by Tim Story, the movie hits theaters on June 14, 2019.
Read More: Upcoming Queen Latifah Movies
1. Prison Logic (TBA)
'Prison Logic' is a raw comedy that blends frenetic laughter with excruciating pain. Directed by Romany Malco Jr., the movie follows Tijuana Jackson, played by Romany Malco Jr., who is an aspiring motivational speaker serving time in prison. The sentence along with a court mandatory probation destroy the reality-show dreams of Jackson and his side-kick Lil' Eric, played by Alkoya Brunson. Regina Hall plays Jackson's parole officer and a potential love interest. The couple was praised for their onscreen magic and flawless delivery of delicate emotions. Tami Roman plays Jackson's sister Sharea. The movie was shot on location in Miami, Ft Lauderdale, and Orlando.
When it was screened at various film festivals, 'Prison Logic' garnered positive reviews from critics for its sharp wit and dark nature of comedic situations. The movie was regarded as wildly funny and surprisingly poignant. As an intimate exploration of a man's quest to deliver his hard-earned wisdom to the world and to change the world, 'Prison Logic' elevates the senses of the viewers. The movie unfolds from the point of view of two college students who film a documentary on the controversial Tijuana Jackson. The documentary follows Jackson as he leaves home and embarks on a road trip to follow his dreams. 'Prison Logic' unfolds as a mockumentary and it helps the plot dig deep into the mind of Jackson and the various mysterious surprises he comes across along the way.
Read More: Upcoming Halle Berry Movies