Richard Gere's long legacy spans across more than four decades and encompasses music, theater, television, films, and humanitarian initiatives. Born in Philadelphia, Pennsylvania, Gere grew up in upstate New York. Though he enrolled in the University of Massachusetts with a gymnastics scholarship, he dropped out of college in order to pursue his passion for music. The young musician performed with several popular bands and his popularity as a local pop star helped him to move on to theater. Gere started his acting career with the summer programs in and around New England.
Breakthrough
Gere's first major role was Danny Zuko in the musical 'Grease' in London stage in the early '70s. He got the career breakthrough with the 1977 thriller 'Looking for Mr. Goodbar,' in which he played a rugged vagabond who crosses paths with a mild-mannered schoolteacher. Gere earned critical acclaim for his short but powerful role, while the movie opened up doors to more roles in bigger projects. The next year, Gere joined the cast of 'Days of Heaven' directed by Terrence Malick. Set in the pre-modern era of American History, the 1978 epic emerged as one of the most significant movies made in America in the 20th Century.
"I was 26 when I made Days of Heaven — 28 when it was released 'cause we went back and shot another movie," Gere remembered those days in a previous interview. "I was a kid in regional theater and off-Broadway, so I was working a lot before that!"
Roger Ebert praised the movie and the stellar performances in his review: "Days of Heaven is above all one of the most beautiful films ever made. Malick's purpose is not to tell a story of melodrama, but one of loss. His tone is elegiac. He evokes the loneliness and beauty of the limitless Texas prairie," wrote Ebert. Though 'Days of Heaven' garnered widespread critical acclaim, Gere had to wait two more years to taste box office success.
The '80s saw his meteoric rise into the league of A-listers in Hollywood. In 1980, he played the lead role in the crime drama 'American Gigolo' directed by Paul Schrader. The actor played the character of Julian Kaye, a charming male escort in the movie. The plot follows the ups and downs of Kaye's life when he falls head over heels in love with a beautiful woman who is the wife of a dangerous political kingmaker. The character inaugurated Gere's iconic image of a romantic hero with polished demeanor and swag. Both the movie and Gere's character went on to become a sensation for the distinctive fashion style and attitude.
He played the lead role opposite Debra Winger in 'An Officer and a Gentleman.' He earned positive reviews for the portrayal of a novice army recruit who falls for a beautiful local girl. After a wave of average hits and flops, Gere returned to the success track with the 1990 flick 'Pretty Woman.' The neo-noir thriller directed by Garry Marshall and starring Julia Roberts opposite Gere earned the actor a Golden Globe nomination. The plot follows Edward Lewis (Gere), a successful businessman who hires a desperate sex worker in Hollywood Vivian Ward (Roberts). He takes her along for parties, events and social functions while their relationship grows into unexpected dimensions. Based on Roy Orbison's hit song 'Oh, Pretty Woman,' the movie cemented Gere's reputation as a prominent star who had a knack for romantic characters.
Meanwhile, the back-to-back success encouraged the actor to take occasional deviations from the widely accepted "charming guy" image. He played the characters of a rugged and corrupted cop in the 1990 movie 'Internal Affairs' and a lawyer in 'Primal Fear' in 1996. Gere was all over the late '90s with his seducing voice, charming looks and charisma. The actor appeared on several "Sexiest Man" lists during that period while eccentric female fans chased him everywhere. He won a Golden Globe for his portrayal of the cunning lawyer Billy Flynn in the film adaptation of the Broadway hit 'Chicago.'
The Philanthropist
As a follower of Buddhism, the actor always got involved in social and political causes. He co-founded the Tibet House in 1987 and was an active member of campaigns for Tibet. Gere also took part in initiatives to support people suffering from AIDS. "I'm still trying to figure out the world, myself, people around me, and ultimately part of that curiosity is probably a fear also that I don't know who I am. Is it possible to ever know another human being? Is there a self? Is there a Richard? I don't know," the actor summarized his life and career into a nutshell. Now you might be wondering what is the next Richard Gere movie or tv show? Well, here's the list of upcoming Richard Gere films and tv shows scheduled to release in 2019 and 2020. We can only hope that the latest Richard Gere movies would be as good as some of his recent ones.
1. MotherFatherSon (2019 – )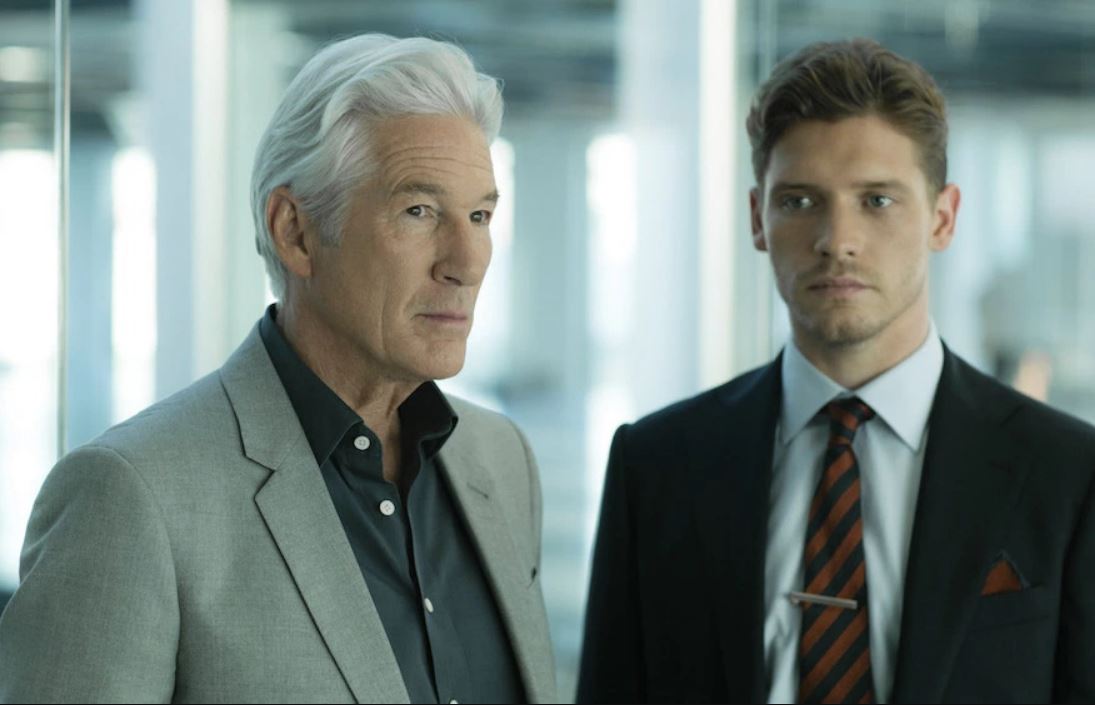 The critically acclaimed BBC Two drama series 'MotherFatherSon' marks Richard Gere's first major role on television in his more than forty year long career. The veteran actor plays the role of Max Finch, a self-made media tycoon who owns media outlets all over the world. He is separated from his wife Kathryn (Helen McCrory), a British heiress who lives alone after Max ripped away their son Caden (Billy Howle) from her. With the help of his mighty media empire, Max has collected dark secrets about people and he uses them to play power games for becoming one of the most powerful men in the world.
On the other hand, Max's 30-year-old son, Caden, who runs the U.K. arm of the media empire, The National newspaper, is being crushed by the pressure to follow his father's footsteps. The young man vents out his frustration through drugs and wild sex. But his reckless life ends up in a massive stroke that leaves him in a hapless condition. Kathryn, who has been waiting for an opportunity to reconnect with her estranged son, takes him under her wings. But the tragic events shake the foundation of Max's empire. With the country on the brink of a radical change, Max faces one of the greatest challenges in his life – to hold on to everything dear to him and protect them.
Apart from Gere, McCrory and Howle, the cast also includes Sarah Lancashire, Paul Ready, Danny Sapani, Joseph Mawle, and Sinéad Cusack. Written and created by Tom Rob Smith, various episodes of 'MotherFatherSon' is directed by James Kent and Charles Sturridge. BBC Two Films produced the series in association with BBC Studios. The eight-episode first season of the series debuted on BBC Two on 6 March 2019 with a towering average viewership of 2.69M. In June, Statz acquired the rights to 'MotherFatherSon' and set a premiere date on June 21, 2019. Though the first season of the series earned critical acclaim and audience praise, both BBC Studios and Starz haven't revealed anything about the second season.
Read More: Upcoming Thomas Haden Church Movies