Salma Hayek is one of the most well-known faces in the entertainment industry. The Mexican and American film actress has several amazing works under her belt. Born in Mexico, Hayek belongs to a wealthy family and comes from a background of luxury. She appeared in the telenovela 'Teresa', which made her a star in Mexico. She went on to cement her popularity with the movie 'El Callejón de los Milagros' or 'Miracle Alley', which won her an Ariel Award.
However, Hayek was diagnosed with dyslexia, which made it a little difficult for her to pick up English fluently once she moved to California. This did not impede her progress much as Robert Rodriguez gave her an opportunity to star opposite Antonio Banderas in 'Desperado'. Liking what he saw, Hayek was also offered the role of the vampire queen in 'From Dusk till Dawn'. Since then, Hayek has appeared in several films like 'Wild Wild West' and 'Fools Rush In'. Nonetheless, it was her performance as Frida Kahlo, the painter, in 'Frida' that won her critical and commercial acclaim and it established her as one of the top stars in Hollywood.
It is not just films that Hayek excelled in, since her performance in 'Ugly Betty', the ABC comedy-drama, has also been lauded. Some of her later performances include a voice performance in 'Puss in Boots' and other appearances in films like 'Grown Ups' and 'The Hitman's Bodyguard'. Now you must be wondering what is the next Salma Hayek movie or TV show? Well, here's the list of upcoming Salma Hayek films and TV shows scheduled to release in 2019 and 2020. We can only hope that the latest Salma Hayek movies would be as good as some of her recent ones.
5. Bliss (2019)
'Bliss' is an upcoming science-fiction drama that is set to air on Amazon. It stars Owen Wilson and Salma Hayek. Directed by Mike Cahill, the plot revolves around a man who is divorced and finds that his life is falling apart. This is when he meets Hayek's character, a woman who lives on the street. This woman is convinced that the polluted and broken world that they are living in is not the real world. According to her, they are living in a harsh and ugly simulated world which happens to be inside the peaceful and beautiful real world of 'bliss'. With such a stellar cast, the performances are definitely going to be top-notch, which makes us certain that 'Bliss' will be a huge success.
4. Limited Partners (2020)
'Limited Partners', also known as 'Like a Boss', is an upcoming comedy movie that is slated to be released on January 10, 2020. The film chronicles the lives of two female friends. While they want to start a beauty company together, the two of them have very different ideas about how they want to approach the business. One of them is more practical and takes a pragmatic approach in order to run the business while the other is more idealistic and also rather laid back. She somehow wants to make a lot of money and then live a lavish lifestyle once she makes this fortune.
The main cast members of the movie are Tiffany Haddish and Rose Byrne. Also starring along with them is Salma Hayek. As it is evident, the cast of 'Limited Partners' is excellent and the performances should be great. Hayek is sure to bring her experience as a supporting actress to the role and turn this into a wonderful cinematic experience.
3. The Hitman's Wife's Bodyguard (2020)
'The Hitman's Bodyguard' is a fun-filled affair directed by Patrick Hughes. It teams up Ryan Reynolds and Samuel L. Jackson. Reynolds plays the role of Michael Bryce, someone who works as a private security expert – that is, a bodyguard. Samuel L. Jackson plays the role of a hitman. The two bring their comic expertise to the screen as Bryce takes on an assignment to keep the hitman safe so he can testify against war crimes. As far as action movies go, 'The Hitman's Bodyguard' is an absolute delight. The powerful actors ensure that the performances do not have a single dull moment, keeping the momentum going up until the very end. While the two of them hog most of the limelight, the movie also introduces the hitman's wife, Sonia Kincaid, who is quite feisty herself.
Now the follow-up, also by Patrick Hughes, will see the same old team return, but this time the focus will be more on the wife. Salma Hayek reprises her role as Sonia in 'The Hitman's Wife's Bodyguard' and we should get prepared for bullets and jokes to be flying our way in equal measures as the sequel will definitely look to outdo the first movie.
Read More: Upcoming Melissa McCarthy Movies
2. Molly (2020)
'Molly' is an upcoming drama film that boasts of a stellar cast. It will depict one wild day in the life of a man on the edge. The only thing that keeps him together is the unconditional love of his daughter. The movie is going to chronicle the events that unfurl within a 24-hour period. The father (Javier Bardem) goes through the turbulent hours in his life, with support from his daughter (Elle Fanning).
We will see the daughter trying to deal with the challenges that come up due to her father's chaotic mental state. Their day, as they move through New York, is bound to take on an almost hallucinatory quality as the father drifts in and out of several parallel lives, including a passionate marriage in Mexico with Dolores (Salma Hayek), his childhood sweetheart; a struggling career as a drummer in Manhattan with Adam (Chris Rock), a more successful lover; and a life of solitude that he lived on the Greek islands, where a chance encounter with two tourists lead to some uncomfortable truths being unmasked. Looking at the cast that is involved, we can be sure that it's going to be one hell of an amazing cinematic ride.
Read More: Upcoming Cate Blanchett Movies
1. Eternals (2020)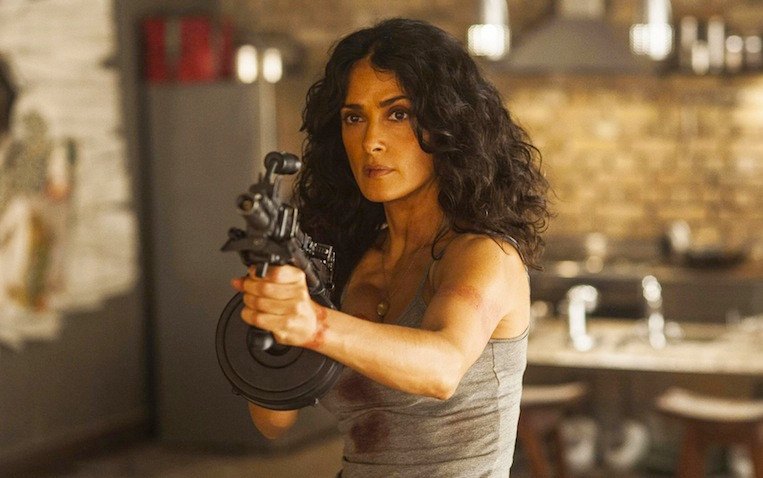 'Eternals' is an upcoming project from Marvel Studios. The movie is slated to be released on November 6, 2020. The film will depict a universe we have never seen before as we will be made privy to the world of the Eternals, a super race created when Celestials tinkered with the races on the earth. These Eternals went on to shape the earth's history and the civilizations. We are likely to see a clash between these Eternals and the Deviants – the evil offshoot of the race. Salma Hayek is slated to play the part of Ajak, in a gender-bending role, since the character is a man in the Marvel comics. The likes of Richard Madden and Angelina Jolie are also appearing in what seems to be a star-studded Marvel affair.
Read More: Upcoming Jennifer Garner Movies