Edward Wright's 'Scott Pilgrim vs. the World' is "an epic of epic epicness", and a cult-favourite like no other. The film's visual style and quirky humour still has fans gushing and raving. After all, 'Scott Pilgrim' is the game-changer when it comes to geek-comedies. Think comic books, video games, and grunge rock. Then mash it all up to have the most unusual, action-packed, coming-of-age slacker drama.
'Scott Pilgrim' wowed the critics and public alike, and is certified fresh on Rotten Tomatoes with an 81% approval rate. Despite not doing as well commercially when it released, the film became a sleeper-hit, and earned a major cult-following. It brought to life Scott Pilgrim and Ramona Flowers, two of the most memorable comic book characters of all time. Despite being an adaptation of a graphic novel series, the film's cinematic style goes beyond the world of comics, borrowing heavily from nostalgic old-school video games.
Watching 'Scott Pilgrim' is an absolute experience, and nothing like anything you've watched before. This is exactly if there were ever to be a sequel to the film, it would undoubtedly be epic. But the question, will there be one? A star from 'Scott Pilgrim' recently pitched an idea for the sequel, and we're certainly thrilled! Whether or not it materializes though is an entirely different ball-game. Here's everything we know about it.
Scott Pilgrim vs. the World 2 Plot: What Can It Be About?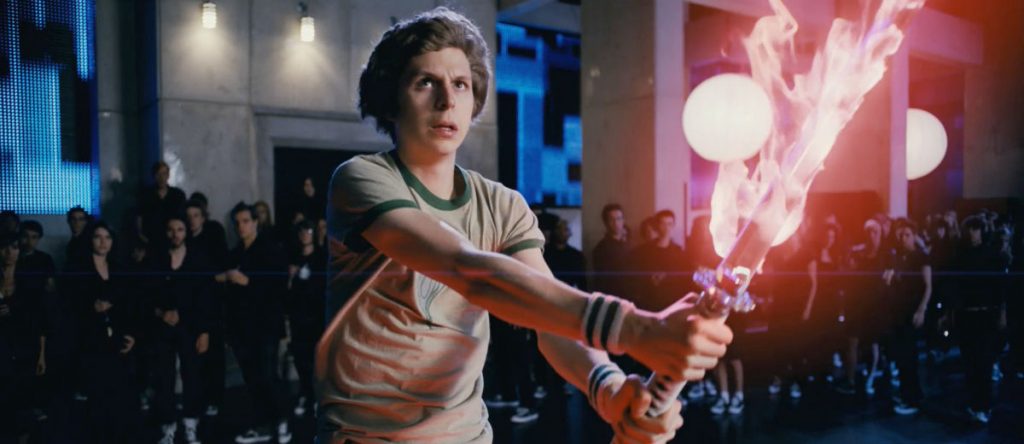 There is no official confirmation of a 'Scott Pilgrim' sequel, and neither does it seem very likely. However, in an a recent interview with ComicBook, Mary Elizabeth Winstead, who plays the phenomenal Ramona Flowers, revealed an idea for the potential sequel:
"I would be so curious to know what happened to these characters when they're in their mid-30s as opposed to the sort of 20 slacker thing. So I think it would be really interesting."
This would clearly be an interesting concept to explore in a sequel as the characters of 'Scott Pilgrim' as we know it were a clueless, aimless bunch in their early 20s. It's almost impossible to picture what a slacker guitarist like Scott Pilgrim would be doing all grown-up in his 30s. This leaves room for endless possibilities for the future of the characters.
The original film is an adaptation of a six-part Scott Pilgrim graphic novel series by Bryan Lee O'Malley. The film makes use of all the six books in the series, and explores how Scott Pilgrim needs to battle Ramona Flowers' seven evil ex-boyfriends to finally be with her. The film ends with the two finally giving the relationship a shot.
Keeping in mind that the film makes use of parts from all the 6 books in the series, there would really be no source material for a sequel. That is, unless O'Malley decides to revive the series. But given the cult-following of the film and the potential of Winstead's idea, I wouldn't want to rule out the possibility of a 'Scott Pilgrim' sequel.
Scott Pilgrim vs. the World 2 Cast: Who Can Be In It?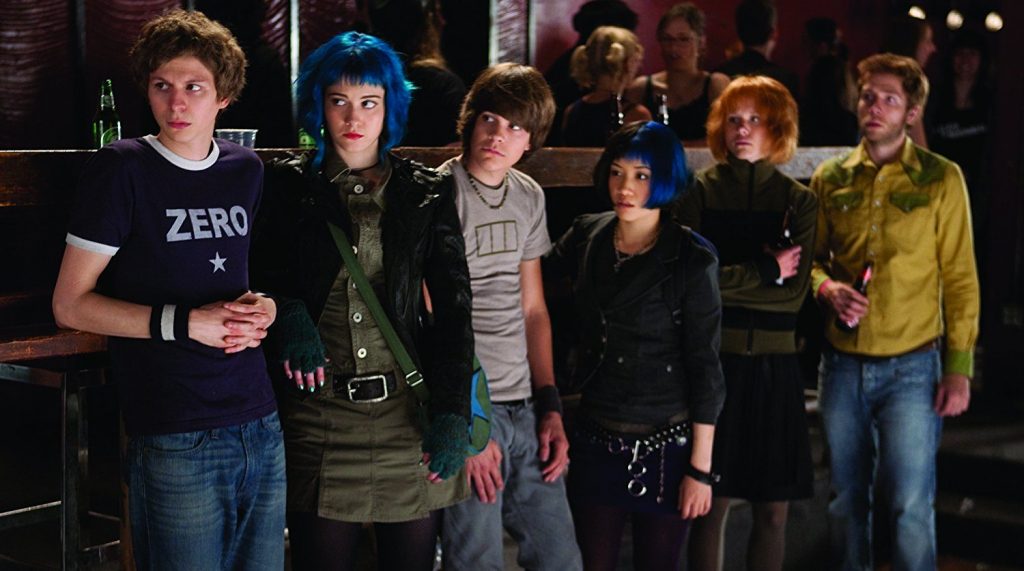 'Scott Pilgrim vs. the World' features a brilliant cast with impressive performances, led by Michael Cera as the titular character. It stars Mary Elizabeth Winstead as Ramona Flowers, Kieran Culkin as Wallace Wells, Chris Evans as Lucas Lee, Anna Kendrick as Stacey Pilgrim, and Brie Larson as Envy Adams. It also features Alison Pill, Aubrey Plaza, Brandon Routh, Jason Schwartzman and Ella Wong.
As mentioned earlier, while there has been no confirmation about a sequel, Winstead expressed keen interest in the project. She was asked what she felt about the sequel and she responded by saying, "I think that would be so cool". She then went on to say:
"We always talked about a sequel when we were doing it, but we always imagined it would be like, still like a year later". She then spoke about how she would be more interested in knowing where they all ended up, "Where are they?…I think it's way more fascinating to know where they'd be 10 years later. I'm down for it". Though no other actor, including Cera, has yet expressed what they would feel about a sequel. But given how well the film did, its huge fan-following, and peculiar characters, we can expect more of the star cast to be on board.
Scott Pilgrim vs. the World 2 Crew: Who Can Behind It?
Edgar Wright is the man who brought 'Scott Pilgrim vs. the World' to life on the big screen. And as we all know, Wright certainly knows his comedy. In fact, humour has been a constant in all his features irrespective of their genres, which is, of course, evident in 'Scott Pilgrim'. Wright has also directed 'Shaun of the Dead', 'Ant-Man', and 'Baby Driver', all of which were appreciated by critics and public alike. He is currently working on 'Last Night in Soho' that is all set to release later this year.
Though we don't know what Wright feels about a 'Scott Pilgrim' sequel currently, he did express his disinterest in continuing with the narrative back when the film was released. In an interview in 2010, he revealed that it would all depend on O'Malley coming up with a new volume. He went on to say, "So there really isn't more story to tell…I don't know, it probably wouldn't happen anyway."
Scott Pilgrim vs. the World 2 Release Date: When Can It Premiere?
Considering all facts, a 'Scott Pilgrim vs. the World' sequel seems like a distant dream. But given its status as a cult-favourite, and considering that there could still be more to explore with the characters, we could still hope for a sequel or spin-off.
Winstead latest statements have definitely fueled these hopes, and we're definitely on board with the idea. But with all the information available currently, it does seem less likely. So, our best bet would to hope that Scott Pilgrim vs. the World 2 releases sometime in 2025 or later.