Inspired by the novel '44 Chapters About 4 Men' by BB Easton, 'Sex/Life' follows Billie Connelly (Sarah Shahi), whose seemingly perfect life in suburban Connecticut with a loving husband and two beautiful children begins to unravel as sexual frustration prompts her to recall her years as a party girl and have a sexual fantasy about her former boyfriend, Brad (Adam Demos). Old feelings resurface when the said boyfriend walks back into Billie's life.
The first season of 'Sex/Life' came out on June 25, 2021, and received largely negative reviews. Following the release of season 2, the less-than-stellar response continued, with much criticism directed at the show's narrative and characterization. However, the general audience has responded to the series positively. If you are wondering whether there will be a 'Sex/Life' season 3, we got you covered.
Will Sex/Life Season 3 Happen?
'Sex/Life' season 2 premiered on March 2, 2023, on Netflix. It comprises six episodes of 48-to-57-minute runtime, and is shorter than the first season, which has eight episodes. As for 'Sex/Life' season 3, this is what you need to know.
Neither the series producers nor the Netflix executives have confirmed the development of a third season of 'Sex/Life.' In terms of the narrative, it seems the story is complete for Billie. At the start of season 2, she and her husband Cooper (Mike Vogel) separate, which gives her the time to go back to school to finish her Ph.D. She also starts dating Persian restaurateur Majid (Darius Homayoun).
However, the memories of Brad and their time together don't leave her alone. The man in question tries to move on as well. In season 2, he is in a relationship with a model named Gigi (Wallis Day), who becomes pregnant and gives birth to their son. But she eventually leaves Brad after his company collapses.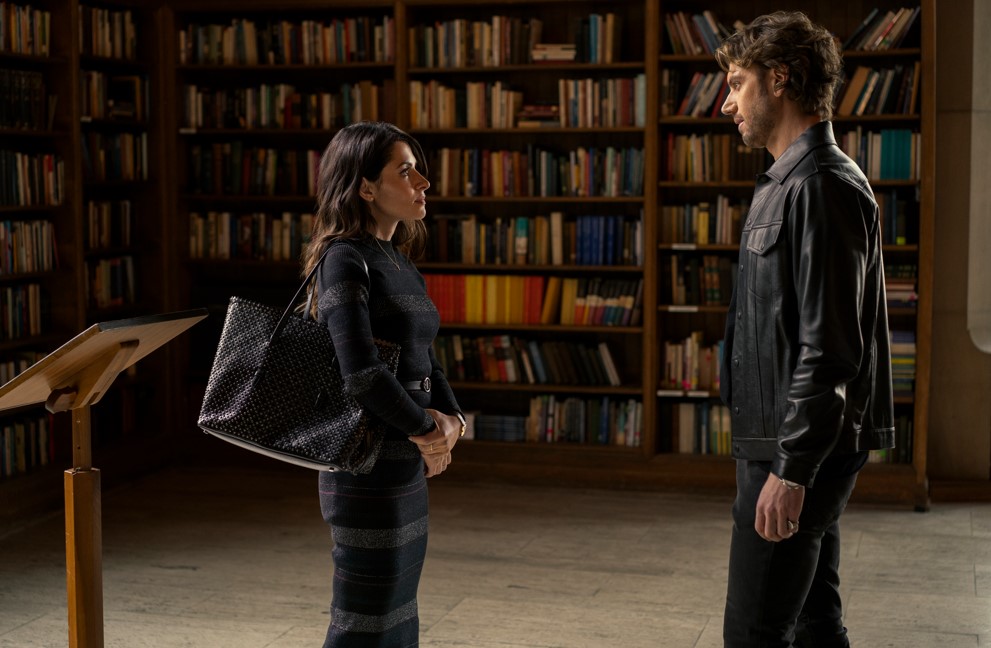 Billie's relationship with Majid also falls apart after a disastrous night during which Billie's son Hudson goes missing while he is with Majid, and the latter's restaurant nearly burns down. Cooper treads on a self-destructive path as his marriage with Billie unravels. After almost dying in a car accident, he decides to turn his life around, attending group therapy and dating his former girlfriend, Emily. At the end of the season, he tells Billie that he intends to ask Emily to marry him.
Meanwhile, Billie's best Sasha (Margaret Odette), has a whirlwind romance with Kam (Cleo Anthony). At their wedding, Billie sees Brad again. She resumes her relationship with the man and receives her Ph.D. The season ends with their wedding, where Billie tells Brad she is pregnant.
With all the main characters finding their happy endings, it's unlikely that they will remain at the forefront of the show if the third season does happen. "Sex/Life is a dream come true. To create a show about empowered female sexuality that has entranced so many millions of viewers is not only immensely fun but also incredibly gratifying," series creator Stacy Rukeyser told The Hollywood Reporter after the second season was confirmed. "When I think about all the women who have reached out from all over the world to say that the show speaks to them in a deeply personal way, I am so inspired. I'm thrilled and grateful for the opportunity to continue telling this story for Billie and for all of us."
So in the prospective season 3, the plot will likely revolve around a new cast of characters, with Billie and the others probably making sporadic appearances. If greenlighted in the next few months, 'Sex/Life' season 3 can potentially come out in Q1 2025.