A romantic comedy about a sex tape mishap sounds like a really fun premise for a film, particularly when it centres around a married couple who accidentally upload their video on cloud, and end up sharing it with friends and relatives. It is definitely guaranteed to get some good laughs, especially when that pair is played by Cameron Diaz and Jason Segel.
'Sex Tape', directed by Jake Kasdan, did decently well with the audience at large but didn't do so well with the critics. In fact, the film got nominated for three Golden Raspberry Awards, and Diaz even won one for the Worst Actress. Despite this, the film did manage some hilarious scenes and also showed a lot of heart.
With the way 'Sex Tape' faired when it released, it is very unlikely that the film will get a second part. Especially because romantic-comedies rarely do have sequels made. But it won't be completely out of question as Kasdan has recently started working on sequels to two of his other films, one of which will also has Diaz. But since there have been absolutely no talks or speculations regarding 'Sex Tape 2', we can only speak from what we imagine it could be like. Here's everything we know about the imaginary sequel.
Sex Tape 2 Plot: What Can It Be About?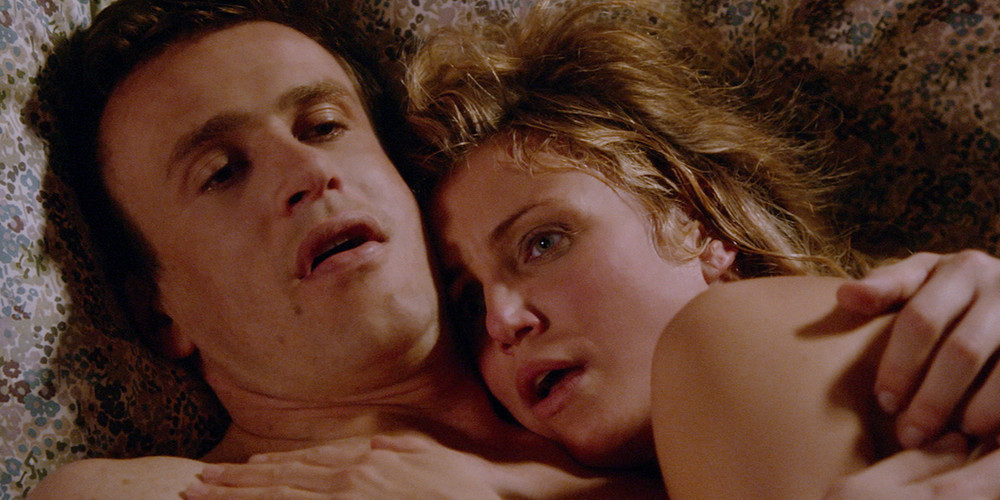 'Sex Tape' centres around Annie (Diaz) and Jay (Segel), who believe they have lost their sexual spark after ten years of marriage and two kids. So as most couples would do, the two try to rekindle that spark, and when Annie suggests making a sex tape, the two agree to try it out. The couple then end up filming themselves having sex in every position listed in The Joy of Sex. Afterwards, Annie asks Jay to delete the video. But he accidentally ends up saving it on cloud and synchronizing with all the other Ipads the two gave away to relatives and friends, and even their mailman.
What follows next is a hilariously awkward and embarrassing adventure that the two embark on in order to get rid of the video from the cloud and all the Ipads before it's too late. The film ends with the two successfully getting rid of the video, completely destroying it.
So, if there is a sequel to 'Sex Tape' it will be really fun to see what happens if months later, after Annie and Jay have moved on from this embarrassing incident, they realise that the video actually did not get removed from everywhere, and it somehow ends up on the internet. Maybe, they eventually realise that they left one person out from their list when they were trying to get rid of the videos. That person, perhaps, accidentally (or intentionally) uploads it somewhere, but doesn't expect it to blow-up.
Now, with the video on the internet, it somehow begins to trend several months later. Annie and Jay learn about it only when they run into a stranger at a store on a holiday who recognizes them, which ends up ensuing another wild ride for the two. The pair then decide to embark on another hilariously awkward adventure as the two try to figure out ways to destroy the video and find the person behind the uploading. This is, of course, an imaginary plot, and it is pretty far-fetched too. Unless you think about how the 'Hangover' franchise did the same, and explored the same premise in three different ways. So, we do have some hope.
Sex Tape 2 Cast: Who Can Be In It?
There haven't been any talks about a sequel to 'Sex Tape' from any of the cast members. But if at all, we ever do get one, it will definitely have Cameron Diaz and Jason Segel reprising their roles as Annie and Jay respectively. 'Sex Tape' also starred Rob Corddry, Ellie Kemper, Rob Lowe, Randall Park and Jack Black. Since none of the characters of these actors ever go away in the film, we could have at least some of them reprising their role in the sequel. It would be absolutely hilarious to somehow see Diaz and Segel team-up with Black (who is introduced towards the end as the owner of YouPorn) in their next adventure to find out who uploaded the video, and to get rid of it.
Sex Tape 2 Crew: Who Can Be Behind It?
A 'Sex Tape' sequel does scream Jake Kasdan's name as the director, along with Segal, Nicholas Stoller, and Kate Angelo as screenwriters. It would also work out as Kasdan and Stoller have worked with Segal on different projects. Kasdan has also worked with both Jason Segel and Cameron Diaz in the 2011 comedy, 'Bad Teacher', whose sequel he is currently working on. This means there is actually scope for another reunion between Kasdan, Segal and Diaz for the sequel to 'Sex Tape 2'.
Sex Tape 2 Release Date: When Can It Premiere?
We most probably will not get a sequel to 'Sex Tape' because of how the film bombed when it first released, and also because there have been no talks so far about the second part. But since Kasdan's 'Bad Teacher' is only being developed now, after over 8 years, we definitely do have some hope for a 'Sex Tape' sequel too. Perhaps after how successful the 'Jumanji' sequel ended up being Kasdan will be interested in working on more sequels to his other comedies. If at all 'Sex Tape 2' does end up being made, it would only release around 2024 or later.
Read More: Best Cameron Diaz Movies