Looking around for the best of psychological thrillers lands you on the door of Gillian Flynn. The author has penned three books, to date, and all of them have managed to have the same effect on the readers as a good old Stephen King novel does. You'll be on the edge of your seat and you'll be scared to the bone- a disclaimer of this sort should come with her books, and it also should have been attached to HBO's adaptation of 'Sharp Objects'. One of the best shows of 2018, it is the story that grips you from the beginning and doesn't let go of its hold until your mind and body are completely exhausted by the grim tale you just witnessed.
Sharp Objects Cast: Who's in it?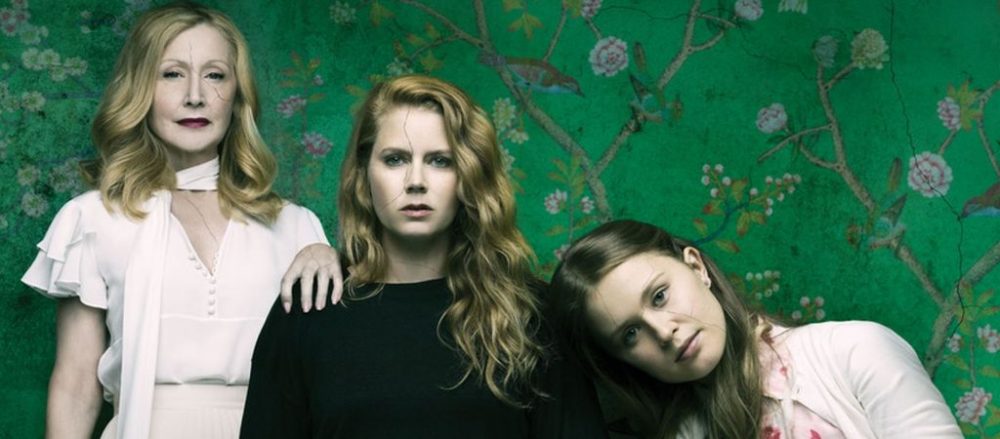 The cast of 'Sharp Objects' is led by Amy Adams. She plays the role of Camille Preaker, a troubled reporter who returns to her hometown in order to investigate a series of murders. Sophia Lillis plays the younger Camille. The star of the show, Adams is one of the most talented actresses of this time. She has been nominated for six Academy Awards (why is it being kept from her, by the way?) and is a recipient of two Golden Globes. Some of her best-known works include 'Enchanted', 'The Fighter', 'American Hustle', 'Arrival' and 'Vice'.
The wonderful Patricia Clarkson plays the role of Adora, Camille's mother. She is a socialite and exhibits controlling behaviour. She is an Academy Award-nominated actress and is best known for her roles in 'High Art', 'The Green Mile', 'Pieces of April', 'Six Feet Under' and 'The Party'. She is also the recipient of two Primetime Emmy Awards.
Eliza Scanlen, the true revelation of 'Sharp Objects', plays the role of Amma, Camille's teenage step-sister. This was Scanlen's first major role and she doesn't have many credits to her name yet. However, after the success of the show and the praise that she has received for her portrayal of a psychopathic killer, Scalen's future is nothing if not bright. She is set to star alongside Saoirse Ronan and Emma Watson in Greta Gerwig's adaptation of 'Little Women'. She has also joined the cast of 'The Devil All the TIme' and will share the screen with Tom Holland, Sebastian Stan, Robert Pattinson and Mia Wasikowska.
Chris Messina appears in the role of Detective Richard Willis who comes to Wind Gap to investigate the murders and becomes interested in Camille's and her family's history. Messina is known for his roles in 'The Mindy Project', 'Julie and Julia', 'Argo', 'The Newsroom' and 'Damages'.
Additional cast includes names like Matt Craven, Henry Czerny, Madison Davenport, Will Chase, Elizabeth Perkins, Jackson Hurst and Lulu Wilson.
Sharp Objects Plot: What's it about?
Camille Preaker has had a very difficult life. Her mother is an overbearing, controlling woman who always finds flaws in whatever Camille does. Her sister had died when they were little and her body bears the scars of all the times her depression got the best of her. She was an alcoholic and spent some time in recovery, but even that experience seems to haunt her. But now, she has patched-up herself and is ready to get back to work. Her next assignment takes her back to her hometown, Wind Gap, the place that she worked so hard to escape from. She is thrown back into the frenzy that her family is and tries to salvage the sanity of her teenage half-sister Amma. Meanwhile, young girls are being murdered in the town and the killer is still on the loose.
Read More in TV Preview: The Handmaid's Tale | Good Witch
Sharp Objects Season 2 Release Date: Renewed or Cancelled?
'Sharp Objects' season 1 premiered on HBO on 8th July 2018. In one season, the show covers the entirety of Flynn's book, leaving little room for a second season. However, considering the commissioning of a second season for 'Big Little Lies' which was also tagged as a miniseries, it wouldn't be a surprise if HBO decides to build further on the success of this dark thriller. Flynn could easily concoct another spine-chilling tale out of her genius brain and we could have another trip to Wind Gap. There are a lot of possibilities on that front, one of which the author has specifically focused on.
The tale of the Woman in White becomes a pivotal plot point in 'Sharp Objects' and is something that Flynn has given serious thought to. She even wrote a short story about it. So yeah, we already have some material. Moreover, Flynn states that she "keeps in touch with the characters and knows exactly what happens to them". Another reason for a second season could be Adora herself. What's her story and how did she become such an influential figure in Wind Gap while murdering her own children? Moreover, the story could go further into Camille's childhood and particularly explore the story of her dead sister. There is also the case of her missing father. If HBO and Flynn agree to give some serious thought to the future of the series, there are a number of ways it could work out. However, it might take some time, and might even not happen at all.
It was confirmed by HBO's president of programming Casey Bloys that Sharp Objects will not return for Season 2. He revealed the reason for the decision:"Unlike Big Little Lies where all of the stars wanted to come back, Sharp Objects, it's a very dark character, very dark material. Amy doesn't want to live in this character again and I can't blame her, it's a lot to take on for an actress. So no plans for a second season. We are very happy with this living as a limited series."
But Jean-Marc Valle had also said something similar about the second season of 'Big Little Lies', and not to embarrass him or anything, but the Monterey Five are back in action with Meryl Streep! A "no" now could very easily become a "yes" with the right story. If, and when, that happens, we will update this section with Sharp Objects season 2 release date.
Sharp Objects Trailer
HBO is not the one to disappoint and every year comes up with incredible shows, keeping its presence a constant factor in the list of "Best TV shows of the year". With 'Sharp Objects', it repeats this trick and delivers great content. Whether or not we get another season is a question for another day. For now, you can re-visit the story on HBO, if you have the heart for it. Here is a look at the trailer to remind you how terrifying it can get.
Read More: Sharp Objects, Explained