There's no denying that Tina Fey and Amy Poehler are Hollywood's favourite comedy duo. The two are dynamic together, whether they're hosting the Golden Globes, performing an SNL sketch, or working in films. They bring out the best in each other, which is evident with their undeniable chemistry. While Fey and Poehler have worked on numerous projects together, the world saw the duo as an onscreen pair for the first time with 'Baby Mama'. Then, with the 2015 'Sisters' the two reunited to give us an audacious comedy, featuring some of the finest SNL alumnae.
'Sisters' centers around the Ellis sisters, Mauris, a divorcee, and Kate, a careless single parent, as they decide to throw one final high-school-style party at their childhood home after they learn that their parents are going to sell it. The film largely received mixed reviews from critics, though Fey and Poehler's performances and chemistry were widely praised. It also has a 60% approval rating on Rotten Tomatoes. The film also opened the same weekend as 'Star Wars', and managed to earn upto $105 million worldwide, against a budget of $30 million.
The film isn't anything particularly exceptional. But while some criticized its weak writing, others found its rare balance of crude and wholesome quite refreshing. Especially since R-rated raunchy comedies are largely dominated by male protagonists. 'Sisters' certainly had something new to offer. Something we could definitely have more of. But is a 'Sisters' sequel even a possibility? While it doesn't seem entirely likely at the moment, we may still have something as fun in store for us. Here's everything you need to know.
Sisters 2 Plot: What Can It Be About?
As a sequel to 'Sisters' has not yet been announced, there is no information available on what direction its plot could potentially take. But we could certainly speculate based on the ending of the original. After the crazy party that goes completely out of control, Kate decides to make some changes in her life. She asks her parents to let her stay in the house for sometime, and successfully fixes up the place. Her parents are able to finally sell it with Brinda as their real-estate agent.
Kate also tries to her life back together and opens a nail salon in Orlando. Despite how the night of the party turned out, James and Maura decide to give it another shot and begin dating. The film then ends with Kate and Maura celebrating Christmas their parents' new home, with their family, including James.
'Sisters', in many ways, is that rare coming-of-age story that revolves around two adults who need to grow-up and start a new chapter in their lives. While the ending suggests that the sisters do begin this chapter, there is still plenty that can be explored. Especially given the bond two share, and their dynamic personalities.
Interestingly, co-star and SNL alumna Rachel Dratch joked about a potential sequel idea while talking to THR back in 2015. Though she does not play the sister in the film, she stated,"I'm the third sister that was kept in the basement." This was her response when she described the bond she shares with the actors.
Though it does not seem likely, it would definitely be one helluva twist for a 'Sisters' sequel. Of course, it would be too dark to actually have a third sister in the basement. But it could be really interesting if the sequel revealed that there were indeed three siblings.
Sisters 2 Cast: Who Can Be In It?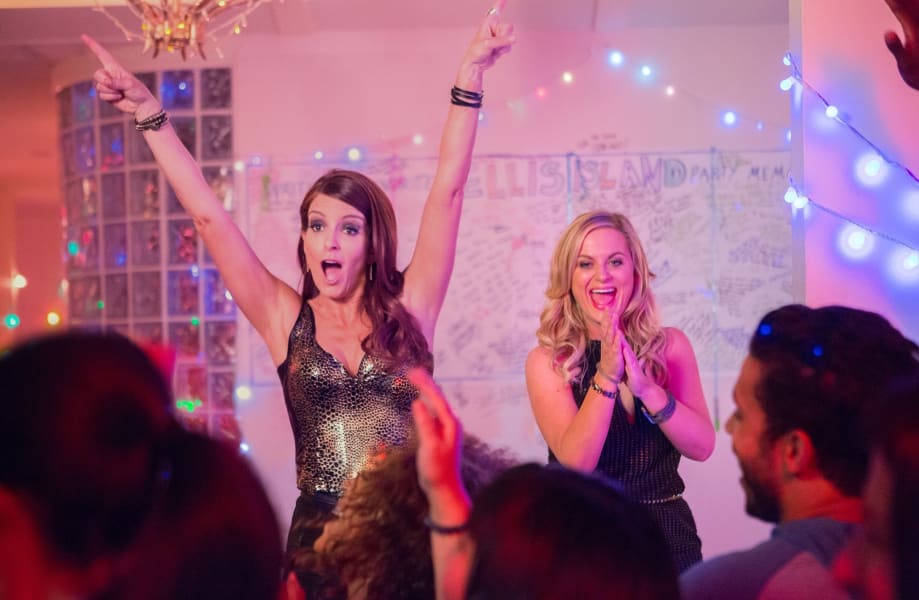 Ah, this is a no-brainer. The sequel to 'Sisters' will most definitely need to have Tina Fey and Amy Poehler reuniting to reprise their roles. The film has Fey playing Kate, while Poehler plays Maura. It stars several of the duo's SNL co-stars, with Maya Rudolph as Brinda, along with Rachel Dratch, Bobby Moynihan and Kate McKinnon. 'Sisters' also stars Ike Barinholtz as James, Dianne Wiest as Deana Ellis, James Brolin as Bucky Ellis, Madison Davenport as Haley, along with John Leguizamo and John Cena.
If there is ever a sequel, we could certainly have Fey and Poehler reuniting again. Not only are the two brilliant performers, they have also been friends for over 25 years. Fey revealed during the premiere that the film is part of the duo's vow "to make a movie every seven years until we make 100 movies". To this, Poehler added, "Or one of us loses a pact with the devil and ages."
Other cast members, including Maya Rudolph expressed their interest in working together. She stated in the interview with THR, "It's a luxury to work with your friends, and it's so rare that, whenever we get the opportunity, I'm thrilled to do it." This definitely proved to be true as the SNL co-stars reunited for Poehler's 'Wine Country'. The mini SNL-reunion gives us hope for something similar to happen if there were ever a 'Sisters' sequel.
Sisters 2 Crew: Who Can Behind It?
'Sisters' is directed by Jason Moore, best known for 'Pitch Perfect', and co-produced by Tina Fey, along with Jay Roach and John Lyon. The film is written by Paula Pell, also an alumna of SNL, best known for writing its sketch series. While a sequel to 'Sisters' does not seem likely, it would definitely be great to have the same team behind it, if it ever does materialize.
Sisters 2 Release Date: When Can It Premiere?
As the sequel to 'Sisters' has not yet been announced, the chances of having one seem quite bleak. But we could certainly hope to see much more of Poehler and Fey together. The two last reunited for the Netflix comedy, 'Wine Country' in 2019. And if we go by their vow, we have plenty in store for us, and for a long time to come.
For starters, we will be seeing the dynamic duo hosting Golden Globes in 2021. We can also expect the two to collaborate on future projects. But if at all 'Sisters 2' materializes we could hope for it to release around 2024 or later.
Read More: Best Chick Flicks on Netflix