If I had to pick the most underrated superhero film of all time I would choose 'Sky High' in a heartbeat. The film, released in 2005, introduced us to something so quirky, fun and heartwarming that the 23-year-old me still loves it as much as the 10-year-old me did. It's that one film I always stop to watch whenever I catch it on television. And I bet I am not the only one.
'Sky High' almost seems like an undiscovered gem that never got the credit it deserved. But the film was fairly successful both commercially and critically. It earned over $86 million worldwide against a budget of $35 million, and received generally positive reviews from critics. Despite this, it was more of an underdog when it released, and got lost against the craze surrounding Tim Burton's 'Charlie and The Chocolate Factory' which also released around the same time.
The film came out in a time when superhero films were slowly becoming a thing, a time before Marvel's cinematic universe was inescapable. It introduces us to the Stronghold family, and serves as a hilariously clever take on both the teen-high school genre as well as the superhero genre. It has a brilliant cast, and an even more stellar supporting cast which includes the likes Lynda Carter, the OG Wonder Woman, and the ever-charming Kurt Russell.
Fans (like me) never really got over the charm of 'Sky High' which manages to age well with its spoofy, smart and self-aware humour. Lucky for us, there seems to be a resurgence happening. The past few years have seen the original cast and crew talking about a potential sequel, one that was earlier cancelled, that could still be in the cards now. Here's everything we know about it.
Sky High 2 Plot: What Can It Be About?
'Sky High', as the name suggests, centres around an airborne high school for superhero and sidekicks. It follows Will Stronghold's struggle to fit in and survive his freshman year, along with his friends. Will lives in the shadows of his legendary superhero parents, The Commander and Jetstream, as he has no superpowers. He finds himself sent to the sidekick program along with his best friend Layla, and a bunch of other oddballs – Ethan, Zach and Magenta.
Will eventually does discover his powers, which include both super strength and flight. But instead of his life finally getting back together, it falls apart further. The film explores everything from teen angst to bullying to girl troubles to living up to your parents' expectations, and of course, finding yourself irrelevant high school cliques that are meant to define you, as is typical of the high-school genre. But at the end of the day, 'Sky High' is a superhero film with a superheart as its the sidekicks who save the day and turn out to be the true heroes all along.
'Sky High' is just like its sidekicks – underrated, but smart and hilarious. It's the underdog hero that found its way to us and forever stayed in our hearts. The sequel to 'Sky High' was once in development, and there even a TV series considered. Recently, in an interview, director Mike Mitchell stated the ideas of the cancelled sequel:
"I am hugely proud of it and they should make it a franchise. In fact the same writers that didn't get credit on it, (Jonathan) Aibel and (Glenn)Berger, they did a lot of writing on that film, and we have a whole sequel that's called Save U (which stands for) Save University."
This could prove to be an incredible next step for our of team of oddballs. But there's another possible direction the plot could take. In an interview with IBT last year, Danielle Nicole Panabaker (Layla) stated that she could see the original cast returning as young teachers at Sky High. This idea also seems more plausible given the gap between the two films. Whether the group goes to Save U or returns as teachers at Sky High it would be really cool to have them all grown-up. If the plot takes the direction of them being teachers, it would also be fun to have them have their own kids back in school.
Sky High 2 Cast: Who Can Be In It?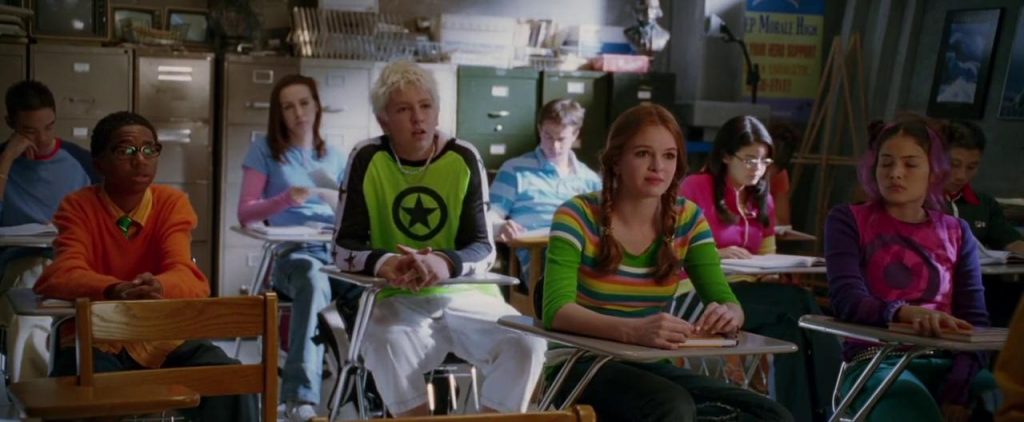 The cast with their performances as the hilariously punny characters of 'Sky High', from the Strongholds to Royal Pain to Warren Peace, stole the show entirely. The film stars Michael Angarano as Will, Danielle Panabaker as Layla and Mary Elizabeth Winstead as Gwen Grayson/Royal Pain. It also features Kurt Russell as The Commando, Kelly Preston as Jetstream, Lynda Carter as Principal Powers, and Steven Strait as Warren Peace.
Along with them, it has Dee Jay Daniels as Ethan, Nicholas Braun as Zach, and Kelly Vitz as Magenta. The film also saw some excellent performances by Bruce Campbell as Coach Boomer, Kevin Heffernan as Ron Wilson, Dave Foley as All-American Boy, and Cloris Leachman as Nurse Spex.
Director Mike Mitchell stated that he would love for a sequel to take place, but for that he would want the original cast to reunite:
"The only way you can do it is if you bring back all (the actors). Mary Elizabeth Winstead has to be in it. Michael Angarano, Kurt Russell have to come back."
The good news for us is that the cast of 'Sky High' feel similarly. When asked about wanting to do a sequel film, Panabaker, who now plays Killer Frost in 'The Flash', answered, "A thousand percent…I would do anything to make another one."
She also believes that the rest of the cast feels similarly: "I just saw Nick and Michael at a party in LA…and I love those boys so much. I would see Mary Elizabeth when we were both working in Vancouver. I think it would be great, and I think we would all jump at the opportunity."
Though we're not sure about the rest of the cast, we do have reasons to believe that Kurt Russell loves 'Sky High' (which you can see below), and this gives us hope that maybe we could have him reprise his role as The Commando as well.
I once brought up Captain Ron and Russell was like, "Yeah, sure … but a really funny movie is Sky High!" https://t.co/EyblNrAkQL

— Mike Ryan (@mikeryan) April 21, 2017
Sky High 2 Crew: Who Can Be Behind It?
As mentioned above, Mike Mitchell is clearly invested in turning 'Sky High' into a franchise, and its about time that Disney picks it up. In November 2016, it was reported that Disney was in fact planning a sequel to 'Sky High' and that the film was in early development stages. There were no updates on the same, except Mitchell speaking about wanting to go ahead with it sometime last year.
Thus, if at all there is a sequel, we can expect Mitchell to be behind it along with Robert Schooley, Paul Hernandez, Mark McCorkle, Jonathan Aibel and Glenn Berger, who were also behind the original.
Sky High 2 Release Date: When Can It Premiere?
Since a sequel to 'Sky High' is not yet confirmed, we aren't entirely sure if it will ever materialize. But given the interest shown by both the cast and crew, along with its fan-following and potential, we can certainly hope that Disney picks it up soon.
Keeping in mind the recent launch of Disney+, we can expect the studio to revive the film. But it is not likely to happen anytime in the near future. Thus, it only makes sense to expect 'Sky High 2' to premiere sometime around 2023 or later, that is, if it gets picked up soon.
Read More: Best Marvel Movies on Disney Plus