Comedy Central's long-running adult animation show 'SouthPark' follows the rowdy adventures of four foul-mouthed schoolboys and their fellow South Park residents. For years, the main focus of the show has been on the antics of the four 8-year-old hooligans – Stan Marsh, Kyle Broflovski, Eric Cartman, and Kenny McCormick – but lately, in more recent seasons, the focus has sort of shifted to Stan's pathetic dad and his myriad of harebrained business schemes to provide the best laughs. Season 23 was mainly centered on Randy Marsh's newest venture, Tegridy Farms (growing and selling marijuana). So when can fans expect 'South Park' to return with Season 24 episodes? We have consolidated all the information that has so far been released by the channel and the show creators, about the Season 24 release date, who will star in the cast, and what can the plot be about.
South Park Season 24 Release Date
So far, Comedy Central has not announced a specific release date for when Season 24 premieres. But what we do know for sure is that there is going to be a one-hour pandemic special episode that will air on September 30, 2020. Fans are excited about the hour-long special that will show how the South Park residents have been dealing with the on-going pandemic. Typically, new seasons of 'South Park' start airing in late September each year, but this year, most TV shows have had to push their season premieres because of the Coronavirus crisis. Nevertheless, we expect 'South Park' Season 24 to release sometime in November 2020.
South Park Season 24 Cast: Who is in it?
Show co-creator Trey Parker will reprise his legendary voice roles of Stan Marsh, Eric Cartman, Mr. Mackey, Mr. Garrison, Randy Marsh, Clyde Donovan, and PC Principal, and his partner Matt Stone will return to voice Kyle Broflovski, Butters Stotch, Scott Malkinson. April Stewart, Elisa Gabrielli, and Jessica Makinson are also expected to continue with their voice roles in the new season.
South Park Season 24 Plot: What can it be About?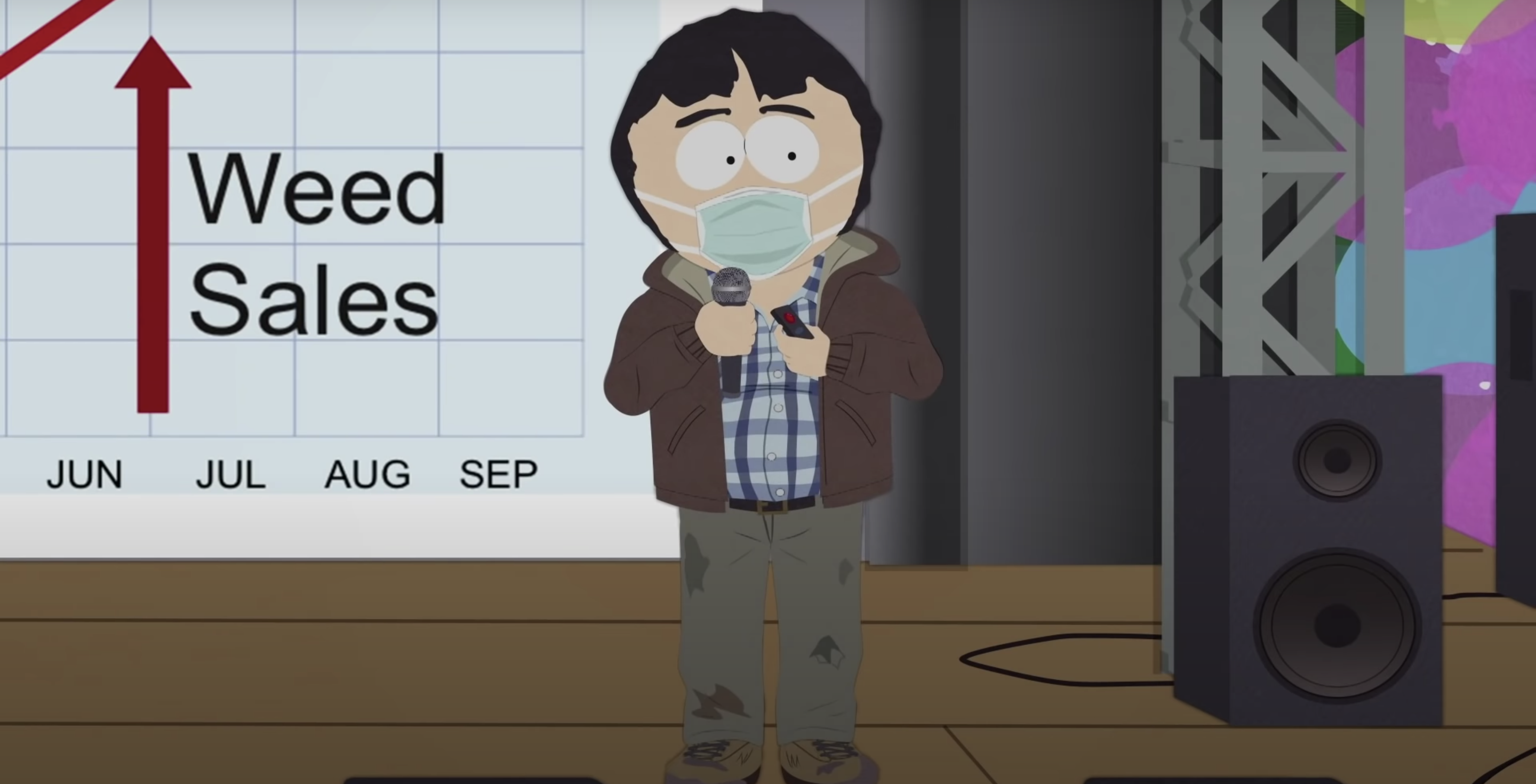 Over the last few seasons, show creators Parker and Stone have deliberately shifted focus to Randy Marsh's weird and inane antics (he once willingly gave himself testicular cancer so that the doctor would prescribe him medical marijuana). Just like when the makers of 'The Simpsons' realized that Homer's adventures in the adult world were funnier than Bart's school shenanigans, the makers of 'South Park' have started relating more to Randy than the kids. Specifically, the last season's main storyline was all about Randy trying to run his Tegridy Farms business selling cannabis. Even in the upcoming pandemic special episode, Randy gets a lot of screentime as he comes to terms with his role in the on-going crisis and even comes up with a way to capitalize on the pandemic. The other main focus of the pandemic special is going to be the kids returning to school (minus Eric Cartman who is just not having it), only to realize that their "normal" has completely changed.
In Season 24, we can expect to see more of Randy Marsh and his ever-evolving ideas to further expand Tegridy Farms. We will also, of course, see the kids getting up to their usual mischiefs. Some fans also believe that the new season will give Butters his moment in the sun as the spotlight will shift to the sweet and naive fourth grader. We can't wait to see what the warmly-dressed Cartman and company will be up to in the upcoming Season 24.
Read More: TV Shows Like South Park