Jake Gyllenhaal is one of the finest and most underrated actors of our time. He has given powerful performances in films like 'Nightcrawler', 'Donnie Darko', 'Zodiac', among others. 'Southpaw' is another name in that long list. Just like the name of the title track of the film, Gyllenhaal's performance is nothing short of phenomenal. It is precisely what turns the cliched concepts of 'Southpaw' into a compelling and heart-wrenching watch, where Billy Hope continues to live and breathe in our minds and hearts even when the end credits roll.
Academy Awarding winning director, Antoine Fuqua of 'Training Day' fame, is the main mind behind 'Southpaw', along with screenwriter Kurt Sutter. The film is said to be inspired by Eminem and was, in fact, going to be his second feature. But eventually Gyllenhaal got the role. 'Southpaw' is somewhat similar to 'The Champ' but it is also so much more. It is a film about redemption, love, grief, and at its core, it is about a father-daughter relationship. The movie boasts of power-packed performances from Gyllenhaal and Forest Whitaker. It also has a strong supporting cast that includes Rachel McAdams, Oona Laurence, Naomie Harris, 50 Cent, and Miguel Gomez.
'Southpaw' stands really well on its own, especially with the way it ends. There have also been no talks or even speculations about a sequel in years. Thus, getting 'Southpaw 2' is not really likely. But like every 'Southpaw' fan, we would definitely love to see more of Gyllenhaal's Billy Hope, and of course, his relationship with his daughter Leila, and friendship with Ticks. We wonder what's in store for these three next. Here's everything we know about the imaginary sequel.
Southpaw 2 Plot: What Can It Be About?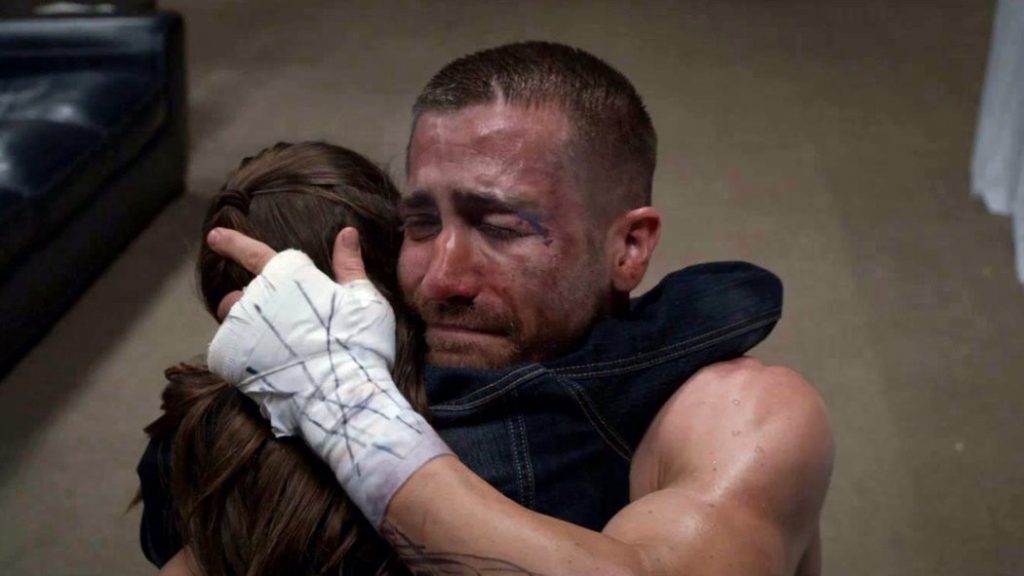 Fuqua's 'Southpaw' ends with Billy redeeming himself as both a boxer and father after he completely loses himself because of his wife, Maureen's (McAdams) death. He wins back Leila's (Laurence) custody, finds a great friend and mentor in Ticks (Whitaker), makes his boxing comeback, and wins the match against Miguel. The film ends with Billy stating that he is ready to be a father to Leila, hinting that he's going to do what his wife wanted, and leave his life as a boxer behind him.
If at all we ever get a sequel to 'Southpaw' it should explore what happens to Billy next. With the way things go in the original, we can imagine him working alongside Ticks at his gym. The sequel would also explore his relationship with Leila as she grows older. The film could take a leap of a few years, where Billy is a trainer and mentor with Ticks at his gym, and Leila is a teenager. It could explore what it is to be a single father to a teenage daughter, a widower, and an ex star who now stays away from the limelight, and pursues his passion of boxing by teaching it instead.
In an Instagram post sometime last year, Tom Holland uploaded a video of him boxing with a caption where he jokingly said "Sequel to southpaw coming soon". Of course, Holland wasn't serious, but it would be really interesting if the sequel takes the direction of 'Million Dollar Baby' or 'Karate Kid', and has Billy Hope training a young kid aspiring to be a boxer, maybe out of passion, or in order to protect himself and his loved ones. This would also make sense keeping in mind the bond Billy shares with Hoppy in the original.
Southpaw 2 Cast: Who Can Be In It?
The performances in 'Southpaw' are exactly what make the film as gripping and gut-wrenching, while also equally heartwarming. There is no doubt that Jake Gyllenhaal was both the star and the anchor in the film, and he smashed it (literally too) in every single scene he was in. Whitaker as Ticks performed brilliantly well too. So did McAdams as Maureen. But the secret weapon of 'Southpaw' was definitely the powerful performance by young Oona Laurence as Leila Hope.
The film, at its heart, is about a father-daughter relationship. It explores the depth and emotional turbulence between a parent and child as they experience loss, and are separated from each other due to the circumstances. Laurence's performance in the film had as much depth and power as her more experience co-star.
If at all we get a sequel to 'Southpaw', it would have to have Gyllenhaal, Whitaker, and Laurence reprising their roles. There would also be several new characters, and thus actors, added to the project. This is slightly far-stretched, but I would love to see Eminem play a character in the sequel, just as 50 Cent does in the first part. This would make sense as the film was in fact inspired by him.
Though Gyllenhaal is not the one to work on sequels, he did play Mysterio in the latest 'Spiderman' film series and would return in the sequels. So there is still some hope that he may reprise his role as Billy Hope someday.
Southpaw 2 Crew: Who Can Be Behind It?
'Southpaw' has Antoine Fuqua and Kurt Sutter as the creative forces behind it. Fuqua is a renowned director most known for his crime thrillers, 'Training Day', and 'The Equalizer'. While Kurt Sutter is best known for 'Sons on Anarchy' and 'The Shield'. It would only make sense for the two to collaborate once again for the sequel to 'Southpaw' as they both offer unique perspectives to their respective projects. But the sequel will definitely need new distributors after the sexual assault allegations and bankruptcy faced by The Weinstein Company.
Southpaw 2 Release Date: When Can It Premiere?
Since there have been no talks or speculations regarding 'Southpaw 2', it is most likely to never happen. If at all it does, we should only expect Southpaw sequel to release sometime in 2023 or later. But we can always go back to the original and revisit Billy Hope, as 'Southpaw' is available on Netflix.
Read More: Upcoming Jake Gyllenhaal Movies