The 1987 cult-classic 'Spaceballs' has teased fans with a potential sequel for over three decades now. And despite the interest shown by its makers and the cast, nothing yet has quite materialized. The film is sci-fi spoof of the 'Star Wars' trilogy and an absolute laugh riot. It also parodies other sci-fi franchises of the time, including 'Star Trek', 'Alien', and '2001: A Space Odyssey', along with 'Planet of the Apes', and 'The Wizard of Oz'.
'Spaceballs' marked Mel Brooks return as a director after 6 years, and turned out to be his most popular film till date. The film is his trademark screwball comedy (I mean look at its name), but its journey to become a cult-favourite wasn't entirely smooth.
The film was met with a lukewarm response from critics, with most of them finding its humour silly. Neither was 'Spaceballs' exactly a box-office success, though it did manage to cover its budget. But it then went on to rule home-media, becoming a cult-classic that's still being talked about over 30 years later.
Brooks has since then teased us with a sequel to the film, expressing his interest in the project. But nothing ever materialized despite the years of speculations. The 2015 'Star Wars' revival, then, also revived the interest in bringing back 'Spaceballs'. However, the project has still not made much progress. And it makes one wonder if it's not too late now. So will 'Spaceballs 2' happen or will it not? Here's everything we know about it.
Spaceballs 2 Plot: What Can It Be About?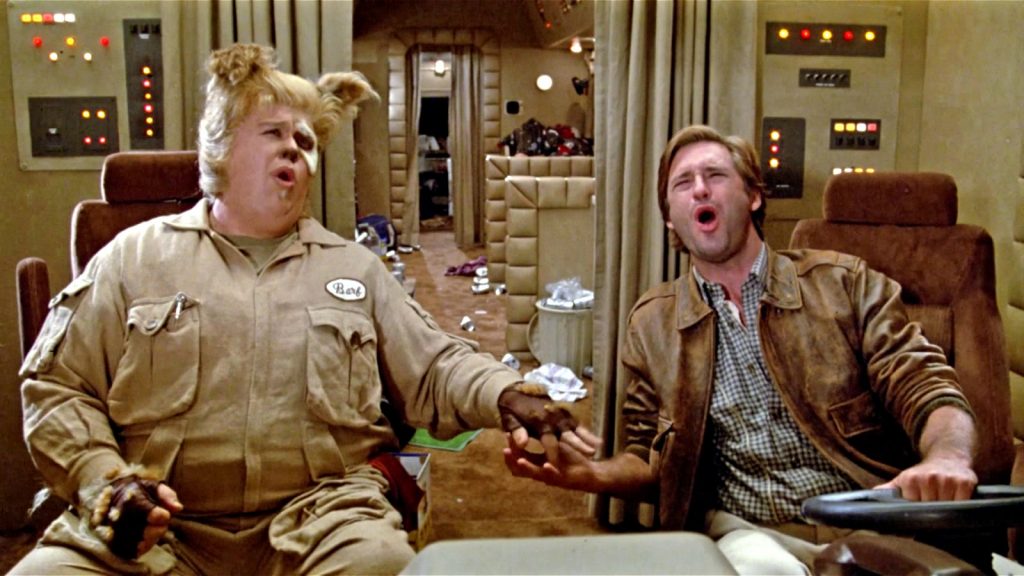 As 'Spaceball' parodies the 'Star Wars' trilogy' it centers around a rogue star pilot rescuing a princess from an evil tyrant with the help of his sidekick, and, well, saving the galaxy. But it spoofs the characters from the original film in a hilarious manner by basing Lone Starr on Han Solo, Barf on Chewbacca, Princess Vespa on Princess Leia, Yogurt on Yoda, and of course, Dark Helmet on Darth Vader.
The film ends with Starr defeating Helmet, and with Helmet, Skroob and Sandurz crash-landing on a nearby planet. Starr then learns that he's a prince, and goes on to marry Vespa. The film also raises the possibility of the sequel with Yogurt saying, "God willing, we'll all meet again in 'Spaceballs 2: The Search for More Money'."
In a 2015 interview, Brooks expressed his interest in working on the sequel teased by Yogurt because of the current revival of 'Star Wars'. However, no information has yet been revealed about what direction the narrative of the sequel could take. But there is room for endless possibilities given the scope of its source material. And with the over 30 year old gap, we should ideally expect a time-leap.
Spaceballs 2 Crew: Who Can Be Behind It?
Mel Brooks is the man behind 'Spaceballs'; the film is directed and produced by him. He also co-wrote its screenplay along with Ronny Graham and Thomas Meehan. The film was distributed by MGM. Brooks is best known for his comedies that include the likes of 'The Producers', 'Young Frankenstein', 'High Anxiety', 'The Twelve Chairs', among others. He has always expressed a keen interest in making the sequel to 'Spaceballs'. But despite there being talks long ago, nothing worked out.
In 2015, Brooks finally opened up about wanting the sequel that was teased by Yogurt in the film,"…I'm thinking now, if I did a movie that came out right after Star Wars comes out – maybe a couple of months later – I'd have a big weekend, you know?"
However, it's a little too late for that, considering 'Star Wars: The Force Awakens' released in 2015, and we still don't have the 'Spaceballs' sequel developed. But in 2017, Brooks provided us with an update, revealing that MGM was slightly interested in the project:
"Well, you know, MGM is slightly interested in doing it because of Star Wars Rogue One and The Force Awakens and the new Star Wars explosion, so they think maybe … So we're talking … Who knows, you know?".
Spaceballs 2 Cast: Who Can Be In It?
Brooks' 'Spaceballs' featured a some of the best comic actors of the time. The spoof stars Bill Pullman as Lone Starr, John Candy as Barf, Daphne Zuniga as Princess Vespa, Mel Brooks as Yogurt and President Skroob, and Rick Moranis as Dark Helmet. It also stars Dick Van Patten, George Wyner, and Dom DeLuise. The film also had Joan Rivers voicing Dot Matrix, while Lorene Yarnell provided her on-screen performance.
Three decades have passed since the original was made, and several cast members of 'Spaceballs' have passed away. These include John Candy, Dick Van Patten, Joan Rivers, Lorene Yarnell, and Dom DeLuise. This means new cast members will be added to the project if there's ever a sequel.
Moranis had previously expressed his interest in doing the sequel. But he has also more or less retired from acting. In 2013, he revealed that back when the film became a cult-favourite, MGM had wanted to do a sequel, and he had pitched idea for 'Spaceballs III: The Search for Spaceballs II'. However, it never materialized. Interestingly, in 2018, Moranis reprised his character of Dark Helmet for an episode of 'Goldbergs'.
Apart from this, Brooks has mentioned in the past that he'll only make the film if Moranis is on board. But this may be tricky since Moranis took an acting hiatus in 1997. But he does make appearances occasionally. Brooks also revealed that he and Zuniga would return for the sequel if it did work out.
Spaceballs 2 Release Date: When Can It Premiere?
It's been far too long since 'Spaceballs' released, and it almost seems too late for a sequel. With everything considered, it also seems really less likely that it will materialize. If it had to, it would have a while back.
But considering the recent revival of popular sci-fi franchises, 'Star Wars' and 'Star Trek', there is definitely scope for a 'Spaceballs' sequel. In fact, 'Star Wars: The Rise of Skywalker' only released last year. So, if at all, 'Spaceballs 2' finally materializes, we could hope for it to release sometime in 2024 or later.