After the devastating terrorist attack on the World Trade Center in September, 2001, actor Steve Buscemi returned to his old job of a firefighter. He worked 12-hour long shifts for a number days, hand-in-hand with the other professional firefighters from across the country combing for survivors in the heap of America's wounded national pride. Born and brought up in New York, Buscemi cleared the FDNY civil service examination at the age of 18 and joined the firefighter brigade of Manhattan in the '80s. He served as a firefighter for four years till 1984. When he realized that he couldn't resist the call of cinema anymore, he left the brigade and moved to Los Angeles for better opportunities as an actor.
He made his acting debut in 1985 with the Eric Mitchell directorial 'The Way It Is.' His major works from that period include 'Parting Glances' (1986), 'Slaves of New York' (1988) and 'Tales from the Darkside' (1990), in which he played the role of Bellingham, a grim student who shipped home a mummy to spread horror among his college mates, played by Christian Slater and Julianne Moore. The character formally inaugurated Buscemi's long legacy of crime and horror on screen. He followed the momentum with the role of a hitman named Test Tube alongside Laurence Fishburne in the movie 'King of New York.'
After playing several gangsters, criminals and henchmen, he got his long-awaited breakthrough with the 1992 movie 'Reservoir Dogs' directed by Quentin Tarantino. Buscemi played the character Mr. Pink in the trend-setting movie which went on to become a cult phenomenon. Mr. Pink showed Hollywood a whole different face of evil, freezing viewers in shock. The movie catapulted Buscemi's career into new heights. Everything about him, like his thin physique, peculiar skin and eyes, became a sensation. He was the prototype of eccentric and crazy characters that Hollywood dearly loved. Obviously, the actor went through a period of stereotyping with a slew of shadowy characters. Buscemi became a regular collaborator of Coen Brothers and Robert Rodriguez. His major works during that phase include 'Miller's Crossing' (1990), 'Barton Fink' (1991), 'The Hudsucker Proxy' (1994), 'Fargo' (1996), 'The Big Lebowski' (1998) and 'Spy Kids' film franchise.
Buscemi changed the course of his career during the early 2000s. In 2001, he appeared in the black comedy 'Ghost World' alongside Thora Birch and Scarlett Johansson. In the same year, he played a significant role in the controversial World War II movie 'The Grey Zone,' which was panned by critics for its portrayal of Jews in Nazi concentration camps. But Buscemi went ahead with his chosen path, playing characters dwelling in grey zones. The actor made his directorial debut in 1996 with the movie 'Trees Lounge,' which earned positive reviews. He also helmed the Emmy nominated episode named 'Pine Barrens' in the drama series 'The Sopranos' in 1999. He joined the cast of the iconic series after directing a few more episodes in the next season. Apart from being an actor and director, Buscemi is a renowned voice actor with several popular titles to his credit including 'Monsters, Inc.' (2001), 'Charlotte's Web' (2006), 'G-Force' (2009), and 'Monsters University' (2013).
During the late 2000s, he started playing comedic roles in movies like 'I Now Pronounce You Chuck & Larry' (2007), 'Grown Ups' (2010), 'Hotel Transylvania' (2012), and 'Grown Ups 2' (2013). He also established a successful onscreen partnership with Adam Sandler. Buscemi continued to play diverse roles on television after establishing himself as one of the prominent character actors working in Hollywood today. Though he left FDNY for his love for movies, he always raises his voice for the New York firefighters' causes. Now at this point you might be wondering what is the next Steve Buscemi movie or TV show? Well, here's the list of upcoming Steve Buscemi films and TV shows scheduled to release in 2019 and 2020. We can only hope that the latest Steve Buscemi movies would be as good as some of his recent ones.
2. Miracle Workers (2019 – )
'Miracle Workers' is the new limited comedy series from TBS. Apart from playing the lead role in the series, Steve Buscemi serves as executive producer alongside Simon Rich, Daniel Radcliffe, Lorne Michaels, and Andrew Singer. The plot, which is based on the book 'What in God's Name' by Simon Rich, follows Craig Bog (Daniel Radcliffe), a low profile angel in heaven tasked by the God to handle all the prayers from Earth.
Eliza Hunter (Geraldine Viswanathan) is another doomed angel who is transferred from the Department of Dirt to heaven. Together, they embark on a mission to answer one of the most difficult prayers from Earth — to make a man and woman fall in love. But they have to realize the prayer at any cost to prevent the apparent destruction of Earth. Steve Buscemi plays the role of a dim-witted God in the series. The first season of the show, which was wrapped up on March 26, 2019, garnered positive reviews from critics. Created by Simon Rich, who is known for 'Man Seeking Woman,' 'Miracle Workers' has been renewed by TBS for a second season in May.
1. The Dead Don't Die (2019)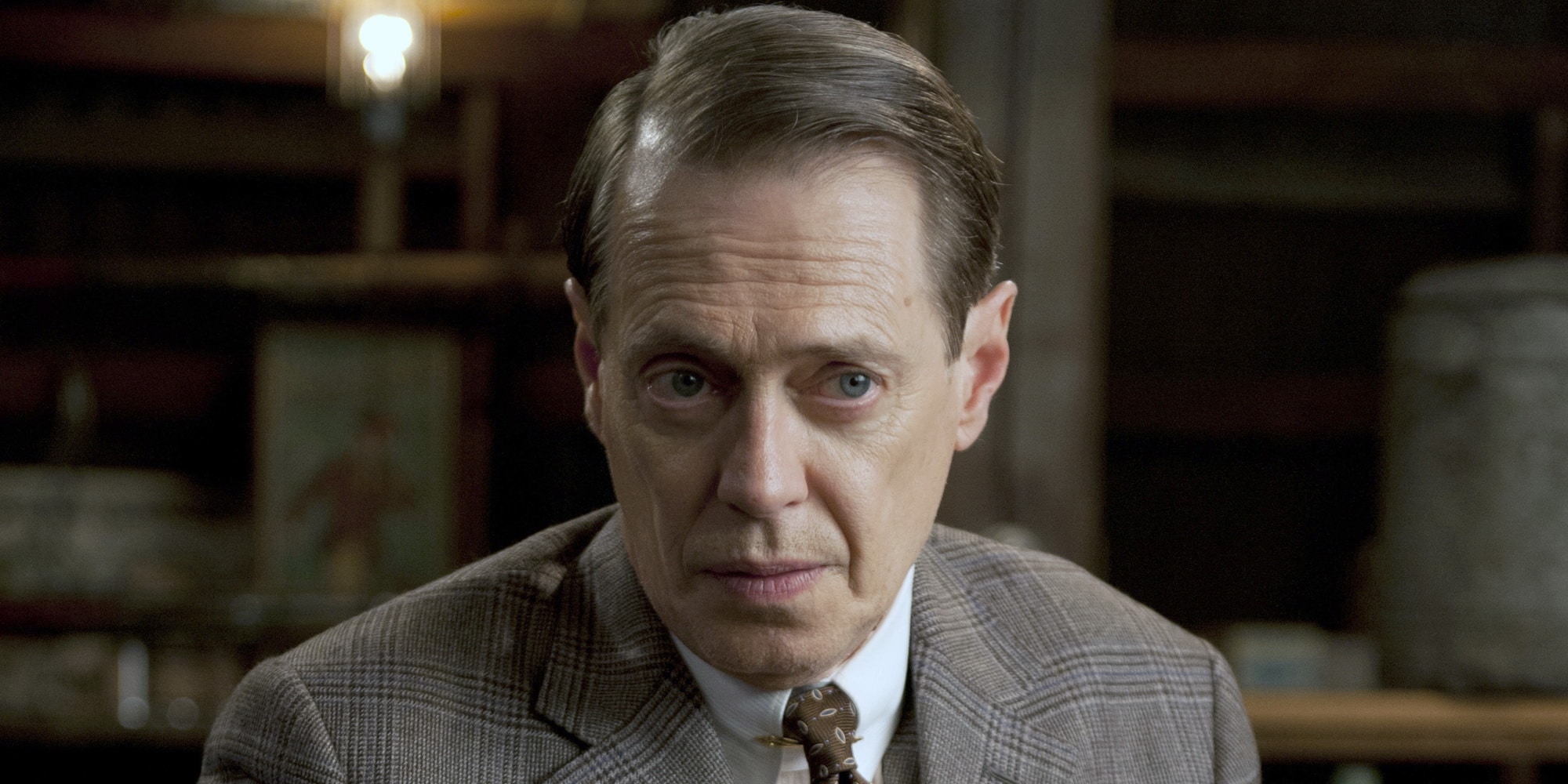 Steve Buscemi plays the role of Farmer Frank Miller in the upcoming horror-comedy 'The Dead Don't Die' directed by Jim Jarmusch. Miller is seen wearing a red cap captioned "Make America White Again" and creates occasional confrontations with the cops Cliff (Bill Murray) and Ronnie (Adam Driver) in the sleepy town of Centerville. But when the flesh-eating zombies rise from their graves, Centerville turns out to be a Zombieland with its inhabitants running for their life.
Ron and Ronnie embark on a dangerous mission to protect the remaining small-towners from the zombie outbreak which spread across the town like wildfire. They join forces with a strange samurai with a sword (Tilda Swinton) to fight the undead. Jim Jarmusch pits a group of common people against the apocalyptic zombie cliché in order to generate a satirical cinematic experience of the world we are living in. The movie was picked up as the official inaugural film of the 72nd Cannes Film Festival. The movie also stars Selena Gomez, Chloë Sevigny, Tom Waits, Danny Glover, and Carol Kane, among others. 'The Dead Don't Die' comes to theaters on June 14, 2019.
Read More: Upcoming Steve Carell Movies