You probably know Steven John Carell better as Steve Carell. He is an American comedian, actor, producer and writer. He is best known for his role in 'The Office'. In fact, Ricky Gervais had once jokingly commented that Steve Carell made more money from 'The Office' despite it originally being Gervais' show.
However, that is not all that the Massachusetts born actor is known for. He got into improvisational comedy from his student days and eventually transitioned to the show business. His big break obviously came with the NBC show, for which he has a Golden Globe. Steve Carell has also appeared in movies like 'The 40-Year-Old Virgin', 'Get Smart', and 'Crazy, Stupid, Love'. Carell has also lent his voice to animated movies like the 'Despicable Me' franchise. A multi-talented man, Steve Carell's career is not just filled with his various roles in movies. He also created a TBS comedy show with his wife Nancy Carell, titled 'Angie Tribeca'.
I believe we have established Steve Carell's comedic genius already, but he is also a spectacular actor and his dramatic roles have received praise as well. He has delivered memorable performances in 'Little Miss Sunshine', 'Battle of the Sexes' and 'The Big Short'. He most recently appeared in 'Vice' and 'Beautiful Boy'. At this point you must be wondering what is the next Steve Carell movie or TV show? Well, here's the list of all upcoming Steve Carell films and TV shows scheduled to release in 2019 and 2020.
4. The Morning Show (2019-)
'The Morning Show' is an upcoming comedy-drama that boasts a fantastic star-studded cast including the likes of Reese Witherspoon, Jennifer Aniston, and Steve Carell. It is set to air on Apple Tv+. 'The Morning Show' will provide an inside look at the lives of the people who help America wake up in the morning. The series promises to explore the unique set of challenges faced by the men and women who are part of carrying out this daily televised ritual. Waking up in the morning is hard enough, but if you have to host a show and be at your finest each day, that is almost unthinkable. Well, people do it nonetheless, and 'The Morning Show' focuses on these people and offers a comic touch. Since workplace comedies are sort of Steve Carell's forte, we have no doubts that he will shine in this role. Considering the comic sensibilities of his co-stars, we have little doubts that the entire show will be a laugh riot and we cannot wait for it to air.
3. Irresistible (2020)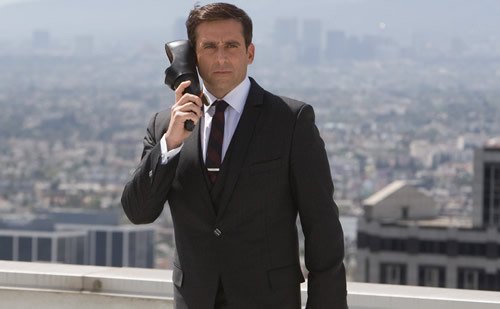 'Irresistible' is an upcoming comedy-drama that is sure to impress viewers. It features Steve Carell and Jon Stewart. The two comedians worked together on 'The Daily Show', where Carell was a correspondent in the Jon Stewart era from 1999 to 2005. Stewart then left his plum job to Trevor Noah, and those that remember the magic this duo created back in the day will be more than eager to check out 'Irresistible'. While a lot is not known about the plot, we know for a fact that it is set during an election campaign.
The story follows a Democrat political strategist who works a campaign for a retired veteran. This person happens to be running for the office of the Mayor in a small town in Wisconsin. Once again, it seems like a well-crafted office comedy that has fallen into Steve Carell's lap, and we cannot wait to watch the actor do justice to the movie. Starring along with him are the likes of Rose Byrne and Topher Grace. With such a spectacular cast, the performances are bound to be strong and that is what drives any good comedy-drama forward. Moreover, it is likely to be in Jon Stewart's political wheelhouse as well, and we cannot wait to see the treatment this project gets from the seasoned director.
2. Minions: The Rise of Gru (2020)
The 'Despicable Me' franchise continues and Steve Carell returns to lend his voice to the character of Gru. 'Minions: The Rise of Gru' is scheduled to release on July 3, 2020. It is a spin-off of the 'Despicable Me' franchise but also serves as the prequel. We have seen Gru begin as a master thief but eventually turn out to be someone who has a soft corner.
Known as the greatest villain of all time at one point, Gru is defeated when a competitor pulls off the theft of the century by stealing the Pyramid of Giza. In order to reclaim the throne of infamy, Gru decides to steal the moon. However, before that, he is put in charge of three girls. While he does not hesitate to use them in his plans of stealing the moon at first, he eventually warms up to them and even abandons the idea of stealing the moon altogether. Instead, Gru becomes a stay at home father. He turns his evil laboratory into a jelly manufacturing unit. His family streak is not done as the very next adventure sees him fall in love and marry a woman.
While Gru might be fully settled in his family life for now, 'Minions: The Rise of Gru' will depict his early days when he used to be tyrannical. He always counts on his minions for support in all his evil plans and to carry out most tasks around the house as well. The minions are small adorable creatures who have become a pop culture phenomenon. The upcoming movie will explore the origins of the minions.
Read More: Upcoming Stanley Tucci Movies
1. Space Force (TBA)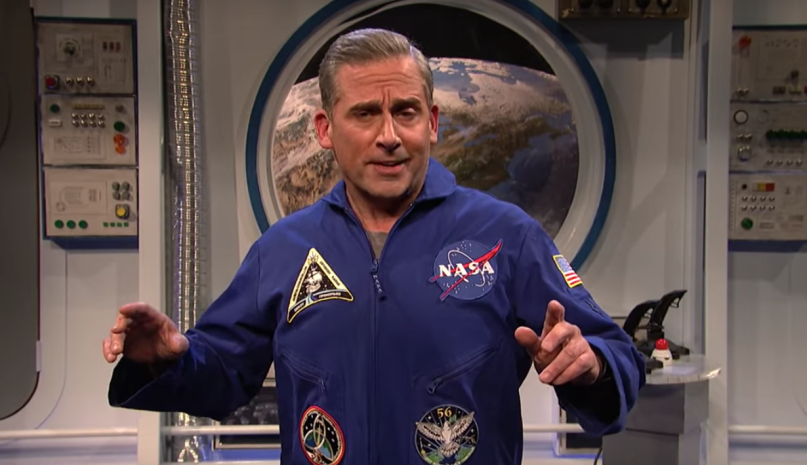 Steve Carell teams up with the creator of NBC's 'The Office', Greg Daniels. The upcoming series is going to air on Netflix and is exactly the kind of reunion fans have been waiting for. If you follow the news, 'Space Force' might be a term you have already heard. It was proposed by Donald Trump, the President of the US, as a branch of the military. One would assume that this show would be a sci-fi series exploring what this branch of military does, but it is actually going to focus on a group of men and women whose task is to run the day-to-day activities of the Space Force, once they figure out what they actually have to do. Not much is known about the show at this point except that it might have the same intraoffice antics that made the NBC show so famous.
Read More: Upcoming Will Ferrell Movies