In 2014, Jon Favreau made a film called 'Chef'. It follows the story of a chef who is fired from his job, and in order to reinvent his style, as well as serving something different to his customers, starts a food truck. This reinstates his reputation in the business and also brings him closer to his family.
Closely associated in this project with Favreau was Roy Choi. In fact, it is his story of starting a food truck and revamping Korean and Mexican cuisine that partly served as an inspiration to the filmmaker. They co-produced the film and Choi also served as a food consultant, overlooking every dish and the recipe shown in the film.
Since then, they had been looking for something that would allow them to repaint their love for food. That thing materialized into 'The Chef Show' that airs on Netflix. Favreau (also credited as the director) and Choi host the show and produce it alongside Annie Johnson, who is known for her work in 'Avengers: Endgame', 'Bird Box', 'A Simple Favour', 'Christopher Robin', 'Justice League', 'Detroit', '12 Years A Slave', 'Man of Steel' and 'Zero Dark Thirty', among others.
The show has seen two successful seasons so far. Here's everything we know about 'The Chef Show' season 3.
Who are the hosts of The Chef Show?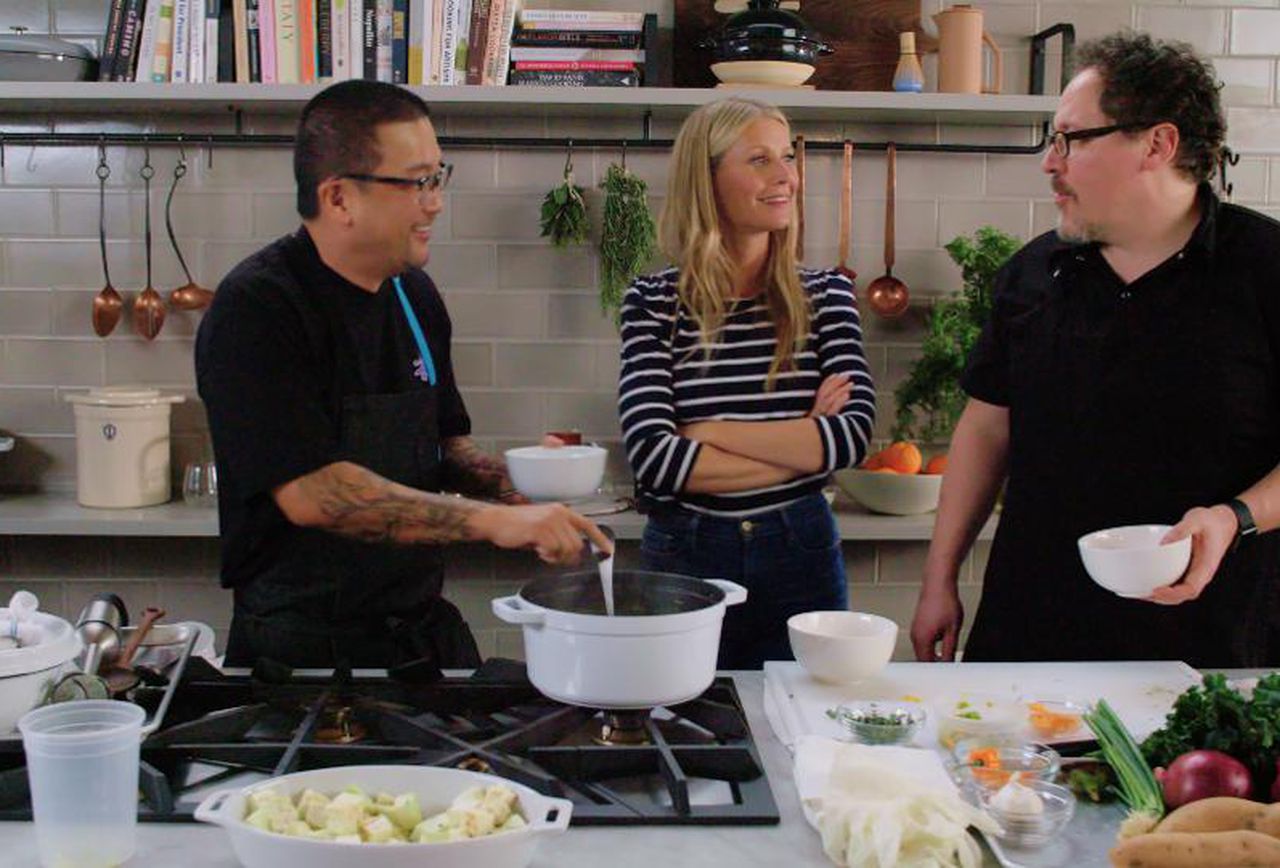 The show is hosted by Jon Favreau and Roy Choi. Favreau is known for his work as an actor, director, producer, and screenwriter. He has been a big part of the Marvel Cinematic Universe. He is the director of 'Iron Man' and 'Iron Man 2'. He has served an executive producer on all the 'Avengers' movies — 'The Avengers', 'Age of Ultron', 'Infinity War' and 'Endgame'. He also plays the role of Tony Stark's bodyguard, Happy Hogan, in the films.
Outside of the MCU, he is credited with directing movies like 'Zathura: A Space Adventure', 'Cowboys and Aliens', 'The Jungle Book' and the upcoming 'The Lion King'. He is also known for his roles in films and TV shows like 'Friends', 'The Wolf of Wall Street', 'Identity Thief', 'Couples Retreat', 'The Replacement', 'Deep Impact' and 'Star Wars: The Clone Wars'. He even serves as the executive producer of Disney Plus's show, 'The Mandalorian'.
Roy Choi is best known in the culinary world for creating the gourmet Korean taco truck, Kogi, which presents a fusion of Korean and Mexican food. He has also worked as the host in a food documentary called 'Broken Bread'. His other appearances include 'Katy Perry Feat. Migos: Bon Appetit' and 'Gilmore Girls: A Year in the Life'.
He has additionally been an important presence in cooking shows like 'The Burger Show', 'Ugly Delicious', 'The Best Thing I Ever Ate', 'Top Chef', 'I'll Have What Phil's Having' and 'Binging with Babish'. He has also written a cookbook that blends with his life-story, named 'L.A Son: My Life, My City, My Food'.
In the show, the hosts travel throughout the country, cooking delicious food and sharing meals with some well-known names. One of the episodes is not just a great bite for foodies but also a therapy for the fans who are still in recovery from the events of 'Avengers: Endgame'. Favreau and Choi dine with Robert Downey Jr, Anthony and Joe Russo, Kevin Feige and Tom Holland. Another episode features Gwyneth Paltrow sharing the kitchen space with the hosts.
Other guests in the first season of the show include names like comedian Bill Burr, chef and YouTube personality Andrew Rea, chef and radio host Evan Kleiman, chef and restaurant owner Jazz Singsanong, filmmaker Robert Rodriguez ('Once Upon A Time in Mexico', 'Alita: Battle Angel', 'From Dusk Till Dawn'), restaurateur David Chang and Award-winning pitmaster Aaron Franklin.
Both the hosts, Jon Favreau and Roy Choi, will be back for season 3. You can also expect a slew of celebrities who are going to join both of them.
What is The Chef Show about?
In his movie, 'Chef', Jon Favreau explores the impact that food has on people's life. Through the story of a struggling chef, he focuses on how food is much more than something to just satiate your appetite.
In this show, he takes that message a bit further, with the help of Roy Choi, who has referred to Favreau as his "food soul mate." 'The Chef Show' follows the men around the country as they invite some very well-known personalities into their kitchen to cook with them.
Its main purpose is to show how a person's emotions are reflected in the way they cook, how food brings people together, especially by focusing on the friendship of the hosts. Unlike other shows, it doesn't indulge itself in showing you how to cook something that can only be made in high-end restaurants, neither does it emphasize the competitive spirit in the culinary world. It is much more like cooking at your home and sharing a meal with family and friends.
The Chef Show Season 3 Release Date: When Will It Premiere?
'The Chef Show' season 2 premiered on September 13, 2019, on Netflix, in all its entirety of six episodes.
The show is a build-up on the tone that Favreau and Choi served to the audience in 'Chef'. The only difference is that it is not fiction and that it has a lot more food.
The show has managed to capture an audience of food lovers, so it was not a surprise that Netflix commissioned it for another season. 'The Chef Show' season 3 is slated to release on February 19, 2020.
The Chef Show Trailer:
'The Chef Show' promises to be one of the most fun food shows you'll ever watch. With Choi's extraordinary skills of making something great out of something "not so fancy", the charm that Favreau brings on the table and the incredible chemistry between them, there is a lot to look forward to on this series. You can catch all its episodes on Netflix.
We do not have a trailer for season 3 yet. While we wait for one, you can check out the season 2 trailer below:
Read More: Best Food Documentaries on Netflix