Edgar Wright has made some brilliant comedies in his career, but his 'Three Flavours Cornetto Trilogy' is not only the best, it is also unforgettable. Each film is a classic in its own right that spoofs three different subgenres with such wit and vigour. The first one explores the zombie apocalypse, the second one spoofs the buddy cop genre. And lastly, for the grand finale, we're served a delicious scoop of comedy centering around alien invasion. Yeah, we're talking about 'The World's End' that wraps up the world Wright created with Simon Pegg and Nick Frost.
Similar to its predecessors, 'The World's End' not only hilariously ridicules the subgenre it explores, it also serves as an excellent addition to it. The film maybe a flavour of its own, but it sure is made of some luscious ingredients – ultimately offering to us a whacky, witty comedy that is oozing with tints of sadness, nostalgia, and a whole lot of honesty. For a movie that centers around post-apocalyptic alien invasion, 'The World's End' offers you an epic pub crawl – with Gary King, an alcoholic manchild stuck in his past, being the only hope for survival for our kind.
It's no surprise that 'The World's End' earned widespread critical acclaimed when it first released. It is also that rare piece of comedy that managed to age well. In fact, it is certified fresh with a score of 89% on Rotten Tomatoes. The film was also a commercial success, and earned the most of all films in the 'Cornetto Trilogy'. On top of that, the final ten minutes of the film easily sets up future adventures for King and company. So, why hasn't it happened yet? Will we ever get a 'The World's End' sequel? Here's everything we know about it.
The World's End 2 Plot: What Can It Be About?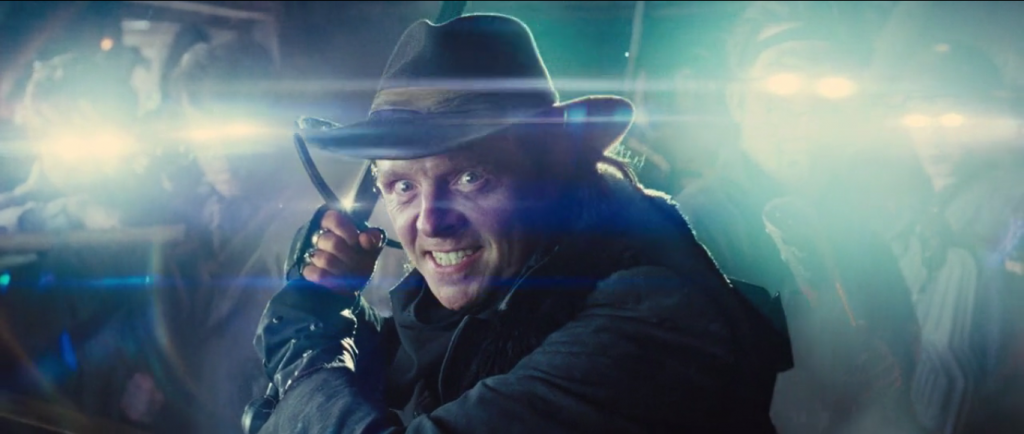 "Me? They call me the King!"
Ah, who can forget that iconic ending. It really begins a new set of adventures for Gary. The ending of 'The World's End' reveals that with the Network triggered a worldwide electromagnetic pulse that not only destroys Newton Haven, but also all of technology on Earth, sending mankind back to the Dark Ages. Eventually, the surviving androids, known as, "Blanks" get reactivated but are treated with prejudice and intolerance from the surviving humans. We learn that Andy mends his marriage and Steven ends up with Sam, and no one knows anything about Gary.
The final minutes of the 'The World's End' then reveal a now sober Gary travelling in the dystopian Newton Haven with android versions of his friends from the time they were young. He enters a pub that states "No Blanks" and orders water for him and his friends. The film ends with the bartender refusing to serve the androids which leads to a pub brawl.
As mentioned earlier, the ending of the film really sets it up for a sequel. However, knowing that 'The World's End' was the last part of the trilogy, it seems quite unlikely. But if at all we do get a sequel, we know that it would be a continuation of the narrative with the gang in the Dark Ages. It should essentially follow Gary's adventures with the androids as he fights against intolerance and uhm…robot racism? Knowing that it is a Wright film, the sequel will need to have a reunion between Gary and Andy.
The World's End 2 Cast: Who Can Be In It?
'The World's End', like the previous two installments of the trilogy, stars Simon Pegg and Nick Frost. Pegg and Frost play Gary King and Andy Knightley respectively, and have been widely praised for their comedic chemistry. The film also stars Paddy Considine as Steven, Martin Freeman as Oliver, Eddie Marsan as Peter, along with Rosamund Pike as Sam. It also features Pierce Brosnan as Guy Shepherd and Bill Nighy as the Network.
As a sequel to 'The World's End' never got confirmed, we cannot say for sure if all the actors will reprise their original. But given Pegg and Frost's history with Edward Wright and the film series, one can certainly expect the duo to collaborate once again. In an interview with Cinemablend, Pegg expressed his interest in revisiting Gary King:
"I'd love to play Gary King again from The World's End. He was a character I really loved playing. He was a character that was extremely complicated. The last moment of the movie is this sort of post-apocalyptic world, so I'd like to see Gary King in the post-apocalyptic world, having adventures."
The World's End 2 Crew: Who Can Be Behind It?
'The World's End' is directed by Edgar Wright, with a screenplay written by him and Simon Pegg. It has been produced by Nira Park, Tim Bevan and Eric Fellner. The film was meant to wrap up the 'Cornetto Trilogy', which it did. But its ending does leave room for future adventures as discussed above.
However, the film released back in 2013, and in the past years, while Wright did lightly tease the possibility of a sequel, and never outrightly said no to it, there has been no news of its confirmation. But if at all, we do get a 'The World's End' sequel, it would need Edgar Wright and Simon Pegg behind it.
Whether or not we see the two return for the sequel, we can certainly expect them reunite soon. When asked about future collaborations with Wright, Pegg stated:
"Oh yeah, that's like a given. The only reason we haven't is just timing…Me and Edgar talk about it all the time, and whenever we're together we start brainstorming and we have certain ideas we want to develop. It's just a question of when not if."
The World's End 2 Release Date: When Can It Premiere?
Since a sequel to 'The World's End' never got confirmed, there is a possibility that it may never happen. In previous interviews Wright expressed that though there is room for further adventures, there are many other original stories that he wants to work with. So the chances of whether or not we get the sequel really depends on Wright and Pegg's decision. But we won't' rule it out completely given the ending and Pegg's interest in revisiting King. If we somehow do get 'The World's End 2', it would probably release sometime after 2024.