Tim Allen was born Timothy Allen Dick in Denver, Colorado. He went through a difficult phase in life as a troubled teenager and a violent youth. Allen started relying on jabs and wits to escape from insults aimed at his "inappropriate" last name during childhood. His life took a chaotic turn for the worse after his father's tragic death when he was an 11-year-old boy. During his university days, Allen used to earn money as a drug dealer. Later, he developed his comedic persona to present himself as a stand-up at several comedy clubs in and around Los Angeles. But a constant struggle to survive against all the odds of unfavorable surroundings always followed him during that stage.
He tried hard to get a breakthrough throughout the late '70s and early '80s. But bad luck struck the comedian again in the form of a prison sentence for an alleged criminal activity. He became popular among the inmates and prison guards for his skills to invent humor even from the most difficult situations during the prison sentence. Allen tried his luck again after the release in commercials and small-time cable shows. Slowly, the actor gained attention and recognition through his frequent appearances on late-night television shows. His long-awaited and long-deserved breakthrough came with the ABC sitcom 'Home Improvement' in 1991. The series went on to become a record-breaking hit for the network and ran for 8 years. Allen went on to be regarded as one of the most sought after comedians in American television history. He followed the success with titles like 'Galaxy Quest,' 'The Santa Clause' film series and 'Toy Story' film franchise.
The 2000s were a prolific decade for Allen. The actor kick-started his success streak with the 2000 sci-fi flick 'Galaxy Quest,' in which he parodied popular space travel franchise like 'Star Wars', along with co-stars Sigourney Weaver, Alan Rickman, Tony Shalhoub, and Sam Rockwell. He took television and radio by storm with his 'Pure Michigan' commercials in 2009. Initially developed as a campaign for Travel Michigan agency, ads went on to become a viral phenomenon. Allen was the first choice for the advertising firm when they started looking for a characteristic voice-over for the ads. Allen was one of the most popular voice actors at the time after the back-to-back success of the first two 'Toy Story' movies. His voice role as Buzz Lightyear became a sensation along with Tom Hanks' Sheriff Woody among animated movie lovers. The comedian has revealed later that the Travel Michigan commercials pushed him out of his comfort zone and challenged him as a voice actor to invent a better version of himself.
Allen's other major works include 'Wild Hogs' (2007), 'Redbelt' (2008), and 'The Six Wives of Henry Lefay' (2008). In 2008, he made his directorial debut with the movie 'Crazy on the Outside.' He also starred in the lead role in the film which reunited all his co-stars from the previous hits, like Sigourney Weaver, Ray Liotta, Kelsey Grammer, and Julie Bowen. He also produces programs and movies under his home banner Boxing Cat Films and owns his design studio named Tim Allen Designs. So now you must be wondering what is the next Tim Allen movie or TV show? Well, here's the list of upcoming Tim Allen films and TV shows scheduled to release in 2019 and 2020. We can only hope that the latest Tim Allen movies would be as good as some of his recent ones.
3. Last Man Standing (2011 – )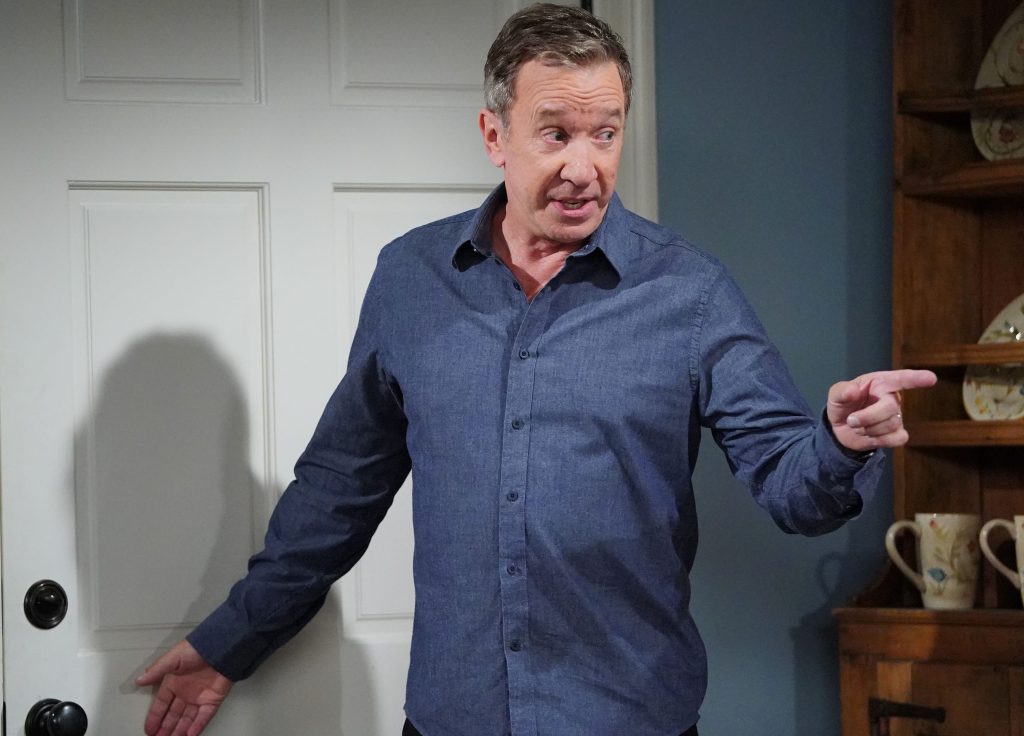 'Last Man Standing' is Fox's hit sitcom starring Tim Allen as Michael "Mike" Baxter. The plot revolves around Mike, his family and the sporting store chain where he works as the director of marketing. Mike's family consists of his wife Vanessa Baxter (Nancy Travis), their three daughters Eve Baxter (Kaitlyn Dever), Mandy Baxter (Molly Ephraim), Kristin Baxter (Amanda Fuller), and Kristin's son Boyd Baxter. 'Last Man Standing' was NBC's flagship sitcom from 2011 to 2017. The series moved to Fox for its seventh season which went on to become a huge hit. Critics hailed the seventh season for filling the gap of sitcoms in Fox's original programs slate.
The network renewed the sitcom for the seventh season in April 2019. Allen's occasional jabs at politicians and the stunning family dynamics of the series garnered positive reviews for the show and a significant fan following too. In the upcoming season, reportedly, the plot follows Allen who tries to support Mandy to launch her clothing line. He sets up a business meeting for Mandy with an aggressive sales executive (Melissa Peterman as a guest star). Created by Jack Burditt, 'Last Man Standing' is jointly produced by 21 Laps-Adelstein Productions, NestEgg Productions and 20th Century Fox Television.
2. Toy Story 4 (2019)
Tim Allen is the characteristic voice behind one of the lead characters in Pixar's 'Toy Story' film franchise. He reprises the character in the upcoming fourth installment 'Toy Story 4.' Buzz Lightyear is a Space Ranger superhero in the line of popular superhuman characters in feature films. Along with Tom Hanks' iconic character Sheriff Woody, Buzz leads the adventures into uncharted territories. The fourth movie is a direct sequel to the 2010 movie 'Toy Story 3.'
The plot follows the new toy named Forky (Tony Hale) made by Bonnie. Forky goes through a difficult phase in the new life in Bonnie's room. He escapes one day into the outside world. Soon, Sheriff Woody and Buzz find that Forky is missing. They embark on an adventurous rescue mission along with other toy friends to save and take Forky back before he picks up any problems. Other cast includes Jordan Peele as Bunny, Christina Hendricks as Gabby Gabby, Keanu Reeves as Duke Caboom, and Joan Cusack as Jessie. Directed by Josh Cooley from a script by Stephany Folsom and Andrew Stanton, 'Toy Story 4' is scheduled to release on June 21, 2019.
Read More: Upcoming Kiefer Sutherland Movies
1. Amigos (TBA)
The long-gestating comedy 'Amigos' stars Tim Allen and George Lopez in the lead roles. The plot is reportedly based on an idea conceived by Allen about two in-laws who form an unlikely pair to raise their grandson. Seth Greenland is attached to the project as screenwriter. The movie is yet to get a director. The film has been trapped in development for nearly a decade, so there aren't a lot of details available regarding the plot and characters. 'Amigos' is set up with Touchstone Pictures when it was first announced in 2006.
Read More: Upcoming Steve Buscemi Movies