He may appear as a detective, an alien, a drug dealer, a cyber-criminal, a serial killer, or a computer game hero, to the surprise of his fans, who follow actor Timothy Olyphant for a cause. Timothy Olyphant, who is one the most typecast actors in recent times, however, has a number of diverse roles in his credit, and yet continuously remembered for a couple of them. Ever since he landed in New York after post-graduation, he wanted to get into acting. As a young acting aspirant, he ended up in a training studio, in which John Malkovich and Tracee Ellis Ross studied.
Finally, he made it onto the stage with his acting debut in an Off-Broadway theater in 1995. After a career of more than two decades, we prefer to remember him as Raylan Givens, a Kentucky-based rude U.S. Marshal in the FX drama, 'Justified.' He has been identified with the character for nearly six long seasons and it became nearly impossible for the viewers to imagine him without the badge and the notorious shoot-first-ask-questions-later. The drama was based on the books of Elmore Leonard. When he left the show, it was quite an emotional moment for the actor.
His earlier stint as a short-tempered sheriff who always messes up criminals in HBO's 'Deadwood' triggered a couple of sheriff outings for the actor. Fans loved his Seth Bullock, a buttoned-down and idealist sheriff in 'Deadwood.' Olyphant brought the Wild West alive on television and the show went on to become a hit. Olyphant's David in the remake of George Romero's 'The Crazies' also cemented his authority on local sheriff characters.
Olyphant then tried to change his career trajectory with Netflix's horror-comedy 'Santa Clarita Diet'. He plays Joel Hammond, Drew Barrymore's onscreen husband, in the series. At this point, the question that might be circling your mind is what is the next Timothy Olyphant movie and TV show? Well, the good news is that we have a clear answer to that question. Here's the list of upcoming Timothy Olyphant films/TV shows scheduled to release in 2019 and 2020. We can only hope that the latest Timothy Olyphant movies would be as good as some of her recent ones.
4. Santa Clarita Diet (2017 – Present)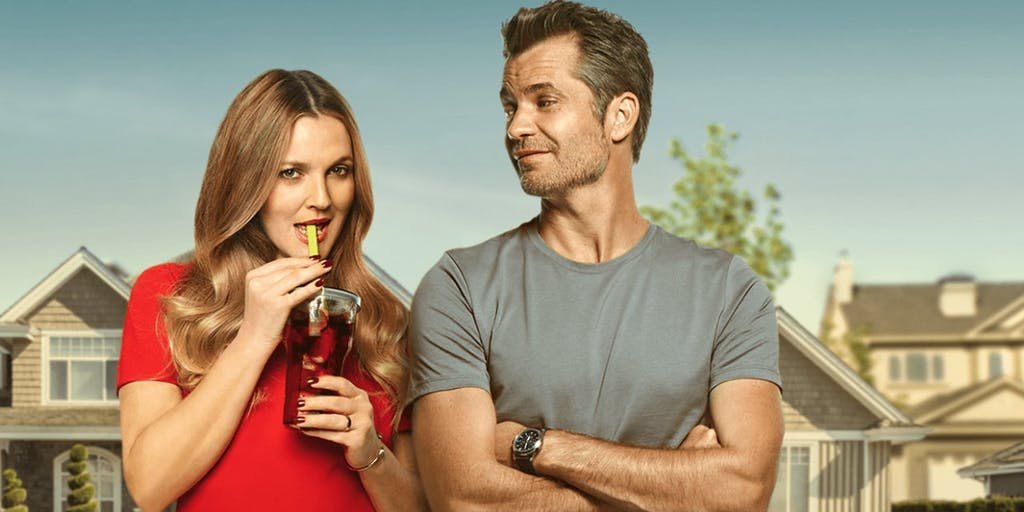 Drew Barrymore and Timothy Olyphant play a married couple, the realtors Joel and Sheila Hammond, in the hit Netflix horror-comedy 'The Santa Clarita Diet.' The couple, along with their daughter, Abby, played by Liv Hewson, seems quite normal in lifestyle for a typical Southern Californian family. But when Sheila Hammond finds herself in a grotesque transformation state, the family slips into a chaotic, hilarious and destructive course.
The series goes for a third season in 2019. While Sheila turned out to be a flesh-eating zombie after a mysterious malady, her beloved and caring husband, Joe and daughter, Abby kept the order in the family within control. But in Season 3, things are not as simple as they were in the past two seasons. According to reports, Zombie Sheila is going to live forever in Season 3, but only if she bites her husband. Skyler Gisondo plays the family's weird neighbor in the reboot, which is created by Victor Fresco. Barrymore and Olyphant are also involved with the project as executive producers. The 10-episode 'Santa Clarita Diet Season 3' will be aired on Netflix on March 29, 2019.
3. Missing Link (2019)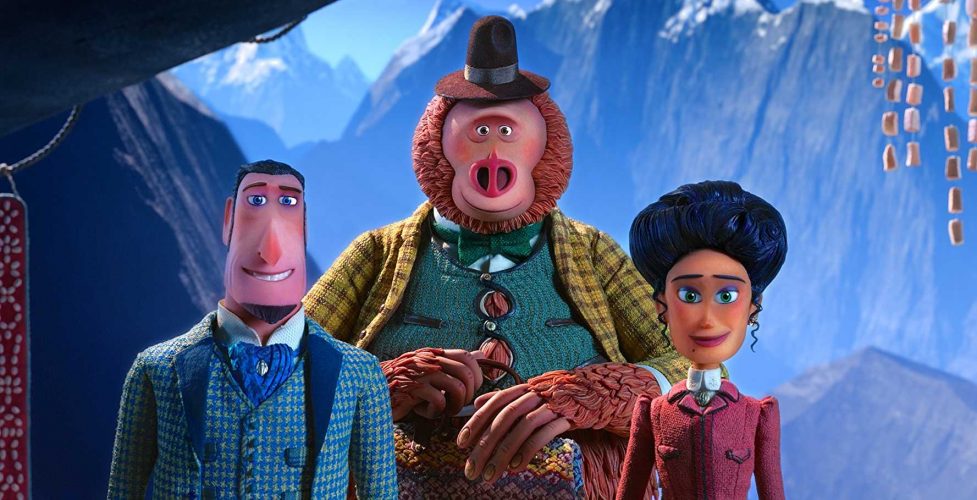 'Missing Link' is an upcoming animated comedy-adventure made by director and writer Chris Butler. The movie centers around Sir Lionel Frost, voiced by Hugh Jackman, a ghost hunter who investigates myths and legends. But, he is continually downgraded by his elite friend circle. Frost had to prove himself and he sets out on an adventurous trip to the Pacific Northwest to collect evidence that proves legendary Missing Link, voiced by Zach Galifianakis, really exists. Timothy Olyphant also joins the voice cast along with Zoe Saldana and Emma Thompson. 'Missing Link' will hit cinemas on April 5, 2019.
2. Once Upon a Time in Hollywood (2019)
Quentin Tarantino's long-awaited star ensemble, 'Once Upon a Time in Hollywood' has Timothy Olyphant sharing screen space with the likes of Margot Robbie, Leonardo DiCaprio, Brad Pitt, Al Pacino, Damian Lewis, Emilie Hirsch, Bruce Dern, Dakota Fanning, Luke Perry, Lena Dunham, Scoot McNairy, Kurt Russell, Tim Roth, Michael Madsen, James Marsden, and Rumer Willis. The movie brings back the vintage Tarantino with a plot set in 1969 when the Manson Family executed their brutal murder of Sharon Tate. 'Once Upon a Time in Hollywood' has the murder plot at its center and Tate's role is played by Margot Robbie. DiCaprio's character, the struggling actor Rick Dalton, lives next door to Sharon Tate. Brad Pitt plays Dalton's stunt double who is planning to move to Italy. The movie, which tops almost all the most anticipated lists this year will hit theaters on July 26, 2019.
Read More: Upcoming Hugh Jackman Movies
1. Deadwood (2019)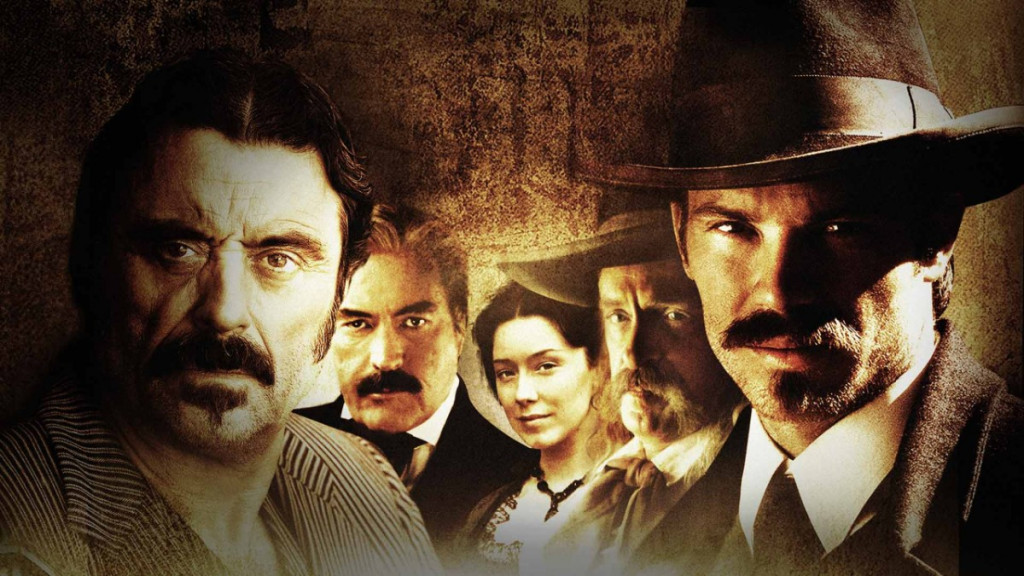 HBO's long-in-development project, 'Deadwood' has a release date finally. According to a 'Deadline' report, HBO might air the movie in Spring 2019. David Milch's follow-up to the cult series is set 10 years after the events in the predecessor, which ran three consecutive seasons on HBO. Reports also suggest that the cast of the TV movie will reprise their characters, including Timothy Olyphant's Seth Bullock.
Read More: Upcoming Ralph Fiennes Movies