Netflix's 'You' follows the story of a serial killer named Joe Goldberg whose problem is that he falls in love too easily but the women turn out to be something he didn't expect them to be. Just when he thinks he's found the right one, something comes up and ruins his entire relationship, and he almost always ends up killing the woman, as well as, a couple of other people in the process. Still, there is a good side to Joe and it most prominently appears in the second season when he befriends a teenager named Ellie. She's an aspiring filmmaker who has big plans for her future. But little does she know that meeting Joe will change everything. If you are wondering what happened to Ellie and if she'll return in the upcoming seasons of 'You', then here's what you should know about it. SPOILERS AHEAD
What Happened to Ellie?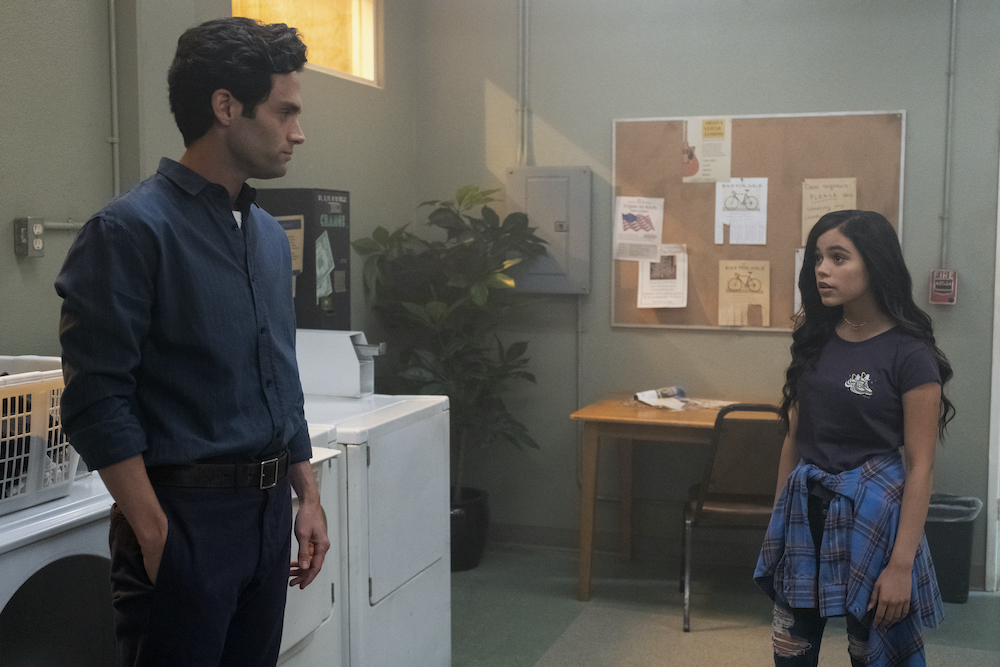 In the second season of 'You', Joe arrives in LA to start a new life and ends up falling in love with Love Quinn. He also develops a bond with his neighbor Ellie, whom he cares about so much that he ends up killing Henderson, a director who tried to assault Ellie by drugging her. By the end, Ellie's sister Delilah ends up finding out about Joe and is killed by Love, who doesn't want his secret to come out. With Delilah's death, Ellie has no one left, which means that she will be taken away by Child Protective Services.
Love plans to use her family's influence to make Delilah's case disappear and pin the murder of Henderson on Ellie. Joe, however, takes a different route. He warns Ellie about what's to come and gives her money to run away to Florida. At the end of Season 2, he receives a postcard from her, confirming that she is still alive. In Season 3, he mentions that he has been sending money to her, which means that they are still in touch, though they haven't met since the events of Season 2.
Is Jenna Ortega in You Season 4?
Considering that Ellie is one of the few people to have survived Joe, there is a chance that we might see her again before his story comes to an end. However, she doesn't appear in the fourth season of 'You', which makes sense considering the direction that Joe's story takes. By the end of Season 3, he fakes his death and escapes to Europe where he starts looking for Marienne. In the fourth season, we find him living a new life as Professor Jonathan Moore in London. Considering that Ellie is still in America and, like most other people, thinks that Joe is dead, she does not factor into the events that happen in the fourth season, which is just as well for her.
Knowing Joe and his habit of killing people wherever he goes, it wouldn't be a surprise to find him back where he started soon enough and that may open the possibility of Ellie's return. Sera Gamble, the co-creator of 'You, revealed that they haven't scrapped the possibility of bringing back the teenager. "Ellie is still in Joe's life. He's sending her money. She hates him, but he is sending her money. So that door remains open for us," she said. Jenna Ortega, who recently appeared in Netflix's 'Addams Family' TV show, 'Wednesday', also shared her enthusiasm about returning to the universe of 'You'.
"I love that set. The team behind it, the writers are so witty and so funny, and then also just to work with Penn Badgley again. I had such an incredible time there that if they would like to have me back, I'm more than happy to take a few digs at Joe again," Ortega said. It remains to be seen whether the story will take the turn allowing Ellie to play a role in Joe's life, most possibly to bring him down once and for all. Meanwhile, Ortega has a very busy schedule, with the upcoming season of 'Wednesday' and the sequel of 'Scream', with a couple of other film projects lined up for release.
Read More: Is You's Joe Goldberg Based on a Real Serial Killer?