'When Supernatural Battles Became Commonplace' is basically what its title suggests: it follows the story of a bunch of teenage school kids who get superpowers with no explanation about how or why they get them. There is absolutely nothing more to the storyline and it is as predictable as it can get and yet, this cliched Harem anime, filled with absurdities, is extremely entertaining. If you remember watching 'Chuunibyou demo Koi ga Shita', then you will be able to relate to the references made to the delusional disease that the main character in this show suffers from. Meanwhile, there are other characters in the show, who are girls with diverse personalities, you wouldn't want to mess with.
However, there aren't too many battles in the show. Though it is a little disappointing to see its lack of action, the anime does really well with its character relationships. In the end, the basic premise of the anime is not at all about supernatural fights or insane action sequences; instead, it's more about friendship, romance and a whole lot of comedy. But what's really surprising about it is the battle that it portrays somewhere around the end of the season which is not only very well strategized but it also gives out a valuable lesson — "With great power comes great responsibility". Overall, 'When Supernatural Battles Became Commonplace' is a very well rounded anime that can be very enjoyable for pretty much anyone who does not expect too much out of it. So if you are planning to watch it anytime soon, then try focusing on its deep themes of friendship and loyalty instead of looking for supernatural battle scenes.
When Supernatural Battles Became Commonplace Season 2 Release Date: When will it premiere?
'When Supernatural Battles Became Commonplace' Season 1 premiered on October 7, 2014 and went on till December 23, 2014. Now regarding Season 2, the DVD sales of the anime were just not enough for the creators to even think of a new season. There is no doubt that 'When Supernatural Battles Became Commonplace' is a pretty good rom-com, but sadly, the possibilities of getting a new season seem very low as of now.
When you consider anime of the harem genre these days, most of them have either been canceled or have been kept on hold since years. Creating anime adaptations for the sole purpose of marketing the source material is becoming a common norm now and expecting new seasons of most of these anime would just lead to further disappointment. But even then, if there are any updates regarding 'When Supernatural Battles Became Commonplace' Season 2 release date, we will surely update it in this section.
When Supernatural Battles Became Commonplace English Dub:
You can watch 'When Supernatural Battles Became Commonplace' on Crunchyroll, HiDive, and AnimeLab with its original Japanese audio and English subtitles.
When Supernatural Battles Became Commonplace Plot:
'When Supernatural Battles Became Commonplace' starts off by introducing four characters who are all a part of the literature club of their school. Amid a club meeting, the four of them—along with one of their faculty adviser's niece—suddenly realize that they have acquired supernatural abilities. Out of all of them, Jurai Andou is the one who's most excited about his newly acquired abilities.
However, his power of fabricating black flames has no real life application and is just for show. And after comparing his powers with others, he realizes that he is completely outcasted in a group where — Tomoyo Kanzaki can manipulate time; Jurai's childhood friend has mastered control over all five elements; the president of the club, Tomoyo Kanzaki, has the ability to repair any living or non-living thing; the adviser's niece is able to magically pull things out of thin air. But even after acquiring these powers, they still have no clue where these have come from and they continue to live their lives normally. The only difference now is that they have supernatural abilities that may even hold some secrets of their own.
When Supernatural Battles Became Commonplace Characters:
Jurai Andou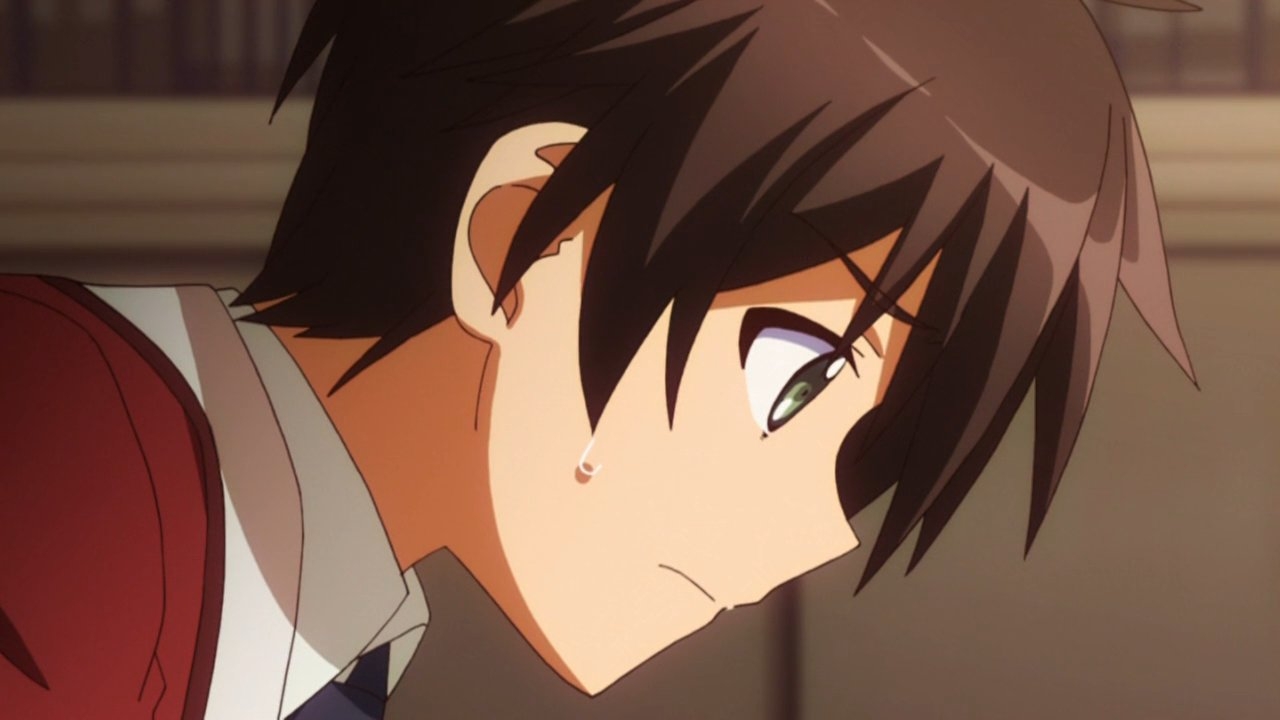 Jurai Andou, also known as July Ando, is the main protagonist of the series. He is a patient of Chunnibyou and is also a member of his school's literature club. Like all the members of the club, he acquires the power of manipulating a black colored flame and though it looks really cool, it's useless most of the times. He is a tall young man who has black hair and is usually seen in his school uniform. He is really full of energy all the time, most of which is an outcome of his severe Chunnibyou. Despite his delusions about the world around him, he is still able to do well in school and has decent grades.
Chifuyu Himeki
Chifutyu is another main character of the anime who is also a member of the literature club. Her power is called World Create and it allows her to create objects using nothing at all. She is a short girl with long blond hair and olive brown eyes. She is the niece of the Literature Club's adviser and that is the only reason why she is a part of it. She is a fourth grader and only talks maturely when she has her teddy toy with her. Once that is taken away from her, she starts acting like a child again.
Tomoyo Kanzaki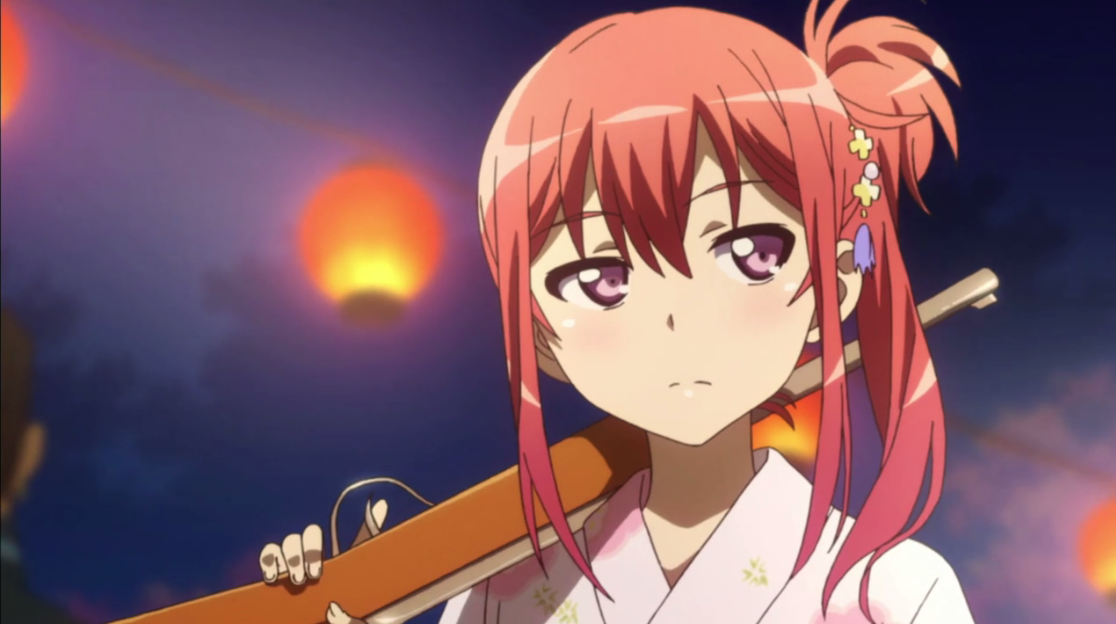 Tomoyo Kanzaki acquires the power of manipulating time itself and like Andou, she is also very self-centered and delusional about the world around her. She has straight pinkish hair that she ties up in a ponytail at the back and has violet eyes. She gets embarrassed easily and even when someone gives her the slightest of compliments, she feels really shy. She really likes Andou but still tries to hide her feelings for him and even claims that she would rather be with a girl than be with him.
Hatoko Kushikawa
Hatoko Kushikawa is another member of the literature club who acquires supernatural abilities. Her power is called Over Element and it allows her to control all five elements: Earth, Fire, Wind, Water, and Light. She has pale pink hair and she usually wears a blue colored hairband over them. She is a very polite girl and is the only one on the group who takes Jurai's narcissistic personality disorder very seriously. She is very optimistic about everything and is often found goofing around like a little child. She is always seen with a big smile on her face and cares a lot about her friends.
Sayumi Takanashi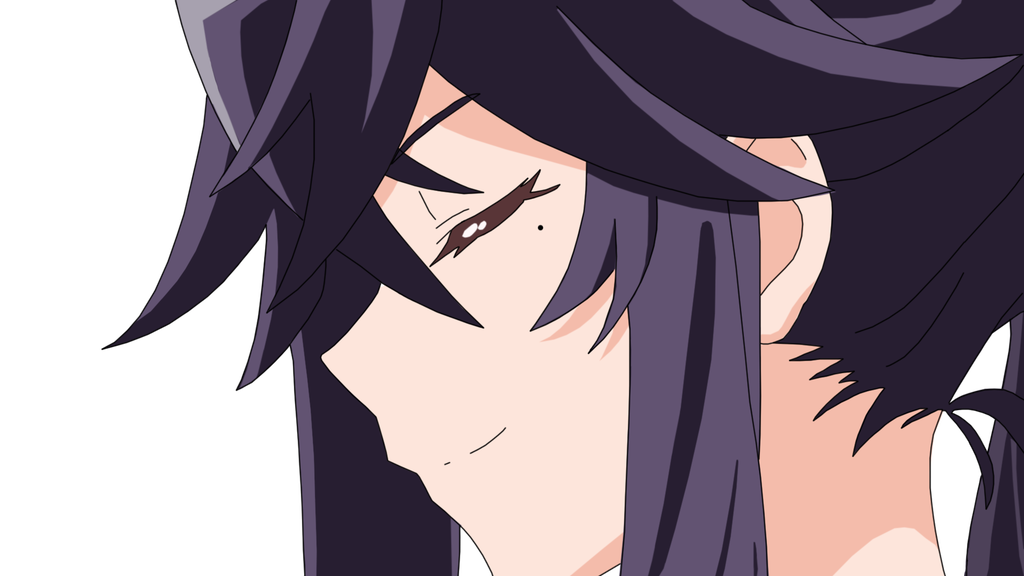 Sayumi Takanashi is the president of the Literature club. She possesses a supernatural ability called "Root of Origin". Her ability allows her to restore any broken object to its original state just by touching it. She later gains a more advanced level of her ability that allows her to restore whole areas instead of just restoring a single object to its normal state. Out of all the members of the group, she is the most mature one and has the traits of a true leader. She is also very knowledgeable and is often found reading different kinds of books.
Read More in Anime Preview: Little Witch Academia Season 2 | Gintama Season 12