'Infinity Train' is a science-fantasy animated tv series the creation of Owen Dennis, who used to work for Cartoon Network as a writer and a story artist. November 1, 2016, the series made its debut with the Pilot on Cartoon Network and received a great response. As a result, Cartoon Network welcomed the series and hence the production began.
Originally, 'Infinity Train' was a miniseries but the wide success made the creators announce it to be an anthology. 'Infinity Train' series is set on a bizarre train which seems to have an endless number of cars. Each car is a different universe. We've gathered everything you should know about 'Infinity Train Season 3' before its release.
Infinity Train Book 3 Release Date
'Infinity Train' season 1 premiered on August 5, 2019. So far, two seasons and a short series of episodes have been released. Ten episodes of 'Book 2: Cracked Reflection' were aired on Cartoon Network from January 6, 2020, to January 10, 2020.
Now is the time for the wait to be over. The news of the third season of 'Infinity Train' was shared on July 6, 2020. All the previous series were premiered on Cartoon Network. Unlike rest, the next season will air on HBO Max. 'Infinity Train' season 3 will release on August 13, 2020.
Infinity Train Book 3 Cast: Who will be in it?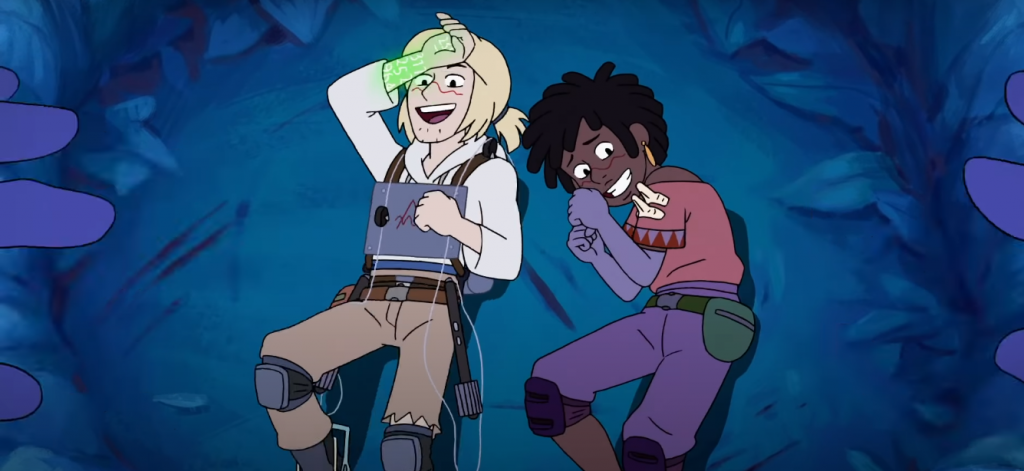 Book 3, Cult Of The Conductor is going to be about Grace (voiced by Kirby Howell-Baptiste) who first appeared as a side character and antagonist in Book 2. She is the head of a pack of strange passengers own as Apex. Simon (voiced by Kyle McCarley), another character from Book 2 will return. After Grace, Simon is the second most powerful member of Apex. Two more characters will be introduced – Hazel (voiced by Isabella Abiera), whose number does not glow, and Tuba, her monkey friend.
Infinity Train Season 3 Plot: What can it be about?
Did you find this secret SNEAK PEEK of Grace and Simon taking the Unfinished Car in Book 3? Stay tuned for more surprises! ♾🚃 Book 3 premieres on @HBOMax on 8/13! #InfinityTrainHBOMax #InfinityTrain pic.twitter.com/tK7U6PXLEt

— Cartoon Network (@cartoonnetwork) July 31, 2020
Every season is referred to as a 'Book.' So, every Book is a tale of a new group of characters. The compelling fact is that the characters may change but the motive remains the same, ie, to get off the train somehow. Book 1 is titled as The Perennial Child. It is the tale of a young girl, Tulip Olsen (voiced by Ashley Johnson) who plans to flee from the long and never-stopping train. On her mission, she meets One-One, a robot who is capable of splitting into two different personalities: Sad one and glad one. Corgi King Atticus, a talking dog also helps her.
Book 2 is named 'Cracked Reflection.' It is the story of Tulip's reflection, MT( also voiced by Ashley Johnson) who belongs to the mirror world. MT becomes friends with Jesse and a deer whom they called Alan Dracula. Grace and Simon, the leading characters of the upcoming Book 3: Cult Of The Conductor, were initially presented in this season.
When Warner Media Group announced the launch, Owen Dennis said, "in Book 3, Grace and Simon are the leaders of the Apex, an anarchic group of kids on a mysterious train. During one of their destructive missions, Grace and Simon get separated from the rest of the Apex and must find their way back. As the duo navigate through the myriad worlds of the train, they meet Hazel, an optimistic young girl, and Tuba, her gentle gorilla companion. Will Grace and Simon find new inspiration in Hazel's innocence, or will the ways of the Apex recruit yet another aboard the train?" Wherever the story-tracks take the 'Infinity Train,' is going to be yet another indulging journey starting from August 13, 2020.
https://www.instagram.com/p/CCUEWcOD2bD/
Read More: Best Animated Shows on Netflix