'Save Yourselves' follows a delightfully wide-eyed hipster couple to a remote cabin in upstate New York for a week-long "unplugged" vacation, where they are blissfully unaware of an alien invasion that's taking place all over. It's hipsters versus aliens in this new-age comedy film about the repercussions of cutting off from technology. In this digital age, we depend so much on technology that the urge to unplug and disconnect sometimes is just overwhelming. And of course, putting away our phones and various devices, and taking a break from technology, can do wonders for us.
However, the movie 'Save Yourselves!' does not advocate going cold turkey without checking your phone for days at once. Quite the opposite, in fact. What if you unplug for several days, only to emerge in a world that has changed into a post-apocalyptic wasteland after it was invaded by ruthless aliens? Want to know where you can stream 'Save Yourselves!'? Well, here are all the online viewing options, along with a little summary of what the movie is all about!
What is Save Yourselves! About?
'Save Yourselves!' is an alien invasion comedy film, directed by real-life partners and co-writers Alex Huston Fischer and Eleanor Wilson. Sunita Mani and John Paul Reynolds star as Su and Jack, a young hipster couple who is too absorbed in their respective digital lives that they've lost the spark in their relationship. Looking to disconnect from technology and reconnect with each other, the couple heads to a secluded cabin in the woods and constantly quell and curb the urge to check their phones.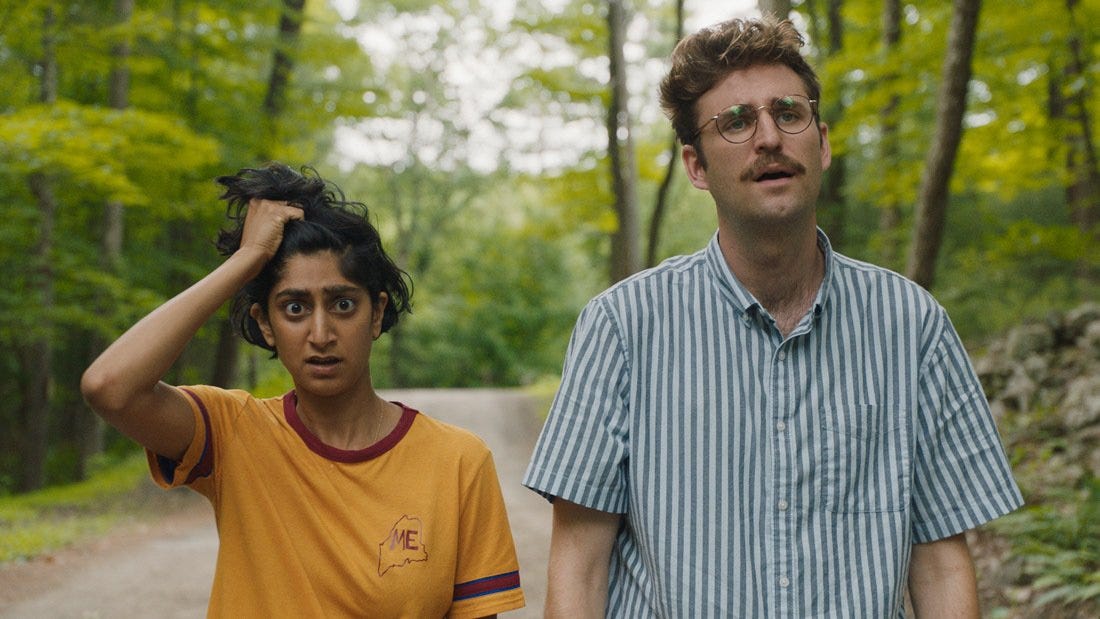 Su and Jack remain totally unaware of the happenings of the outside world, where a species of hostile aliens is killing humans to take control of the planet. With their childlike innocence, Su and Jack only find out about the invasion/apocalypse when they encounter some cuddly, furry pouf-like aliens at the cabin. 'Save Yourselves!' manages to make the audiences care about the couple so that we really don't want them to die by an alien attack. The movie is funny, silly, and delightful, with an ambiguous enough ending that leaves viewers to draw their own conclusions.

Is Save Yourselves! on Netflix?
'Save Yourselves!' is not part of Netflix's streaming content catalog. If you want to watch something similar, Netflix has 'The Last Kids On Earth,' which is a short animated series based on the alien invasion trope.
Is Save Yourselves! on Hulu?
While 'Save Yourselves!' is not available to stream on Hulu, viewers can watch 'MIB International' in which a sharply-suited Chris Hemsworth battles aliens.
Is Save Yourselves! on Amazon Prime?
'Save Yourselves!' is available to purchase or rent as video-on-demand on Amazon Prime. However, it cannot be streamed on the platform. Another comedy film that centers around alien invasion is 'Pixels' which is also available as VOD (not streaming) on Amazon Prime.
Where To Watch Save Yourselves! Online?
Viewers can buy or rent it on these online VOD platforms, since 'Save Yourselves!' is not available to stream anywhere – iTunes, Google Play, Vudu, FandangoNow.
How To Stream Save Yourselves! For Free?
As of right now, 'Save Yourselves!' is not available for online streaming and can only be purchased or rented as video-on-demand on the aforementioned platforms.
Read More: Best Alien Movies on Netflix