There will be no other movie like 'Whiplash'. No other movie on music could leave its audience so stunned and thrilled, and yet so uncomfortable the way 'Whiplash' does with its intensity and brutality. It was this universally acclaimed movie that brought writer-director Damien Chazelle's film-making to the limelight for the first time.
It was Chazelle's second feature film, and was shot in just over two weeks, becoming the lowest budget film to get nominated for the Oscars in 2014. 'Whiplash' is not just a movie about jazz. In fact, in a lot of ways, it is not about jazz at all, but about madness, masculinity and abuse, both of power and the teacher-student dynamic.
The movie stars J. K. Simmons and Miles Teller in the lead as they explore a sadomasochistic relationship between a brutal teacher and his driven pupil. Teller plays Andrew Neyman, a nineteen-year-old gifted musician studying in New York's top music school, while Simmons plays Terrence Fletcher, a tyrannical and abusive teacher pushing his pupil to be the next Charlie Parker. Crucial points in the film include obsessive training leading bloodied hands, aggressive homophobic slurs, along with the occasional physical abuse, all in an attempt to push Andrew to a point of making or breaking it in the music world.
Intensely driven, Andrew's sole focus is to achieve greatness from all the sacrifices and suffering he endures, eventually leading him to a path of artistic triumph, along with his own self-destruction. This is made clear through a crucial moment in the film when Andrew runs off to perform immediately after being in a car accident. The most significant scene though, is the climax, which viewers either absolutely loved or hated.
The ending marks Andrew's artistic triumph, and finally, acceptance from his cold-hearted mentor. But in reality, it serves as a happy ending only in the guise of a sad one. The triumph, though important, is also temporary – perhaps only a stop in Andrew's path to losing himself. With achieving the greatness that he always desired, comes his own inevitable fall.
Though not shown in the movie, this is widely understood by the viewers who become witnesses to his journey. If there were to be a sequel to 'Whiplash' it would definitely be a dark and tragic one, exploring the permanence of the damages endured, and the psychologically complex relationship between great suffering and great art.
Whiplash 2 Plot: What Can It Be About?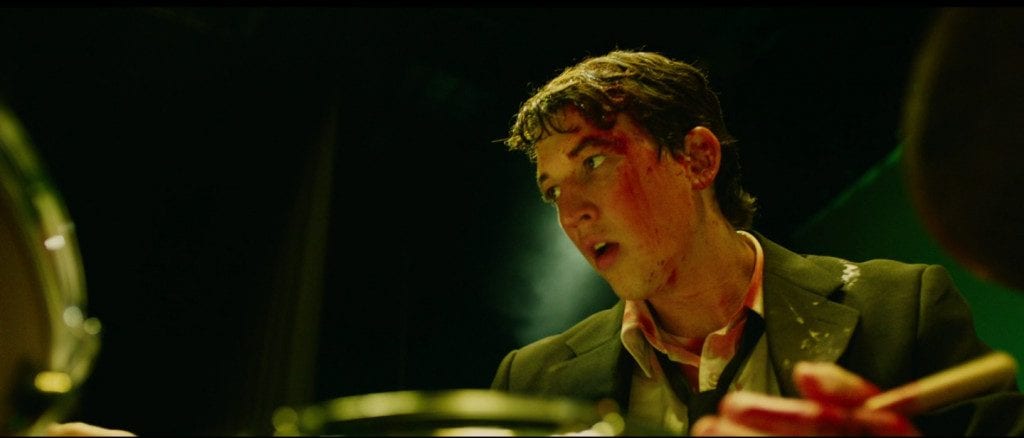 'Whiplash' has often been called the "Full Metal Jacket of drumming". This becomes important to look at because while one is about war, the other is about art. The creation of great art, and of a great artist in the movie, in a twisted sort of way, parallels the creation of Frankenstein's monster – both will lead to a point of no return and eventual self-destruction. This is what makes the ending so interesting as Chazelle takes the age-old tale of great art and losing oneself, and gives the audience a happy ending that lingers and implies so much more.
In an interview, Damien Chazelle stated that in his mind too, the characters would have a tragic end, and though the end of 'Whiplash' has Fletcher's acceptance, it would indeed be a fleeting one: "I think there's a certain amount of damage that will always have been done. Fletcher will always think he won and Andrew will be a sad, empty shell of a person and will die in his thirties of a drug overdose."
Personally, I believe that this would be the only justifiable plot to the sequel to 'Whiplash', and if there were ever to be one, it would probably take place with Andrew is in his early thirties, having achieved great acclaim for his art. But unlike the first part, it would explore his experiences with success, and his vulnerabilities and loneliness, along with the consequences of his choices. The sequel should also essentially explore the aftermath of the sadomasochistic relationship that Andrew shared with Fletcher.
Whiplash 2 Cast: Who Can Be In It?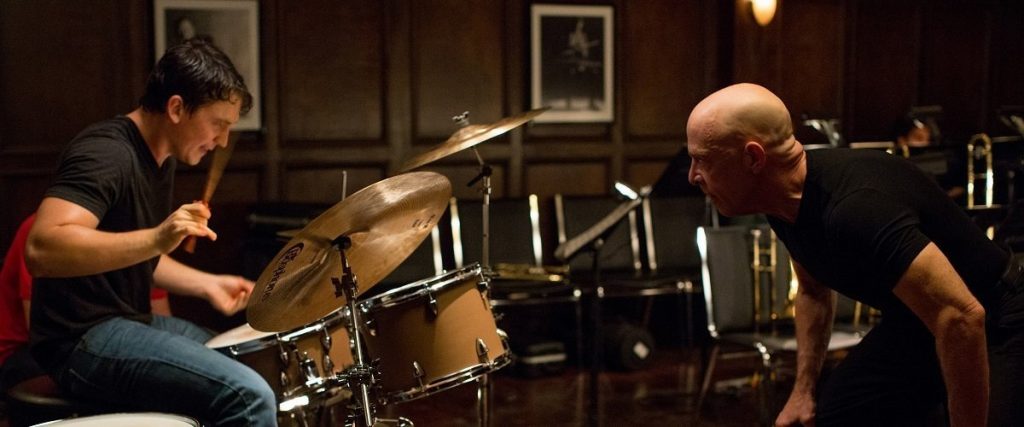 If there were to be a sequel to 'Whiplash', it would definitely have to have the original cast, particularly, Miles Teller and J. K. Simmons.
One of the things that makes the movie stand out is the fact that neither of the lead characters are easy to like. While it is easier to sympathize with Andrew, it remains difficult to like him because of the choices he makes. On the other hand, Fletcher ends up becoming a character that one detests by the end of the film, especially when he tries to purposefully destroy Andrew's performance. This act at once separates him from the otherwise brutal educator we assumed he was, to a generally despicable person.
This is also seen in the way Fletcher distorts the oft-repeated Charlie Parker story he likes to tell his students. According to the story, Parker obsessively practiced after the drummer Jo Jones threw a cymbal at his head, which ultimately turned him into one of the greatest musicians ever. At a seminal juncture in the film, one that also marks one of its most iconic scenes, Fletcher mirrors this very act, revealing the extent of both his abuse and his perfectionism. He flings a metal chair at Andrew and then continues to violently slap him several times. This is in response to Andrew "rushing" and "dragging" while playing the Hank Levy composition that gives the movie its title.
The fact though is that the Parker story is a distorted truth, because in reality, Jones threw a cymbal at Parker's feet which was apparently attracted laughter and catcalling, and was not an aggressively violent reaction. This instantly ruptures the illusion that Fletcher creates about brutality and hard work in order to justify his own abusive actions, making you wonder if there is any scope of redemption for Fletcher at all.
What will be interesting to see in the sequel would be the development and growth of the characters over the years. I do not see much scope in Fletcher's character, because well, people like that don't change. But it would be interesting to learn about his past, perhaps his own journey with personal failures which turned him into who he has become.
At the same time, Andrew's character offers more scope for growth and can lead to two different points in the future. Maybe he becomes just another Fletcher, bitter and brutal with time. Maybe, in contrast to the previous ending, the sequel could have a sad ending in the guise of a somewhat happy one – his death, allowing him to end his career as a musical genius while at the same time offering him an escape from his abusive and lonely past. Or maybe just like real life, there will be no closure at all.
Whiplash 2 Crew: Who Can Be Behind It?
Damien Chazelle wrote 'Whiplash' at a time when he was a struggling with another script. He initially did not want to work on it as it felt too personal because it was inspired by his own high school music teacher.
Eventually the film was picked up, made into an 18-minute-long short-film, and got screened at the Sundance Film Festival in 2013. It was then turned into a feature film in 2014, gaining much critical acclaim, getting five Oscar nominations, and winning three.
If 'Whiplash' were to come up with a sequel it would only make sense to have Damien Chazelle make it since the film was his brainchild. Basing Fletcher on his own high school music teacher, Chazelle understands the complex teacher-student relationship better than anyone else. As it came from a personal space, Chazelle would also be the only person to know where the story ends up, what really happens to an Andrew in this world, what leads to the becoming of an abusive and tyrannical Fletcher, and if at all there is a point of redemption for them, and what it looks like. At the same time, Chazelle, with his background in music and drumming, also understands the subject deeper than anyone else would.
Whiplash 2 Release Date: When Can It Premiere?
If 'Whiplash' were to have a sequel I don't see it happening anytime soon. Personally, I see it as the sequels of 'Before Trilogy', ones that take place probably a decade after the first one, maybe in 2025 – when both the leads and the characters have grown older and are at different places in their lives. It would be rather interesting to watch the story pick up right from there, exploring the aftermath of the complex dynamic they shared.
Read More: Movies Like Whiplash