The current political state of the whole world is in shambles. Extremists are rising to power in major countries of the world; and while one might think that with their radical ideas, they will save their countries, people should also keep in mind that history has never painted such extremists in any colour other than red. Thus, it becomes even more important for films and television shows to educate the public about the people they are voting to power. Sacha Baron Cohen attempts a similar feat in his political satire, 'Who Is America?'. He also executive produces the show for Showtime, alongside Anthony Hines, Todd Schulman, Andrew Newman, Dan Mazer and Adam Lowitt. The episodes have been collectively directed by Cohen, Payman Benz, Daniel Gray Longino, Dan Mazer, Todd Schulman and Nathan Fielder.
Who Is America Cast: Who's in it?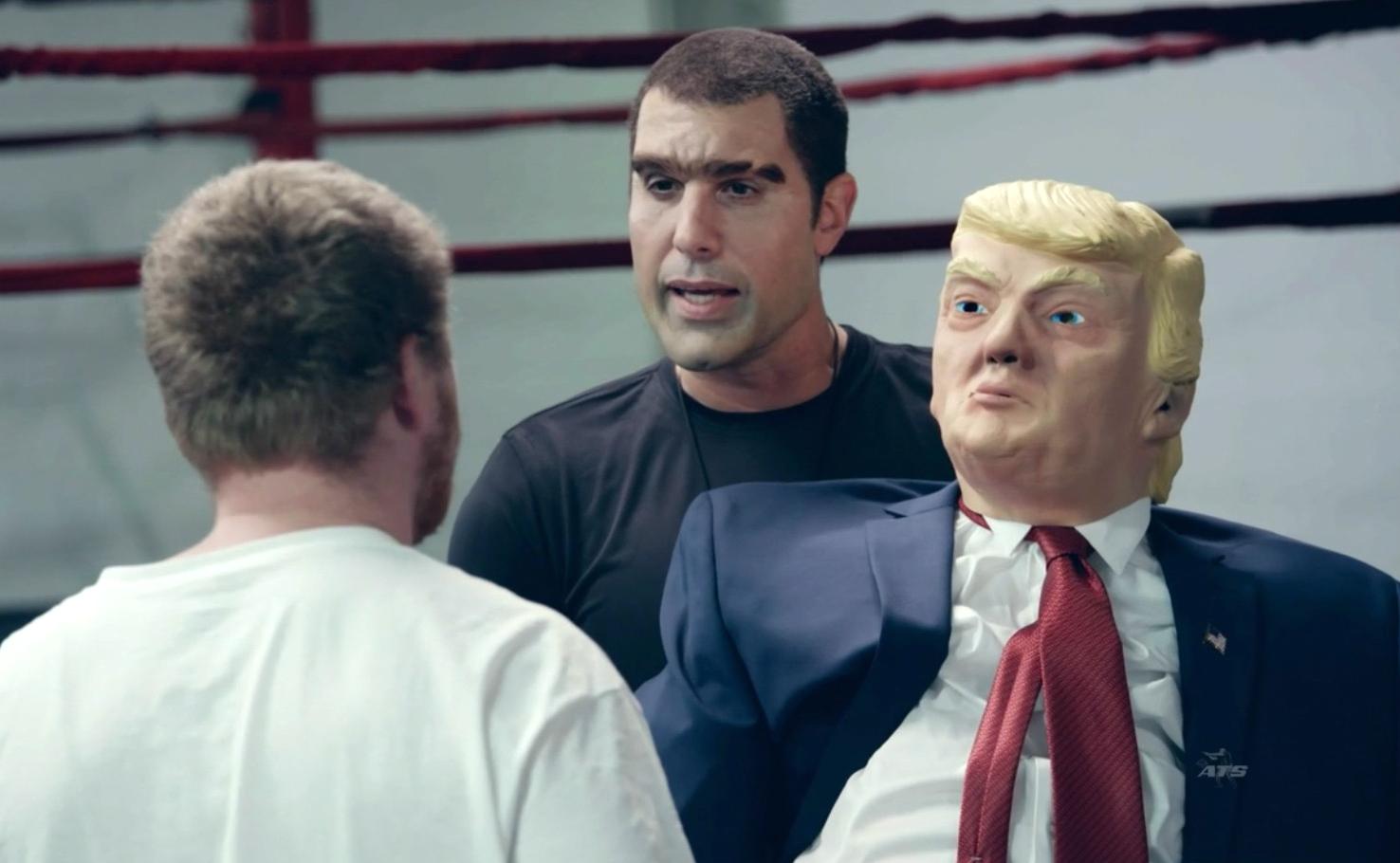 Sacha Baron Cohen has already proved his chameleonic ability to transform into various personalities through his roles like 'Borat', 'The Dictator' and 'Da Ali G Show'. 'Who Is America?' is another in line of such satires. His first character is Billy Wayne Ruddick, a man obsessed with conspiracy theories who runs a website. Next is Dr Nira Can-N'Degeocello, a Democratic who views the divide between the liberals and the conservatives as a deteriorating thing for the country and wants to bring both ideologies together. His openness to diversity reflects from the names he has given to his children- Harvey Milk and Malala.
In another role, Cohen takes over the skin of Rick Sherman, a British man, recently released from prison. The environment of the place allowed him to develop some talent and now he is looking for someone who can help him further his cause. Cohen's best character in the show comes in the form of Erran Morad, an ex-Mossad, currently serving in the Israeli military as an anti-terrorism expert. He is known for brainstorming radical ideas regarding how certain issues should be handled in the country. Another transformation calls the actor to morph into Gio Monaldo, a billionaire who hails from Milan and has directed his charities towards the problems in Africa, like the Ebola virus and child soldiers. And then there is a Finnish YouTuber, named OMGWhizzBoyOMG!. Twitter accounts were created to add a look of authenticity to each character.
Who Is America Plot: What's it About?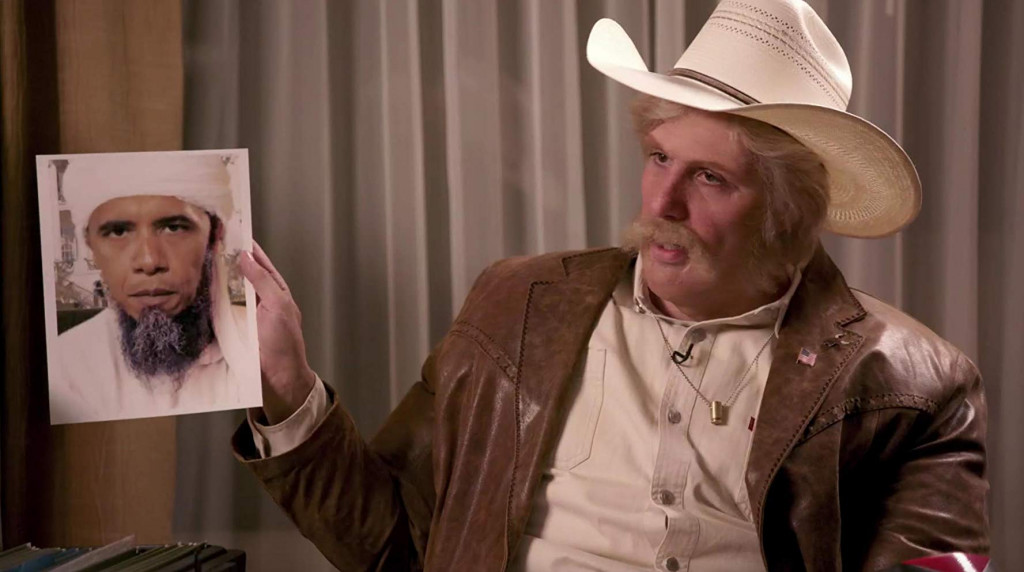 In every episode, Sacha Baron Cohen uses his characters to go around and interview various public figures, most of whom are current or former congressmen. Some of these personalities include Bernie Sanders, Larry Pratt, Matt Gaetz, Trent Lott, Dana Rohrabacher, Joe Wilson, Joe Walsh, Jason Spencer, Corrine Olympios, Ted Koppel, Dick Cheney, Roy Moore, Chip Limehouse, Bone Crusher, Joe Arpaio and O J Simpson.
These interviews give the audience a clear picture of how deeply these people are invested in the future of the country. In some senses, 'Who Is America?' plays out like a sting operation where the public figures show their true forms. Cohen keeps the comedy flowing with his well-aimed punches and his ability to manipulate the people around him to confess or commit bizarre acts!
The effect of one of the segments was so hard that congressman Jason Spencer was forced to resign from his post, shortly after the interview. Considering the things he had said and done on the show, it was the most logical step for him. In one of the segments, Cohen suggested, as Morad, that in order to solve the issue of guns and shooting in the country, the only thing left to do is to arm the children. If we train them to shoot someone bad, they can protect themselves and rid the country of vile people. Because they are too small to question the moral grounds of killing someone, they wouldn't have any problem while pulling the trigger. He called the program "Kinderguardians", and to the audience's horror, these people agreed to support the cause!
Then there was a segment with O. J. where Cohen tried to make him confess. Over the course of seven episodes, there were many other riveting things that the show revealed to its audience. Then there are the deleted segments, like the Sarah Palin interview. In one situation, they almost got in touch with a paedophile ring, the footage of which was turned over to the FBI. In another, they nearly got an interview with Ben Carson.
Who Is America Season 2 Release Date: When will it premiere?
'Who Is America?' season 1 premiered on July 15, 2018. Despite, Cohen's exhaustively detailed and wonderfully played out characters, the show didn't manage to get rave reviews from critics, unlike his previous works. The fans, however, considered it a treat and are waiting for him to return with another part. The show gained further limelight when it received serious backlash from various politicians, mainly Sarah Palin. Cohen was accused of duping them and wasting their time for his comedy when they thought that they were talking to an army veteran. Showtime repelled these comments and rose in defence of the star of the show.
One would think that all these controversies and coverage would only bring further exposure to the series, solidifying grounds for another season. However, the opposite happened. Cohen stated that making another season would be next to impossible now because the element of surprise was lost. After the whole debacle, the political figures and their publicists would become more alert about who they'd be talking to and it wouldn't take much time for his cover to blow up. Although Showtime has shown interest in making another season, it wouldn't be possible without Cohen. For now, there haven't been any official commitments to or cancellations of the show. Our best guess is that Who is America season 2 could still happen but not in the same form as season 1.
Who Is America Trailer
Whether or not we'll get another season of 'Who Is America?' might remained unanswered for a while. However, you can enjoy the series on Showtime. If you want to have a better idea of what it'll be like, here is the trailer.
Read More: Best Black Comedy Shows on Netflix