NBC's 'The Office' is nothing short of a phenomenon. The sitcom, which is often called a 'mockumentary,' is a researched portrayal of the lives of office employees through exaggerated humor. The plot takes its audience through the documented events of Dunder Mifflin Paper Company's employees in Scranton. If one is not familiar with the show, then most are at least acquainted with the many memes that were made based on the show. Since its inception in 2005, the series has created a vast viewer base. 'The Office' bagged several Primetime Emmy Awards to their credit and continues to be a widely watched show even now.
'The Office' saw its latest season air in 2013. The 9th season was considered to be the final season of the show. Following this, 'The Office' was available on Netflix, which double shot its journey to fame. The show is also widely regarded for its humouristic take on office stereotypes and politics.
'The Office' Season 10 Release Date: When Will It Premiere?
All the seasons of 'The Office' continue to stream on Netflix at the moment. In 2019, NBC cut this chord to pull back the show to its upcoming streaming site Peacock. As a result of the delegation between the two, it was decided that 'The Office' will continue to be on Netflix only till January 2021. Post this, NBC will be streaming their original show.
As far as a new season is concerned, the show's leading star, Steve Carrell, expressed his reservations back in 2018. "Because The Office is on Netflix and replaying, a lot more people have seen it recently and I think because of that there's been a resurgence in interest in the show, and talk about bringing it back," he told Esquire. "But apart from the fact that I just don't think that's a good idea, it might be impossible to do that show today and have people accept it the way it was accepted 10 years ago. The climate's different," Carell said.
But some of the other members of the cast have been more enthusiastic, including John Krasinski, who gave his support to a sequel, saying: "I need the incredible writers of our show to tell me what he's doing because I'm kind of worried about him [Jim]."
NBC on its part has not shown any serious interest till now. But never say never in the world of television. Several old shows have been rebooted recently. There's no reason why 'The Office' can't make a return. If the show does get renewed or rebooted, then our best estimate is that The Office season 10 can release sometime in 2023 or later.
'The Office' Cast: Who Can Be In It?
There was much speculation concerning Steve Carell making an appearance as Michael Scott in Season 9 of the show. But ultimately, he did. So, one can expect to see Steve Carell again if NBC is committed to returning its masterpiece for season 10. It is also then likely that we will get to see many familiar actors like John Krasinski (Jim Halpert), Jenna Fischer (Pam Beesly), Rainn Wilson (Dwight Schrute), Ed Helms (Andy Bernard), Angela Kinsey (Angela Martin), Mindy Kaling (Kelly Kapoor), Craig Robinson (Darryl Philbin ) and many others who were integral characters in the show. We can also expect to see the entry of new actors who will add more depth and dimension to the next series with more plot lines.
What Can 'The Office' Season 10 Be About?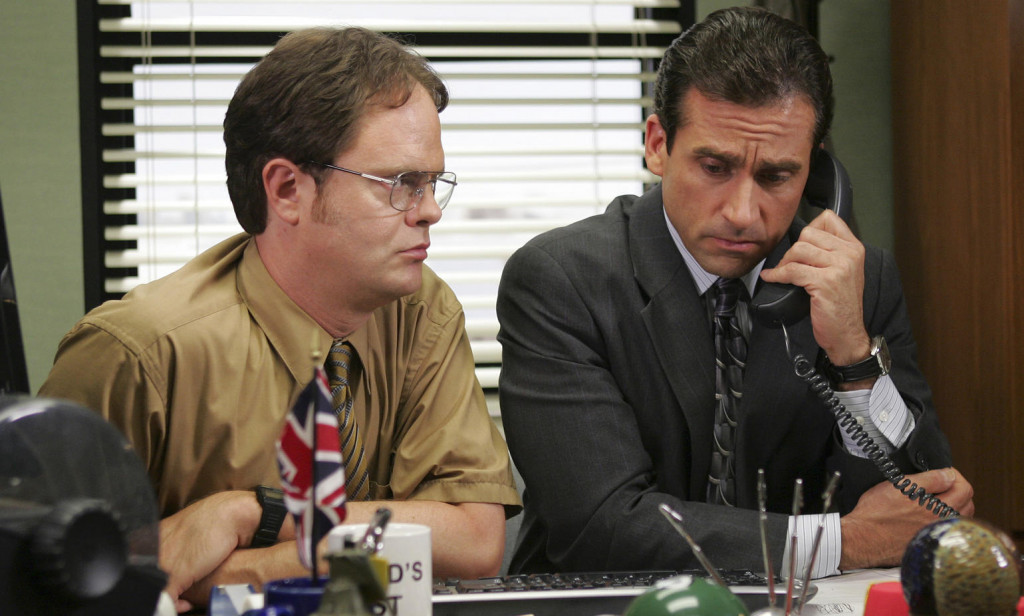 'The Office,' Season 9 saw its end with Dwight and Angela's wedding, where Scott comes back to attend it and serve as Dwight's best man thanks to Jim. Dwight proves to be a better fit as a manager than Scott or Andy. Jim decides to stay back for the sake of Pam. In the final interview, where all the characters join, Erin talks about how she met her biological parents. All in all, the characters seemed well acclimated to whichever junction they had landed themselves in.
Season 10 of the show could mean several things for the characters. There is a possibility that the characters will come back in varying capacities, especially considering how Dunder Mifflin is going to change even further under Dwight's management. There could be new subplots concerning their lives and the fate of the company that could soon be put to the test with new obstacles drenched in humor.
Season 10 of the series will be worth the watch if it makes a come back in the near future. This is because if there is anything we have learned from 'The Office,' it is that life goes on and is never devoid of spectacular events.
Read More: 15 TV Shows You Must Watch If You Love 'The Office'