Clint Eastwood is not just the jack of all trades, but the master of them all too. His interest in war films, westerns, and biopics has been clear with his brilliant and equally diverse filmography ranging from 'Invictus' to 'Unforgiven' to 'Letter from Iwo Jima' to 'Sully'. With the much acclaimed biographical war drama, 'American Sniper', he combines the best of all the three genres, resulting in his most commercially successful movie till date. The movie is not only the highest grossing film of 2014, but also the highest grossing war film of all time.
'American Sniper' is based on the life of the most successful and lethal sniper in American history, Chris Kyle, and the time he spent serving in Iraq. The movie is adapted from Kyle's autobiography, titled, American Sniper: The Autobiography of the Most Lethal Sniper in U.S. Military History, and stars Bradley Cooper as Chris Kyle, and Sienna Miller as his wife Tara. The movie also stars Luke Grimes, Jake McDorman, Cory Hardrict, Kevin Lacz, Navid Negahban, and Keir O'Donnell in supporting roles.
As the movie ends with (SPOILER ALERT) Kyle's death, a sequel is less likely to be in picture. But keeping in mind Eastwood's fascination with biopics and war, a sequel to 'American Sniper' could have a chance if it focuses on the life of another unsung war hero from history. Knowing America's history with war, we do have a few good candidates for the next 'American Sniper' film. Here's everything we know about it.
American Sniper 2 Plot: What Can It Be About?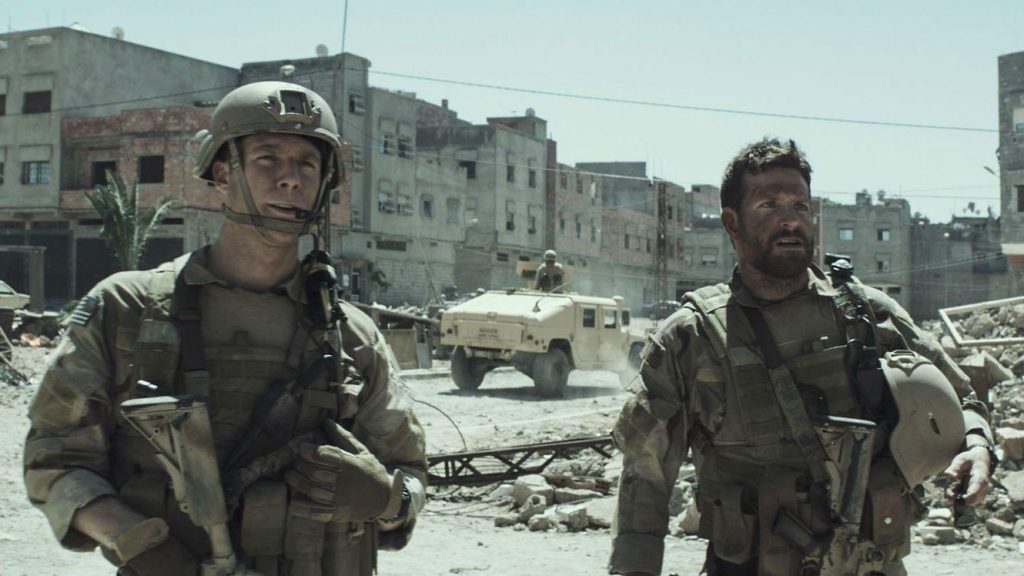 'American Sniper' centres around the life of Chris Kyle and his four tours in Iraq. It explores his boyhood in Texas to him becoming the most lethal sharpshooter in American history with the highest number of confirmed kills. It also portrays his relationship with his wife Tara Kyle, and how war impacted the two of them. As Chris Kyle was killed in 2013, and the movie ends with his untimely death, the plot of a sequel is less likely to be about him.
Keeping in mind Tara Kyle's own autobiography, American Wife: A Memoir of Love, Service, Faith, and Renewal, a book about her life as a military wife and her personal relationship with Chris, a sequel could be a loose adaptation of the same. But since the movie is essentially a biographical war drama, the sequel should ideally be about war. This means it's most likely to be about another war hero from another time.
Personally, I think it could focus on the Vietnam War, a real-life war tragedy for America, which had some of the most brilliant snipers in the American history. We have Adelbert Waldron who served during the Vietnam War with the 9th Infantry Division, and held the record for the most confirmed kills by any American sniper until Chris Kyle broke it in 2011. Then we have Chuck Mawhinney, a former U.S. Marine, who holds the Corps' record for the most confirmed sniper kills. And of course, Carlos Hatchcock, the legendary "White Feather" with his "scope shot", the most famous shot in sniper history, till date.
The Vietnam war feels like a treasure trove for the most iconic American snipers in history so it only makes sense to have a sequel to the movie based on the lives of the snipers in the war. The movie could then be a war period drama set in Vietnam of 1960s. We also have an autobiography titled, Dear Mom: A Sniper's Vietnam by Joseph T. Ward, a sniper for the Vietnam war whose memoir is a collection of letters he sent home. I think it would be a rather interesting narrative device to have in a movie.
But on the other hand, I would love to see a sequel to 'American Sniper' that's based on the life of a female sniper. Sadly for us, we hardly have any. We do have the legendary Lyudmila Mikhailovna Pavlichenko, a soviet sniper during WWII, and definitely the greatest female sniper of all time, who had around 309 confirmed shots, which is more than double to triple the amount of confirmed shots by the men mentioned above, including Chris Kyle. But we have no one American. Yet.
Lucky for us, the past decade saw Jennifer Donaldson become the first woman to be trained at the only U.S. military sniper school open to females. So, maybe someday we get the sniper movie we deserve, based on these female snipers, perhaps even a multi-generational narrative that could have these unsung warriors from over different eras. Something like 'The Hours' but about female snipers.
American Sniper 2 Cast: Who Can Be In It?
If 'American Sniper 2' is about Tara Kyle's life and her relationship with Chris Kyle, the sequel could see the reunion of Sienna Miller and Bradley Cooper. But that's not very likely since the movie mostly would be a war drama.
This means that if the sequel is set around the Vietnam war, we can expect an all-new star cast to be on board for the second film. As the war heroes of the Vietnam war that I mentioned above were mostly in their late teens and early twenties around the time of the war, we could hope to see a young star cast for the same.
American Sniper 2 Crew: Who Can Be Behind It?
If there were to be a sequel to 'American Sniper', it would definitely have to have Clint Eastwood behind it. Beginning his acting career back in 1950s, and then making a shift to direction, he is not only one of the few successful actors turned directors, but he is also the oldest film-maker to have ever made more than two films that won him the Academy Award for Best Picture. In fact, Eastwood has several Oscars and Golden Globes to his credit too, making him a true artist in every front.
Eastwood has worked on several war films previously, including 'Flags of Our Fathers', 'Letters from Iwo Jima' and 'Heartbreak Ridge'. What makes the first two films so brilliant is that they work as a double feature, one from the perspective of Americans, and the other from the perspective of the Japanese soldiers. 'Letters from Iwo Jima' is also the first American film on war completely from the view of an American enemy.
This gives me hope for a multi-generational female sniper film that could have Lyudmila Pavlichenko. But, it also gives me a small hope that some day we could have another sniper film that shows a different perspective of the Iraq War. It's a little far-fetched, I know. But there are always two sides to every war, and a girl can hope to see them all.
American Sniper 2 Premiere: When Can It Release?
Since there are absolutely no talks about a sequel to the movie, it probably will never happen. But we can still hope for one, and if not, for another uniquely brilliant Eastwood biographical war classic. To be honest, a sniper movie on Vietnam war is simply screaming to be made because there is SO much potential there, so I really do hope it gets picked up sometime.
Since Eastwood is usually always working on something and takes less than a couple of years between his films, we can hope for a sequel to release only around 2023 or later.
Read More: Movies Like American Sniper