Chances are if you're into science fiction, Ender Wiggin is a name you recognize and love. There're also chances then that Gavin Hood's 2013 'Ender's Game' was a dream come true. The film is after all an adaptation of the cult-favourite military sci-fi novel of the same name written by Orson Scott Card in 1985. Its massive success led to a long-running book series that sci-fi lovers over generations have grown up reading.
'Ender's Game' is the first part in the series, and the only one that got adapted into a film. Despite not doing well at the box-office, the film earned itself a decent fan-following, along with several critics praising the film for its visual style and performances. All in all though, the film received a mixed critical response. It has a somewhat fresh score of 61% on Rotten Tomatoes. Not too great to guarantee a sequel, but not too bad to rule out its chances either.
However, 'Ender's Game' bombed commercially despite being number one during its opening week. It ultimately grossed upto $125.5 million against a $115 million budget. In fact, it was also included in Variety's "Hollywood's Biggest Box Office Bombs of 2013". It is believed that part of the reason for the film's bombing was Geeks OUT's call for a boycott based on Card's homophobic views against same-sex marriage. But there is no way to know what impact the boycott actually had on the film's performance.
Though the fact remains, the film's weak collection definitely diminished its chances of getting a sequel. A sequel that was certainly in the cards given the scope of its source material. But is it too late now? Could we still get an 'Ender's Game' sequel? Here's everything you need to know.
Ender's Game 2 Plot: What Can It Be About?
'Ender's Game' is set in a futuristic world where aliens called Formics (buggers) have previously attacked Earth. Gifted children are being trained by the International Fleet to become commanders for counterattacks. Ender Wiggin, an unusually gifted child who is a cadet at the Fleet, is recruited and sent to Battle School, an advanced military academy in space, to prepare for a future alien invasion. The recruits are trained by several tests and games, all of which Ender participates in.
The film's ending reveals that Ender unwittingly ends up killing the entire Formic planet as he was told it was all a simulation. Ender is horrified and enraged at the genocide he committed, or rather, was made to commit. He struggles with his feelings and encounters a dying Formic queen who gives him a Queen egg that she had been protecting. In the final moments of the film, Ender writes to his sister revealing that he will go into deep space and form a new Formic colony.
'Ender's Games' certainly sets up a sequel as Ender decides to set out on a new mission. Given the scope of the source material, a sequel would have definitely made sense. In fact, the team behind the film had several options with regard to the direction the sequel/follow-up could take.
Around the time of the film's release, it was revealed that a script for 'Ender's Shadow' existed. In fact, there were plans to make an immediate follow-up which didn't work out due to budget constraints. Interestingly, Card's Ender's Shadow serves as a parallel to 'Ender's Game', as it depicts the same events from Bean's point of view.
It was also later revealed that Card's Speaker for the Dead and Children of the Fleet what both were being considered for a potential sequel. While the former continued with Ender's adventures (where he is now 35), the latter was more probable as it served as an immediate aftermath to the Formic war, focusing on a new protagonist. There had even been talks of a TV spin-off. However, nothing ever materialized.
Ender's Game 2 Cast: Who Can Be In It?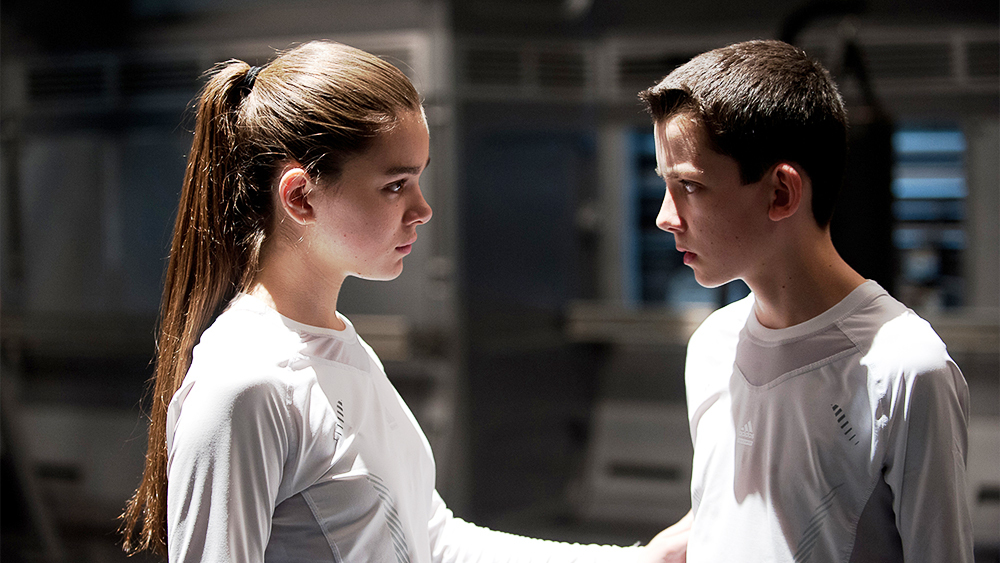 'Ender's Game' is certainly packed with a bunch of impressive performances. It stars Asa Butterfield as Ender Wiggin, Harrison Ford as Colonel Graff, and Hailee Steinfeld as Petra Arkanian. The film also stars Viola Davis as Major Gwen Anderson, and Ben Kingsley as Mazer. Apart from these, it also features Abigail Breslin as Valentine, and Aramis Knight as Bean.
As a sequel never got confirmed (and probably never will), there is no way to say for sure who all will be reprising their roles from the original. All the sequel options are also somewhat complicated given the timeline of the novels. While Asa Butterfield is too old to play Ender in 'Ender's Shadow', he is too young to play him in 'Speaker for the Dead'. The most probable option then would be to have a sequel on 'Children of Fleet' that includes Graff, but essentially also introduces new characters. This means, if at all, there is ever an 'Ender's Game' sequel, we can certainly expect new additions to the cast.
Ender's Game 2 Crew: Who Can Be Behind It?
'Ender's Game' is written and directed by Gavin Hoop, based on a novel by Orson Card. It is produced by Gigi Pritzker, Linda McDonough, Alex Kurtzman, Roberto Orci, Robert Chartoff, Lynn Hendee, and of course, Card.
While Hoop has expressed his interest in making a sequel to 'Ender's Game', something or the didn't work out, especially with the budget constraints. The last we heard about a potential sequel was more than five years ago. This makes any sequel/follow-up to 'Ender's Game' seem highly unlikely.
Ender's Game 2 Release Date: When Can It Premiere?
Considering all the information available, an 'Ender Game' sequel seems like a distant dream at the moment. Despite the interest shown by Hoop in making the sequel, it seems like the original's weak box-office performance has almost eliminated the possibility.
However, keeping in mind the cult-following of the books, it is also only a matter of time until someone makes another adaptation, if not a follow-up. Given its structure, it may be better suited for a television / web series. But it's too soon to say when that could happen. If at all we somehow magically get an 'Ender's Game 2', it will probably release sometime after 2024.