Based on the 2004 namesake novel by Edo van Belkom and created by Jeff Davis ('Teen Wolf'), 'Wolf Pack' is a supernatural teen mystery series that revolves around a group of teenagers who discover that their destinies are interconnected. Two of them, Harlan Briggs (Tyler Lawrence Gray) and Luna (Chloe Rose Robertson), were born werewolves. Their adoptive father, Garrett Briggs (Rodrigo Santoro), found them in their wolf forms after a massive forest fire and brought them home, where they transformed into human children. Nearly two decades later, amidst another cataclysmic forest fire, Everett Lang (Armani Jackson) and Blake Navarro (Bella Shepard) are bitten by a mysterious creature and start to develop special abilities.
Following its release, 'Wolf Pack' mainly received mixed to negative reviews, with criticism directed at its plot, performances, and dialogues. If you are wondering whether there will be a second season of 'Wolf Pack,' we got you covered.
Will Wolf Pack Season 2 Happen?
'Wolf Pack' season 1 premiered on January 26, 2023, on Paramount+ and aired eight episodes of 46–57–minute runtime before concluding on March 16, 2023. As for 'Wolf Pack' season 2, this is what we know.
Neither the show producers nor the Paramount executives have yet to confirm the development of a second season. In an interview with SFX magazine, Davis reportedly implied whether a second season would be made entirely depends upon how positive the response from the viewers is. "As you are doing the first season and setting up all these threads, you always start thinking a little further down the line… but nothing too concrete, yet," Davis stated. "If enough subscribers sign up, if enough people watch, then we will get serious about it."
So, as it generally happens in the world of television, the prospect of the second season entirely depends upon the success of the first. As Davis indicates in the above quote, several plot threads have been set up that can be fleshed out in season 2, so there is definitely narrative scope for more seasons.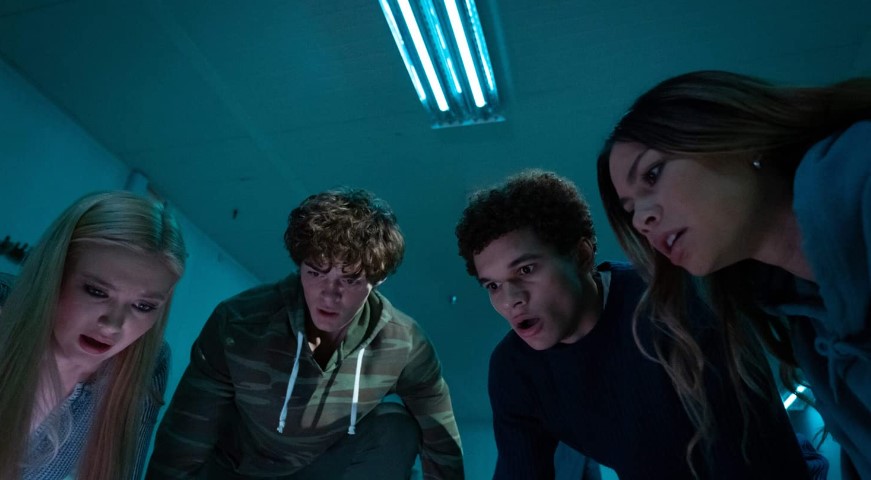 In the season 1 finale, titled 'Trophic Cascade,' the Pack races against time to save Baron (Chase Liefeld) after Austin has stabbed him. When Garrett and Kristin Ramsey (Sarah Michelle Gellar) find out that something happened at the morgue, they suspect that Harlan, Luna, and their group are responsible. Eventually, Harlan and Luna tell their father the truth about Baron, and the latter promptly takes the boy to the hospital.
However, Baron is abducted by Malcolm, the sole firefighter to have survived Ramsey's attack all those years ago, as he knows that Ramsey will come for him because she is Baron's mother. As she has spent years in human form, Baron can't access her wolf powers as easily as she once used to. As a result, Malcolm, armed with silver bullets and a silver-coated ax head, causes her trouble until Garrett joins the gunfight. Ramsey nearly kills Malcolm, but Garrett convinces her to keep the man alive.
Each member of the Pack has a unique power. It is revealed that Ramsey has healing powers, whereas Baron has the power of transmutation — the ability to transform humans into werewolves through a bite. Revealing herself as the mother of Harlan and Luna, Ramsey tells Garrett that she wants him to be part of her Pack as Baron begins to change and growl. Meanwhile, Harlan is arrested for the murder of Officer Trent Miller, social services take Blake and her brother away from their father, and Everett is placed in a psychiatric ward for 72 hours for threatening his mother.
In an interview with Nerds and Beyond, Gray stated he hoped that the show got a second season as he now understood Harlan as a person, adding, "I really want to focus on Harlan's internal struggles that he has to sort of battle and deal with. I'm really excited just thinking about a season 2. So I hope it comes out, because I just want everyone to know that I am still working very hard as an actor, and I am going to bring it again." If it is greenlighted in the next few months, viewers can expect 'Wolf Pack' season 2 to come out sometime in Q1 2025.
Read More: Wolf Pack Season 1 Finale Recap and Ending, Explained