'You're the Worst' is one of the better comedies on television in the last few years. The show started out as a comedy about messed up people falling into something approximating love. But it soon evolved into a sophisticated exploration of self-destruction, mental illness and general human imperfection. The show has been praised by critics and has been loved by the audience across the world.
The first season had a lukewarm start, receiving mostly positive reviews. However, it picked up the slack after the second season and then there was no going back. Season two to five hold 100% rating on Rotten Tomatoes, maintaining a strong 77 on Metacritic. The series has received various nominations for Critics Choice Awards. The show has been created by Stephen Falk, who is also known for his work in other acclaimed comedy-dramas like 'Orange Is the New Black' and 'Weeds'. He also serves as the executive producer of the series.
You're the Worst Cast: Who is in it?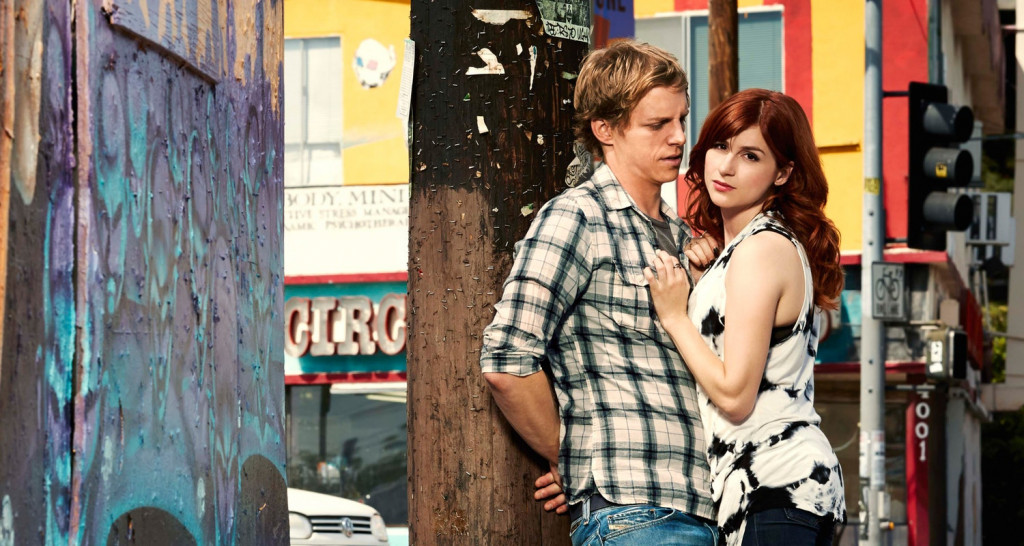 Chris Geere plays Jimmy Shive-Overly, an often rude and insensitive writer who mistakes his bad behaviour for being truthful. He is also known for his roles in 'Pokemon Detective Pikachu', 'Modern Family', 'Waterloo Road' and 'After Earth'. Aya Cash plays Gretchen Cutler, a PR executive who is clinically depressed but doesn't want anyone to know about it. She also appeared in FX's biographical miniseries, 'Fosse/Verdon'. Her other acting credits include 'Begin Again', 'The Wolf of Wall Street', 'Modern Family' and 'Easy'.
Desmin Borges plays Edgar Quintero, Jimmy's roommate who suffers from PTSD due to his experiences in Iraq. He has also been a part of 'Preacher', 'The Good Wife', 'Compliance' and 'Mr Popper's Penguins'. Kether Donohue plays Lindsay Jillian, Gretchen's best friend who has her marriage as chaotic as her personality. Donohue has previously worked in 'Pitch Perfect', 'The Mindy Project', 'Royal Pains' and 'Boy Wonder'.
The excellent supporting cast includes Janet Varney, Todd Robert Anderson, Allan McLeod, Shane Francis Smith, Brandon Mychal Smith, Darrell Britt-Gibson, Allen Maldonado, Collette Wolfe, Stephen Schneider, Mageina Tovah, Lucy Montgomery and Robin Riker.
Read More in TV Preview: Glitter Force Doki Doki | Ozark
You're the Worst Plot: What is it about?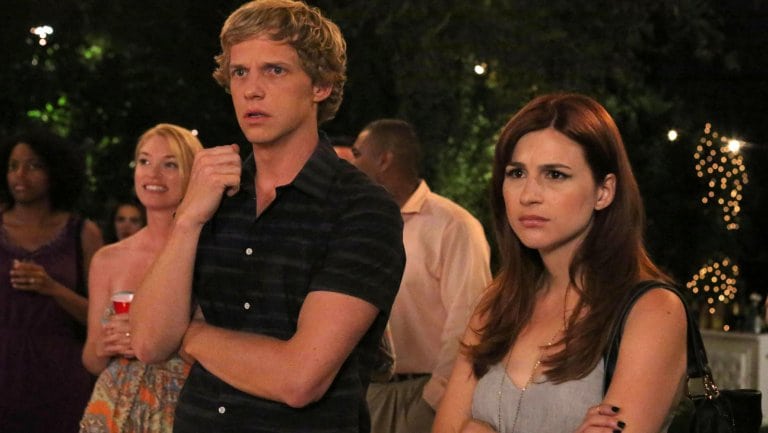 The story of Jimmy and Gretchen begins with a wedding. Jimmy had a girlfriend named Becca, and that was about two years ago. He had asked her to marry him but she refused and they broke up. Now, Becca has found someone else and is ready to tie the knot. She invited Jimmy as a token of goodwill, but he is convinced that it is because she wants to make him jealous. He decided to show up in order to ruin the day for her and win the break-up.
Gretchen is at the wedding because of her best friend, Lindsay, who is Gretchen's sister. Gretchen is a PR agent and needs to get her life together, which suffers because of her clinical depression, something she struggles to come to terms with. Jimmy, on the other hand, is doing really well, owing to his articles in popular magazines. Their paths cross as both of them are in the middle of their exit from the wedding.
Jimmy had offended Becca and is being thrown out, while Gretchen just stole a wedding gift. Their encounter leads to a hook-up and despite both of them trying not to turn it into something other than casual fun, their romance takes its own turn. They are not an ideal couple and their romantic life is a hazard, but they make it work and that's all that matters in the end. The tale of contemporary romance, which often comes close to portraying the brute flaws of human relationships, 'You're the Worst' also employs its myriad characters to focus on mental health, while discussing what is really important in life.
You're the Worst Season 6 Release Date: When does it premiere?
'You're the Worst' season 5 premiered on January 9, 2019. Once again, the show succeeded in winning the hearts of both critics and audience. It was particularly praised for its finale. As it happens, most shows find it difficult to say goodbye to the audience and finale feels mismanaged, leaving fans in a state of unrest. However, the fans of this show won't have that complaint because season 5, despite being the final season of the show, ends well.
"Making 'You're The Worst' has been an incredible experience and FX Networks have been dream partners," creator Stephen Falk said. "I am thankful to have the opportunity to be thoroughly judged whether or not we 'stick the landing' – which is a thing people say now that stupid 'Breaking Bad' had to end so damn perfectly."
FX co-President of original programming Nick Grad said in a statement: "Stephen Falk has been an extraordinary creative partner to work with over the past four years, and it is in that spirit that we came to the mutual decision to end 'You're the Worst' with its fifth season. Stephen's singular vision for the series has been its guiding force from the start and our decision, while difficult, will allow the series to end on its own terms and in a way most satisfying to its devoted fans. We want to thank Stephen, the cast and the crew for everything they've done to make 'You're the Worst' one of the best comedies on TV."
With the storyline wrapped up and the character arcs resolved, it is very unlikely that the series would return for another season. However, it isn't uncommon for the networks to revive popular series. If by some magic, the show does come back, we will update you about 'You're the Worst' season 6 release date.
You're the Worst Trailer
'You're the Worst' might have ended its run, but that doesn't mean that the story of Jimmy and Gretchen is done for. Technically, of course, it is, but you can always revisit their awkward romance. You can catch all the episodes of the show on FX. Here is the trailer of the final season to remind you what it was like:
Read More: Best Kids Movies on Amazon Prime