Many would be familiar with the anime 'Overlord' and how it uses its protagonists as the bad guys. 'Death Note' is another great example of how an anime somehow makes you root for the lead negative role instead of supporting the hero of the show. While most people are only aware of these two, those who have seen 'Youjo Senki', will know that this anime also adopts a similar theme and uses its main protagonist as the villain of the series in the most brilliant ways. If there was one word to describe this anime, it would be – insane. How else would you describe a show where a 9-year-old evil blond is fighting in a battlefield? Right from the first episode, you start questioning quite literally everything that is happening in the anime.
The first episode is just a beautiful mess that leaves you all confused in the best possible ways. But things get much better in the second episode when everything starts to make sense. When it comes to the basic premise of the show, surely a lot of credit for its genius goes to Carlo Zen, who is the writer of the light novel. But also, the efforts put in by the creators to pull off such a complex storyline is highly commendable. Another thing that's really admirable about the story is that it sticks to a particular theme and not even once it tries to drift away from it. The anime maintains a very serious tone that supports the entire war-centric theme. It's the deaths, grittiness and the horrifying realities of war that actually make the plot of this anime stand out.
What came as a big surprise to me was the fact that this anime has been produced by the newbie Studio Nut. 'Youjo Senki' is apparently their first main animation production, but even then, they have managed to do an amazing job with the overall production quality of the show. The action scenes are intense and have very smooth pacing to them. The ferociousness of the protagonist's personality directly reflects through her eyes and you can literally feel her evil presence when she ruthlessly kills soldiers in a war scenario. One problem with the animation that has been a concern for many other anime shows too is the use of dodgy CGI during 2D action scenes. The two never really merge well and only studios with a lot of experience with CGI are able to pull this off. But apart from this, the animation aspect of the anime is just immaculate.
'Youjo Senki' is the textbook example of how a strong source material should be adapted into an anime series. Overall, I'll just say that it's an incredible anime that will be enjoyed by most people. I can say a lot more about it but I don't want to spoil it for the ones who haven't seen it yet. If you are an action anime fan, then the first episode itself will be enough to blow your mind. And even if it does not, then just try sticking around because I can assure you that you will not be disappointed by it.
Youjo Senki Season 2 Release Date: When will it premiere?
'The Saga of Tanya the Evil' season 1 released on January 6, 2017 and came to an end on March 31, 2017. This was followed by a movie sequel, titled 'Youjo Senki Movie', that was released recently on February 8, 2019. This new movie sequel really forced all the fans to wonder if there will be a season 2 or not now. One thing that is in the favor of a new season is the fact that a new volume of the light novel series was just recently published in Japan. Now the idea of a whole new season entirely depends on those who stand behind the franchise.
Considering the popularity of the movie and how well accepted it has been till now, it seems like the show is far from over. Also, new volumes of the source material are constantly flowing in and soon enough, there will be enough of it for a whole new 12-episode season. A recent article on Crunchyroll claimed that 'Youjo Senki' has extended its runtime to 14 more episodes. Thus, the total number of episodes that the series counts up to is 26. Crunchyroll here is quite a reliable source, so we can definitely expect that these claims have some genuineness to them. From what it looks like, the odds of getting a new season of the anime are quite high and it's just a matter of time until we get an official confirmation. Our best guess is that 'The Saga of Tanya the Evil' season 2 release date could fall sometime in 2020 or 2021. Make sure you follow us because as soon as we get any updates regarding this, we will surely update it right here in this section.
Youjo Senki English Dub:
You can stream 'Youjo Senki' on Crunchyroll with its original Japanese audio and English subtitles.
Youjo Senki Plot:
'Youjo Senki' revolves around a 9-year-old soldier named Tanya Degurechaff, who is infamous in the military for her insane battle instincts, predatorial ruthlessness, and strategic aptitude. This is the reason why she is now commonly known as the "Devil of the Rhine". But don't be mistaken by the appearance of this girl because deep inside her is a man who was reincarnated as a little girl in this world of magical warfare after he challenged Being X to a battle of wits.
Being X is a self-proclaimed god who gets really offended by the words of the man who lives inside Tanya. After punishing him by sending him out as a young girl, he tells him that if he fails to have faith in him or if he dies an unnatural death, then his soul will be straight away sent to hell for the countless sins he has committed in his previous life. This is when Tanya decides to enter the Empire's Mages Division and plans on moving up in ranks as fast as she can so that later she can stay away from the battlefield and survive. Her combat skills and perception not only work towards her own benefit now but her self-interest also makes the Empire one of the most powerful nations ever known in the history of mankind.
Youjo Senki Characters:
Tanya Degurechaff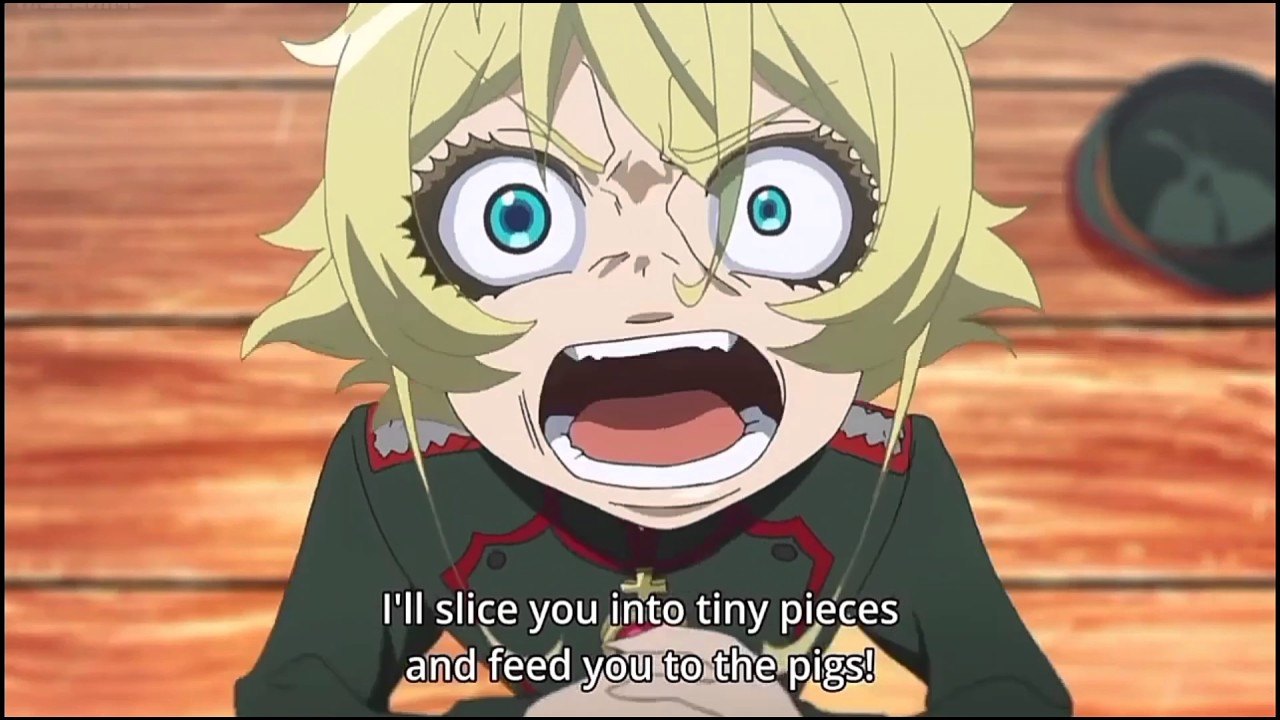 Tanya von Degurechaff is the main protagonist of the show, who was originally a Japanese salaryman. This salaryman was then murdered and then reborn as a girl child in an alternate version of the European World War. At the age of 9 itself, Tanya is recruited to the Mages Troupes and is soon promoted to the rank of Second Lieutenant. Her amazing talent with battle tactics and her ruthlessness with the killings make her a very useful asset for the Empire. She describes her original self as a very tall muscular man who can be a very imposing figure, unlike her current petite self.
Tanya has a very petite build even for her age and she is often mistaken to be even younger than a 9-year-old. She has a very cute face with blue eyes and short blond hair. She appears to be a fairy but only when one looks right into her eyes, one can see this vampire-like evilness reflecting from it. Her personality has a lot of contradicting traits which is probably a consequence of her being a grown-up man on the inside and a little kid on the outside. She also portrays a lot of sociopathic traits that actually allow her to selfishly fulfill her own personal interest.
Viktoriya Ivanovna Serebryakova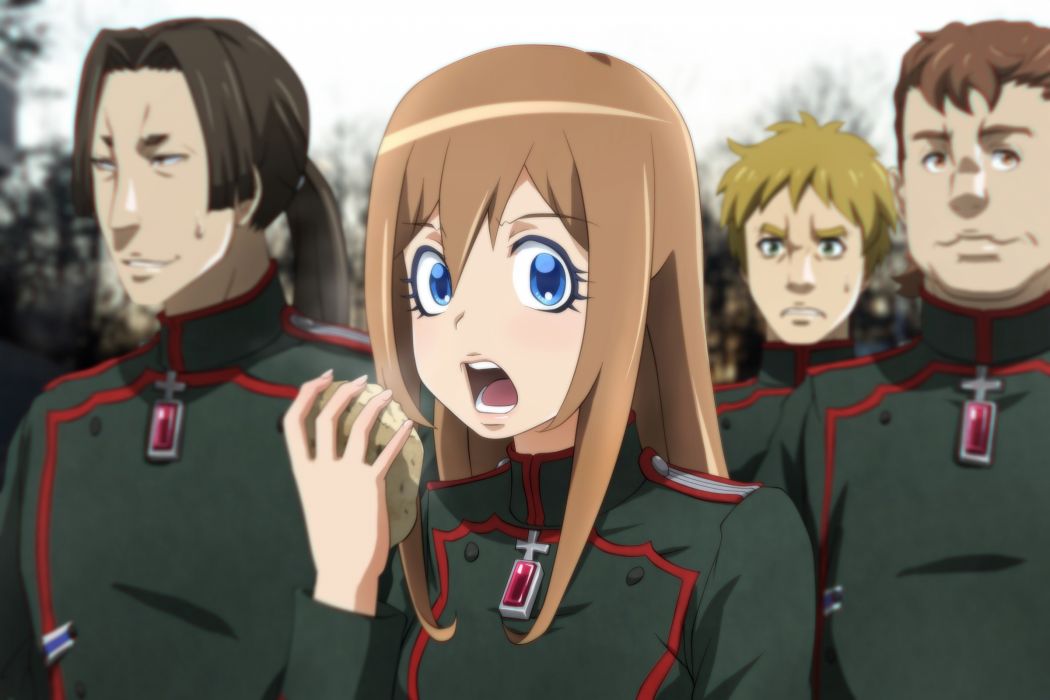 Viktoriya Ivanovna Serebryakova, also known as Visha in short, is originally a mage in the Empire's Cadet Corps. Later, during the battle of Rhine, she is assigned to be a part of Platoon 3 under the leadership of Tanya. She has long brown hair and light blue eyes along with a curvy slender body that makes her one of the most attractive characters in the series. For her age, she acts very childish and immature at times. She also gets really excited and hyper when anyone on her team talks about food. She deeply cares about everyone around her and even when Tanya gets extremely angry, she does not give up on her and tries to be calm and positive.
Read More in Anime Preview: Air Gear Season 2 | Campione Season 2