Zoey Deutch is an American actress and producer who is known for several interesting works. Born in Los Angeles, Zoey Francis Thompson Deutch comes from a family heavily involved in the show business. Her mother happens to be Lea Thompson, the actress, while her father, Howard Deutch, is a director. Zoey has a sister Madelyn Deutch, who also happens to be an actress. Naturally, Zoey was drawn to this kind of life at a very young age and began to take acting classes at the age of five. She went on to major in theater at the L.A. County High School for the Arts. Apart from acting, Zoey happens to be a voracious reader with a keen interest in political science. She also takes art classes.
Deutch began her acting career in 2010 when she appeared in 'The Suite Life on Deck', the Disney original series. This was followed by a performance in 'Ringer', a thriller series. Her big-screen breakthrough came when she appeared in 'Beautiful Creatures' which was followed by an appearance in 'Criminal Minds: Suspect Behavior'. She has also performed in movies like 'Vampire Academy', 'Midnight Rider', Richard Linklater's 'Everybody Wants Some!!' and 'Dirty Grandpa', where she stars opposite the likes of Zac Efron and Robert De Niro.
Zoey Deutch has several other notable projects to her name like 'Before I Fall', 'The Year Of Spectacular Men', 'The Professor' and 'Buffaloed'. It is evident that the actress has a busy schedule. Her stardom is on the rise and she is nowhere close to being done. Naturally, you must be wondering about the projects that she has lined up for herself in the future. We are here to answer that as we bring all upcoming Zoey Deutch movies and television shows. Hopefully, her performances will be as splendid as they have been in the past.
3. The Politician (2019-)
'The Politician' is an American comedy series that airs on Netflix. It has been created by Ryan Murphy, Brad Falchuk, and Ian Brennan. The series focuses on Payton Hobart, a wealthy student from Santa Barabara, who has ambitions of becoming the President of the United States one day. The idea is that each season of the show is going to revolve around different political races that Payton is a part of.
The first season sees him fight a school election which quickly turns dirty. Payton is a cold and calculating politician who accounts for all possibilities. However, his claim to be the student president hits a bump when an attractive and popular student contests the elections. Things soon go sideways when Payton's competitor cannot take this stress and commits suicide. He is replaced by his more ambitious girlfriend and soon a dirty political battle is fought out in the school itself. Several others get involved including Payton and his opponent's advisory teams, as well as their running mates.
The series is well crafted, poking fun at the political system and various political stereotypes that exist in American culture. Despite being a show about mostly rich, white kids, 'The Politician' manages to reach out to a wide audience. Spectacular performances have set the show apart with Murphy's characteristic moments, some of which include singing. We see how various families get involved and affected due to the political battle raging in the school and how the candidates face their personal lives as they come to terms with who will be the best leader. The first season ends on a note of hope for Payton who will be taking up a bigger challenge in the upcoming season as he goes up against an undefeated candidate.
Zoey Deutch plays the part of Infinity Jackson in the series. Infinity is Payton's running mate and is chosen by him because she seems to be suffering from cancer. Thus Infinity is sure to get the sympathy votes for Payton. However, things soon go south when they discover that Infinity's cancer is made up and she is a victim of Munchausen by Proxy disorder. Her scheming grandmother plans to use her cancer excuse to get free stuff. Over the season, Zoey delivers a memorable performance, first as a suffering but sharp girl who knows what she wants out of life. As she comes to terms with the truth, she becomes bolder but the pain of her grandmother's betrayal is evident. Eventually, towards the end, we see her make the best of a bad situation and live life on her own terms.
In the upcoming season of 'The Politician,' Zoey Deutch is sure to reprise her role as Infinity who will help Payton try to win the election. We can expect more of the same assertive performance from her that made Infinity so memorable in the first season of the show.
Read More: Upcoming Zazie Beetz Movies
2. Zombieland: Double Tap (2019)
'Zombieland: Double Tap' is an upcoming zombie comedy movie from Ruben Fleischer. It is the sequel to the 2009 movie, 'Zombieland'. The sequel has been in development hell long enough but is finally being made. The plot is set 10 years after the events of the first film and we will get to see our favorite characters Tallahassee, Columbus, Wichita, and Little Rock return to the screen.
By now, they have become experts at identifying and eliminating different kinds of zombies. Things go south after Columbus proposes to Wichita and Tallahassee behaves condescendingly with Little Rock. The newly formed family comes under strain, while they have to cope with different and deadlier zombies, not to mention, other human survivors who might be even more dangerous than the undead.
Zoey Deutch appears in the role of Madison, who is a dumb blonde. However, she is a survivor. Deutch is capable of delivering nuanced performances and will surely capture the essence of the character she is playing. 'Zombieland: Double Tap' is slated to release on October 18, 2019.
1. Most Dangerous Game (2020)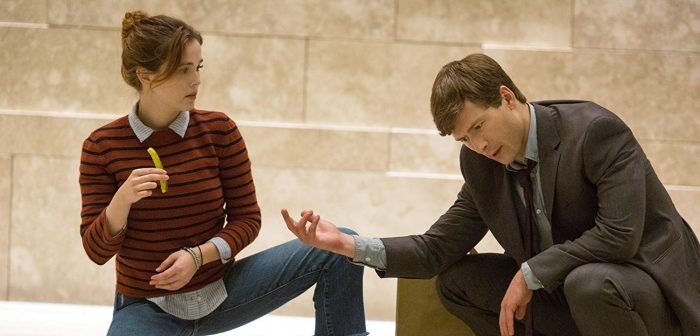 'Most Dangerous Game' is an upcoming comedy that will air on Netflix. It comes from the mind of Katie Silberman and teams Zoey Deutch with Glen Powell. Plot details are being kept under wraps and not much is known about Deutch's role either, at this moment. However, given the actor's talents, she is bound to do justice to the part.
Read More: Upcoming Freddie Highmore Movies