Age, as they say, is a bourgeois construct. It is just a timid number that represents, generally, the miserable metric of your existence on earth. It is no reflection of the life in you, and the experiences you have felt and lived in your lives. Bollywood has a penchant of throwing up something unexpected at times. Age gaps between two opposite genders, or the same ones, if the conservative and dogmatic society allows it, is looked down upon and ridiculed. They are deemed morally corrupt and the couple therefore is a subject of social ostracization.
Defying this age-old and unnecessary tradition, Bollywood has stood up for the rights of such downtrodden class of people and represented their plight, and more importantly their beautiful perception of life, in the utmost provocative of fashions. So here is the list of top 10 best age gap romance movies in Hindi, for which we are eternally and gratefully thankful for. Happy reading!
10. Shivaay (2016)
'Shivaay' was a flop. Critically and commercially, the film tanked miserably at the helm of the people, who were merciless in their regard. The whole world was shocked when Ajay Devgn announced the 18-year old Sayesha Saigal as the lead in his dream project, I personally felt the film was a disappointing waste of time and money. But the relationship between the leads were appreciated and acknowledged for their appealing chemistry. Sayesha was certainly a great find.
9. Singh is Bliing (2015)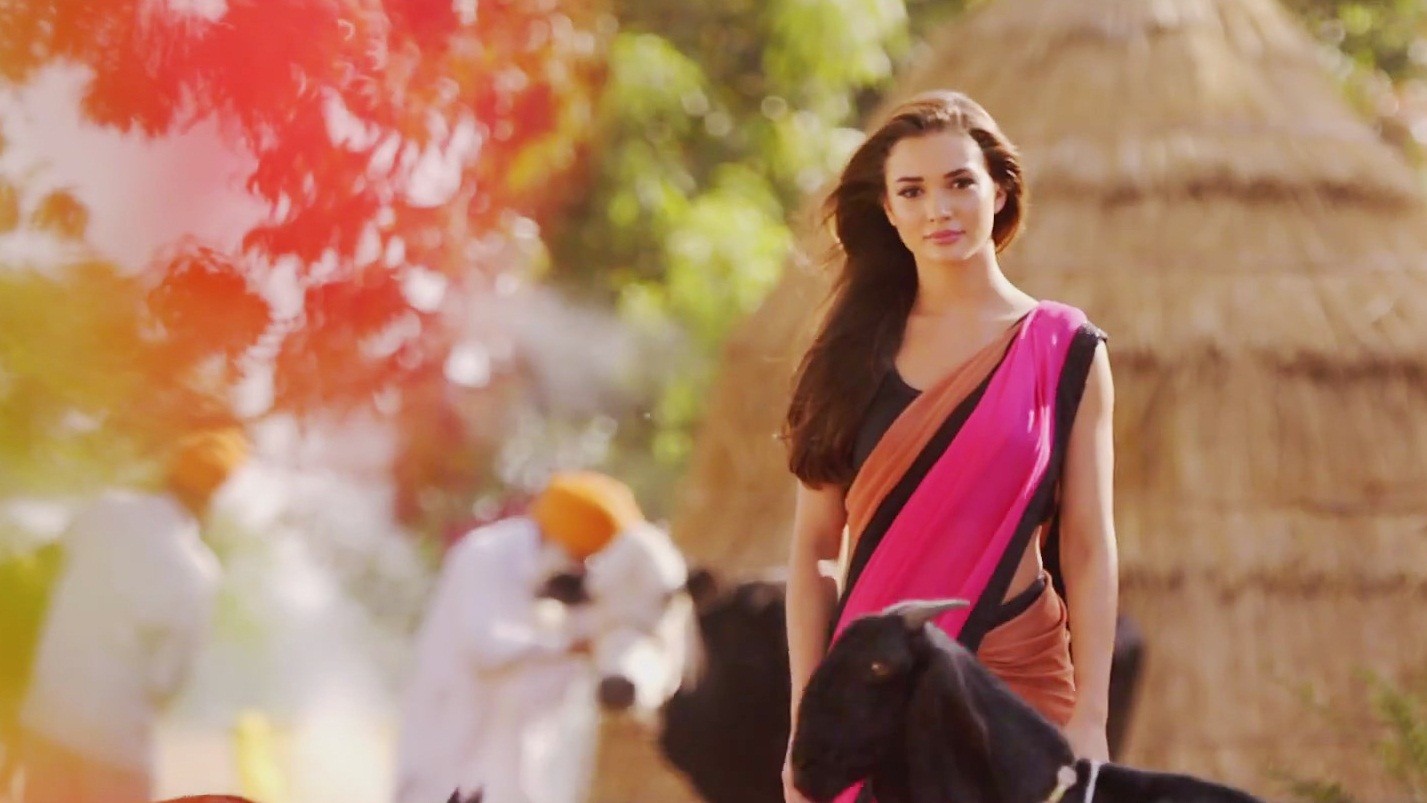 Akshay Kumar has redisovered himself in the recent years. His redpemption has given us some of the most memorable movies in recent past. 'Baby', 'Holiday', among others, have redefined the way Bollywood looks at action and the genre itself. Raftaar Singh always runs away from responsibilities. Frustrated by his behavior, his father asks him to either marry Sweety or relocate to Goa and work with his father's friend. Amy Jackson is stunning, in the movie, not acting wise, but with her comeliness and on-screen chemistry with the Khiladi. A totally different way to look at love.
8. Nishabd (2007)
This film will always remain the true legacy of Jiah Khan and a testament to the beautiful actresses' acting prowess. 'Nishabd' was the one that started it all. The huge age gap between the leads (almost 40 years) was seen as downright a public gimmick to put bums to seats, that is, people in the theaters (I've been watching a lot of English folklore). Jiah is a young girl, exuding confidence and self-assuredness, which fatally inflects and infatuates Vijay with her, a 60-odd year old veteran, who meets her through his daughter. This relationship has bad repercussions on Vijay's relationship with his family, putting it in danger.
7. Leela (2002)
Dimple Kapadia absolutely bewitches us with her sublime display. Now this is acting. Despite being restricted and bound by her character's state in the film, her body language and eyes speak a thousand words, which are true and liberated in her day reveries. Perennially dubbed as "Mrs. Nashad", Leela struggles to find her own identity in life. Her cravings give her a chance, when she is called by a university to be a guest lecturer in the US. Her mundane destiny takes a turn for good, when she meets young Kris, a bright and enchanting presence, who wins over Leela and love brews. Watch it for Dimple Kapadia and nothing else. Period.
6. Cheeni Kum (2007)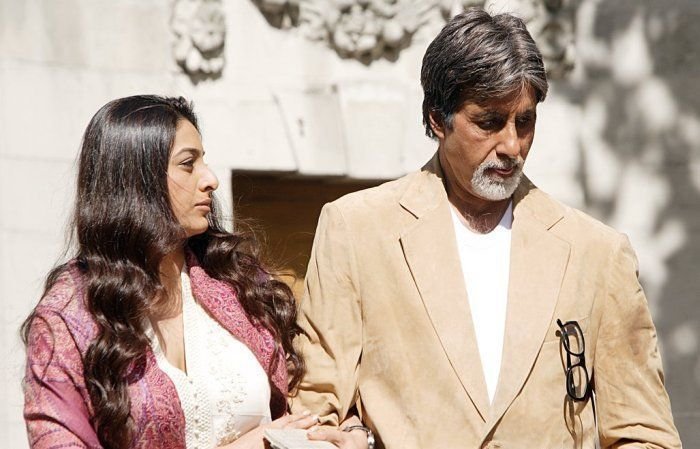 Buddhadev Gupta (how ironic), played by the great Amitabh Bachchan, is a cantankerous and grumpy old chef, who is almost perpetually taken over by indignation of his "inferiors". The soul-sucked veteran stumbles upon a middle-aged software engineer, whom he instantly falls in love with. A new relationship blossoms, only to find an obstacle in the most unimportant thing in the world: age. Tabu and Bachchan Sr. are two of the finest actors of contemporary Bollywood. Their nuanced display and electrifying chemistry defied stereotypes and obliterated traditional and dogmatic understanding of love. This new perception was very well received, with the film going on to do pretty well at the Box Office.
5. Dear Zindagi (2016)
It would take you a couple of seconds to call Shah Rukh Khan old. The charming superstar doesn't seem to age miserably, but ages like a good old wine. 'Dear Zindagi' is a story about a young film director, Kaira (Alia Bhatt), and her complicated life, which is becoming more and more asphyxiated for her to live. One day shooting for a hotel, she stumbles upon a "sermon" by renowned professor of psycology, Dr Jahangir (SRK), who woos her with his charisma and simple idea of living life. She swallows her pride and goes for therapy, which gradually gives way for her to fall in love with him. 'English Vinglish' was a heart-warming debut from by Gauri Shinde. She retains certain features and pints this one with the exuberance of Bhatt's you and SRK's old classic charm.
4. Waiting (2015)
I'm sure the majority of you wouldn't have even heard of the film. Tara and Shiv meet at a hospital where their spouses are admitted. The two develop an extraordinary friendship as they get to know each other. Waiting is a symbolic term here, beautifully put forth to literally represent the waiting time both the grieved individuals spent worrying about heir loved ones, and the figurine representation of both of them waiting for the special ones in their lives. Naseeruddin Shah is charmingly enigmatic and moving in his performance, deliberately failing to revel himself in totality. The acting part of the movie is imperfectly flawless, which is always the best one to be an audience to. A kind story, that proves: " Beauty has ramparts no one can destroy."
3. Dil Chahta Hai (2001)
'Dil Chahta Hai' redefined Bollywood forever. Its new and urban depiction of our complicated and hustled lives is immaculately ahead of its time. Primarily about he friendship of the three leads, viz, Akash, Sameer, and Siddhatrtha, the film also romances with the idea of a younger man having an affair with an older woman. The complexities that come in with the undertaking make both the involved parties fearful of the repercussions, which thereby puts an end to a prospective love story. Dimple Kapadia plays Tara Jaiswal, an older divorcee and alcoholic, who has moved into his neighborhood and shares Siddhartha's love for art. It is a beautiful film about the strained relationships we have with the people closest to our hearts, and how despite that, we love them and put up.
2. The Lunchbox (2016)
How to I define this film. Probably the best Bollywood film of this century. Perfect in every aspect, the film explores a relationship between two weary individuals, who are somewhat lost in life and are on the look for direction. The age gap isn't substantial, but is significant enough to feature and top the list. Illa and Saajan are two lost souls, searching for that beacon of light that will bring them back from obscurity and oblivion. They find each other through accident, the lunchbox being their pigeon and mobile. It is such a beautiful film, that I am struggling to put it into words. Such watch the movie. Please. A humble request!
1. Lamhe (1991)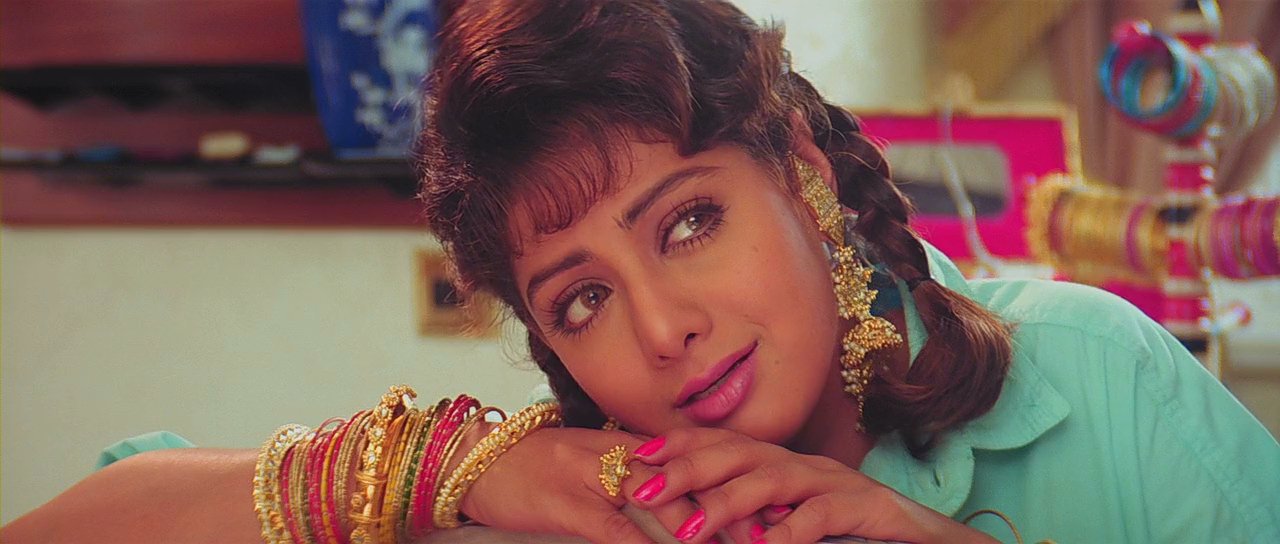 How the tables turn in life. 'Lamhe' captures the very essence of this phrase, and crafts a well thought-out movie that is bound to leave you shocked and somewhat satisfied. Viren, a young bachelor, falls head and foot for Pallavi, a kind middle-aged woman, who rejects his overtures and instead marries someone else. As fate would have it, the couple meets their sad demise in an accident, leaving behind their only daughter, Pooja. Interestingly, the latter looks exactly like her mother and blindly falls in love with Viren. It is as if she was re-born in her mother's spirit and completed her unfulfilled desires. 'Lamhe' is one of the most thought-provoking films made in the 90's, in India that is. We must laud and commend the brave efforts that the director and production house took to create such a story.
Read More: Best Bollywood Movies of the 21st Century