Born on November 6, 1970, in Austin, Texas, Ethan Hawke is an actor, author, and film director who has left an indelible mark on the world of cinema. He began his journey in the film industry with his debut in 'Explorers' (1985) and soon rose to prominence with his breakthrough performance in 'Dead Poets Society' (1989). From the romantic lanes of the 'Before' series to the raw intensity of 'Training Day,' Hawke has always had an uncanny knack for picking roles that resonate.
Hawke's partnership with Richard Linklater, notably in films like 'Boyhood,' underscores his commitment to authentic storytelling. Garnering multiple award nominations, this Austin-born talent has seamlessly balanced acting and direction, captivating audiences with each endeavor. As we recall his brilliant performances, anticipation builds for what's next on his cinematic horizon. Keen to know what this gifted artist is bringing to the screen next? Here's a roundup of the upcoming projects Ethan Hawke has lined up.
1. Strange Way of Life (2023)
Ethan Hawke steps into the Wild West with 'Strange Way of Life,' an impending short drama film helmed by acclaimed Spanish director Pedro Almodóvar. Set against a backdrop of sun-drenched deserts and shadowy saloons, this tale paints the saga of Silva and Sheriff Jake, once-close gunslingers whose paths diverge only to intertwine years later. Silva (Pedro Pascal) treads across barren terrains to meet Sheriff Jake, a character breathed to life by Hawke. As the narrative unravels, whispers of a shared past and an intricate camaraderie echo through.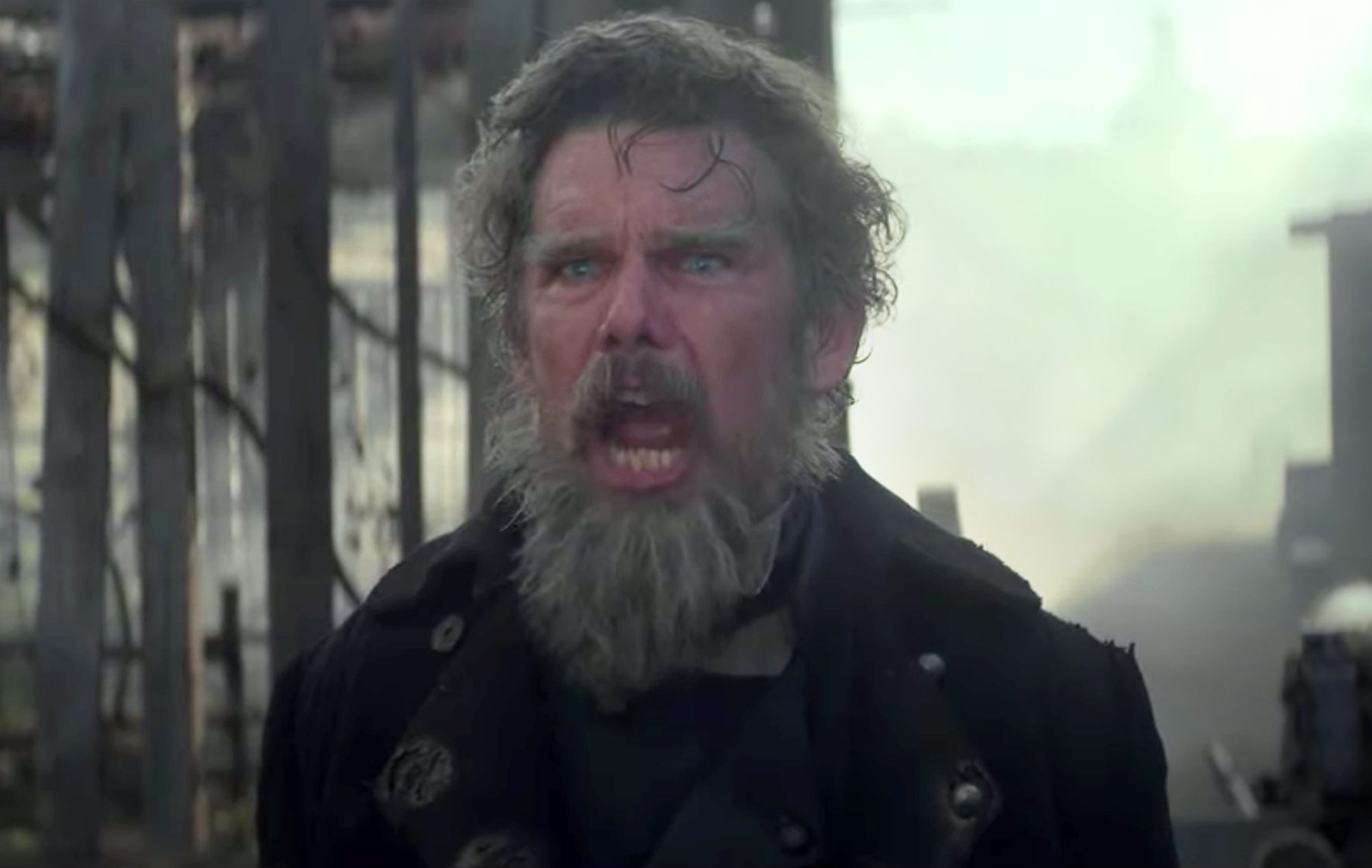 Within this cinematic canvas, Sheriff Jake emerges as a beacon of past glories and tales yet untold. His rapport with Silva is a labyrinth of memories, secrets, and unspoken emotions, presenting Ethan Hawke with a role replete with nuances. Alongside this duo, the silver screen will gleam with performances from Manu Rios, José Condessa, Jason Fernandez, Sara Salamo, Erenice Lohan, George Steane, and Pedro Casablanc, each contributing a distinct shade to the story's palette. The short film is set for a limited US release on October 4, 2023.
2. Leave the World Behind (2023)
'Leave the World Behind' is an upcoming psychological thriller film helmed by renowned director Sam Esmail. The film is a captivating adaptation of Rumaan Alam's novel of the same name. At its core, the narrative depicts Amanda and Clay's seemingly idyllic retreat, with their children taking a sudden turn. Their tranquil escapade is interrupted by the unexpected arrival of the house owners, who bring with them news of an unsettling blackout in New York. As events unfold, the intertwined lives of these two families blur the lines of familiarity, exploring deep-seated issues related to race, class, and societal breakdowns.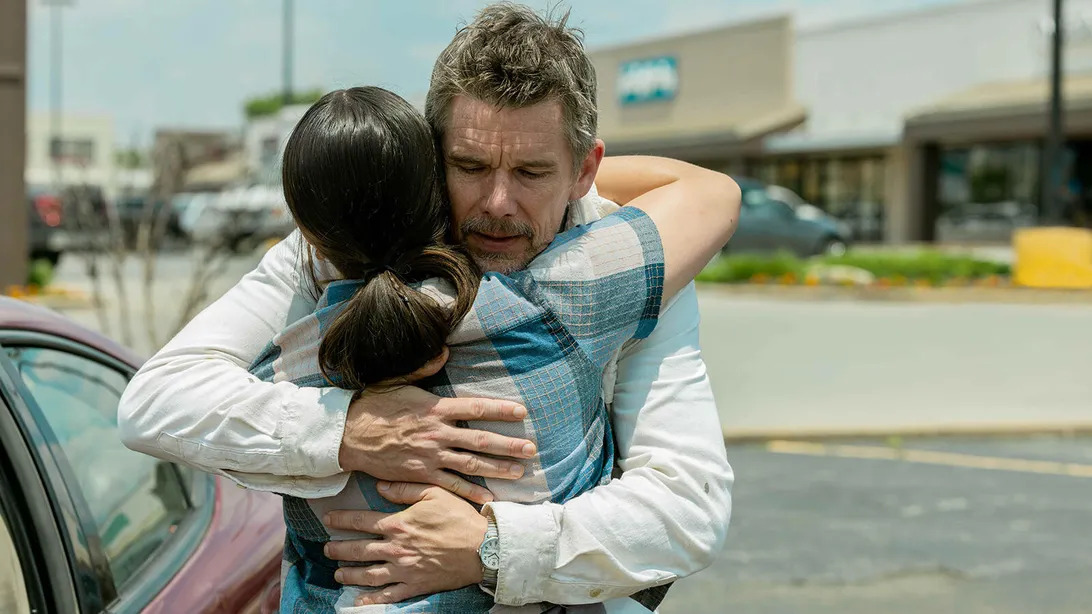 Ethan Hawke is set to play the role of Clay Sandford, while starring opposite him is Julia Roberts, who will play the role of Amanda Sandford. Apart from these two, the ensemble cast includes Mahershala Ali, Myha'la Herrold, Farrah Mackenzie, Kevin Bacon, Alexis Rae Forlenza, Charlie Evans, and Vanessa Aspillaga. Given the atmospheric tension and narrative depth the source material offers, it's no surprise that the film is eagerly anticipated. The film is set to release on December 7, 2023 on Netflix.
3. Wildcat (TBA)
'Wildcat' is an upcoming biographical drama film directed by Ethan Hawke, focusing on the life of acclaimed 20th-century author Flannery O'Connor. The narrative spans O'Connor's struggles with lupus and her journey penning iconic stories like 'The Life You Save May Be Your Own.' The film showcases her intricate relationship with her mother and her deep-seated faith that often bleeds into her works. In this tribute, Maya Hawke portrays the literary legend, blending her passion for O'Connor's works with a performance that promises to be memorable.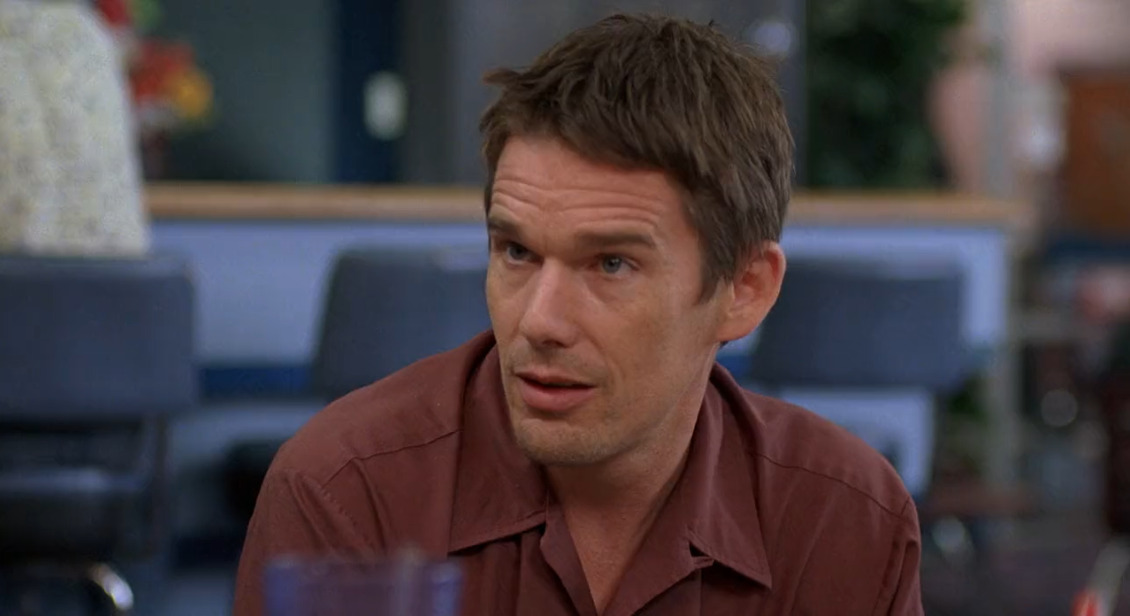 Notably, Ethan Hawke is not just at the helm; he co-writes the narrative with Shelby Gaines. The cast is further amplified by talents such as Vincent D'Onofrio, Steve Zahn, and Laura Linney, the latter encapsulating the essence of O'Connor's mother. Addressing both her literary contributions and recent critiques, 'Wildcat' offers a holistic view of O'Connor's world. The film aims to rekindle appreciation for O'Connor while also igniting conversations on her controversial stances.
4. Camino Real (TBA)
Ethan Hawke is set to direct and adapt 'Camino Real', a wildly experimental play by Tennessee Williams, into a feature film. Known for its narrative that tracks the journey of the young American, Kilroy, amidst a kaleidoscope of historical and literary figures like Don Quixote and Esmeralda, the play had its Broadway debut in 1953. Despite its initial lukewarm reception on Broadway in 1953, the play's reputation has grown over the years, with various acting companies attempting to interpret its intricate layers.
Hawke's fascination with 'Camino Real' has been longstanding. He described the play as a blend of rock opera and elements reminiscent of 'Waiting for Godot'. Hawke has decided to cast Juliette Binoche in a pivotal role and is in the process of finalizing the rest of the ensemble. Interestingly, Hawke will not be acting in the film. Hawke's connection to the play is deeply personal. He had previously portrayed the character of Kilroy in a 1999 production at the Williamstown Theater Festival, which he cites as one of the most enriching theatrical experiences of his career.
5. The Whites
'The Whites' is an eagerly anticipated crime drama limited series in development at Showtime, with creative maestro Jez Butterworth at its helm. This captivating adaptation, borrowed from Richard Price's compelling novel, plunges deep into the world of detectives obsessed with their evasive adversaries—dubbed their 'white whales.' Ethan Hawke is set to depict Billy Graves, a former star detective now navigating the shadows of the NYPD's Nightwatch division. Yet, a resurgence of an old unsolved case threatens to upend his world.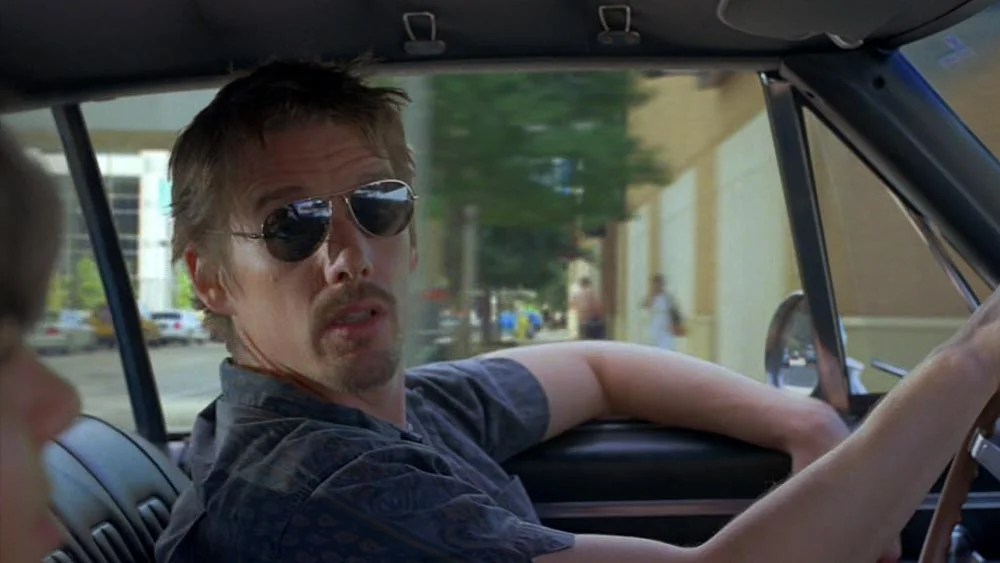 The ensemble cast joining Hawke remains a mystery, building anticipation. This project deepens Hawke's association with Showtime, following the celebrated 'The Good Lord Bird.' Interestingly, Hawke isn't just the lead but also dons the hat of an executive producer alongside notable names like Rian Johnson. Currently, details regarding its production phase are hushed. However, given the talent attached and the gripping narrative, an official teaser is eagerly awaited by fans.
Read More: Best Ethan Hawke Movies