Investigation Discovery's 'Murder in the Heartland: Invitation To Be Killed' chronicles how Iowa drug kingpin, Dustin Lee Honken and his erstwhile lover, Angela Johnson, plotted to kill five people to keep Dustin out of prison. They brutally murdered two informants and anyone living with them, including two minor girls in Iowa, in July and November 1993. If you're interested in discovering more, including who Angela is and her current whereabouts, we've you covered. Let's begin then, shall we?
Who is Angela Johnson?
Angela Jane Johnson was born in Forest City, Iowa, on January 17, 1964. According to her sister's court testimonials, she grew up in an unstable home, and her mother was described as an abusive and neglectful alcoholic. Angela was raised by her deeply religious grandparents, who allegedly held her down, waved Bibles over her, and spoke in tongues to exorcise demons from the then-grade-schooler. It was also learned that she had been molested as a child.
Angela met the Iowa meth kingpin Dustin Lee Honken in the early 1990s. Her then-boyfriend, Terry DeGeus, was one of his two primary drug dealers, smuggling meth into northeast Iowa. Dustin and his best friend, Tim Cutkomp, produced tonnes of meth while Terry and the other handler, Greg Nicholson, sold them for thousands of dollars on their drug runs. During one such drive, Dustin and Angela met, and the latter alleged Terry was personally using too much meth, which was supposed to be sold.
Angela offered to be one of the dealers instead, and the two developed a professional relationship that quickly transformed into a romantic one. According to reports, she became pregnant with Dustin's child. In the meantime, he studied science journals and chemistry textbooks, planning to expand his drug empire. However, Dustin's plans were cut short when the authorities arrested him and Tim on federal drug trafficking charges in March 1993.
While going through legal documents, Dustin discovered Greg had become an informant for the authorities after federal agents found a large amount of meth inside his home in early 1993. The latter had secretly recorded him making a future $3,000 deal and over the recordings to the police. Plotting revenge, Dustin stated he planned on pleading guilty, and a trial date was slated for July 30, 1993. On the other hand, his lover, Angela, bought a gun on July 7 and waited for him to be released on bond.

After Dustin's release, they entered Greg's apartment — belonging to his friend, Lori Ann Duncan — and forcefully recorded a video statement professing the meth kingpin's innocence on July 24. Eventually, the assailants forced Greg, Lori, and two minors into their car, took them to a secluded wooded area outside Mason City, and shot them execution-style. When the prosecution decided to rope in Terry as another informant, Angela lured him to a country club on November 5 under the pretense of mending their broken relationship. An unsuspecting Terry also met the same fate as his former co-worker, Greg.
Where is Angela Johnson Now?
Dustin and Tim could not elude the authorities long after another of their recruits, Dan Cobeen, turned on them. The duo was arrested on February 7, 1996, when federal officers found the meth lab inside Dustin's home. Angela was charged with five counts of murder in furtherance of a continuing criminal enterprise in July 2000 when one of her friends, Christi Gaubatz, came forward to the police. She told them about seeing a pistol in Angela's closet in mid-1993, alleging it to be the murder weapon used to kill Terry, Greg, and the Duncans.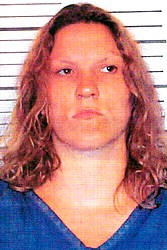 While awaiting trial, Angela unknowingly forged an allegiance with a federal inmate, Robert Gene McNeese, who assured her to provide him with all the details of the murder. He promised her he would find someone to take the blame for her then. Angela gave Robert all the details of the crime, including hand-drawn maps specifying the location of the bodies, which were all passed to the authorities. Based on the information, the police dug up the corpses, and Angela attempted to hang herself after learning she had been fooled.
Angela Johnson was found guilty of five counts of murder in furtherance of a continuing criminal enterprise in 2005, with the prosecution arguing she deserved the death sentence for willingly participating in the murder of children and her lack of remorse. Amidst Angela's blaming Dustin for the crimes, a federal jury condemned her to death on four counts. She was formally sentenced to death on December 19, 2005. According to court documents, Angela called Dustin a sociopath and stated, "I regret I wasn't strong enough." The United States Court of Appeals for the Eighth Circuit upheld the conviction in July 2007.
Surprisingly, a federal judge vacated Angela's death sentence in March 2012, citing her defense counsel failed to introduce evidence about her mental state. Federal prosecutors decided not to pursue the death sentence in December 2014 in exchange for a plea deal. As a part of the agreement, Angela agreed to drop all her appeals for which she was re-sentenced to life in prison without parole in December 2014. According to court documents, the 59-year-old is serving her sentence at Federal Correctional Institution, Aliceville, in Alabama.
Read More: Who Were Dustin Lee Honken's Victims? How Did He Die?